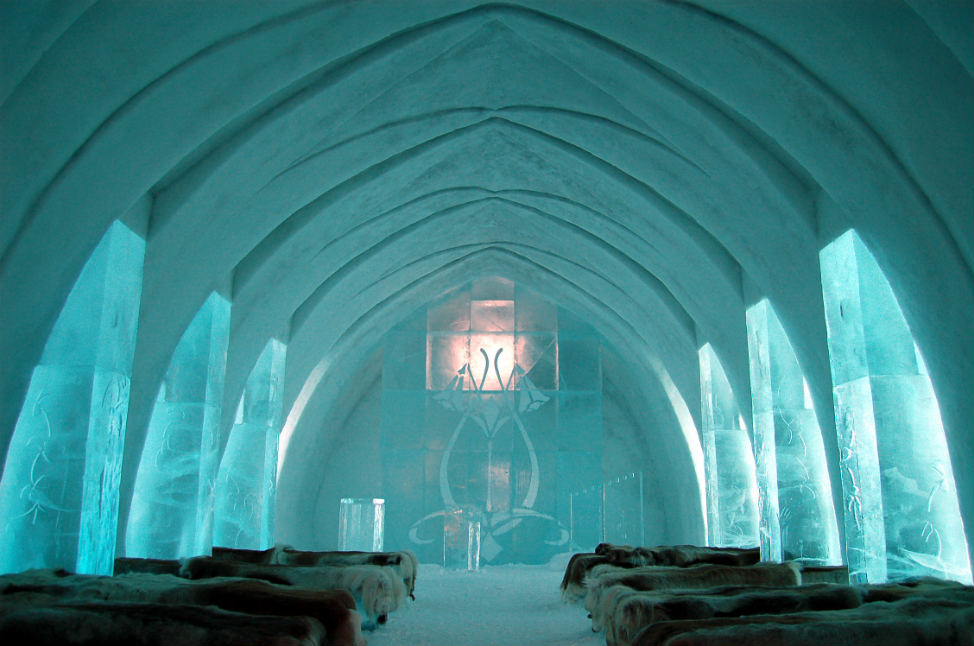 When we envision our dream vacations we usually think of cities, national parks, beaches, mountain tops and the like. Why not try out something different for a change and choose a unique accommodation, which itself makes our stay travel-worthy and unforgettable?
If you can picture yourself waking up like royalty in a medieval castle, or in an underwater hotel room watching shoals of fish swimming around, or in an ice igloo through which you can see the magical Northern Lights then read on as we compile a swoon-worthy list of some of the most unique places to stay on earth!
Most Unique Places to Stay #1: Ice Hotels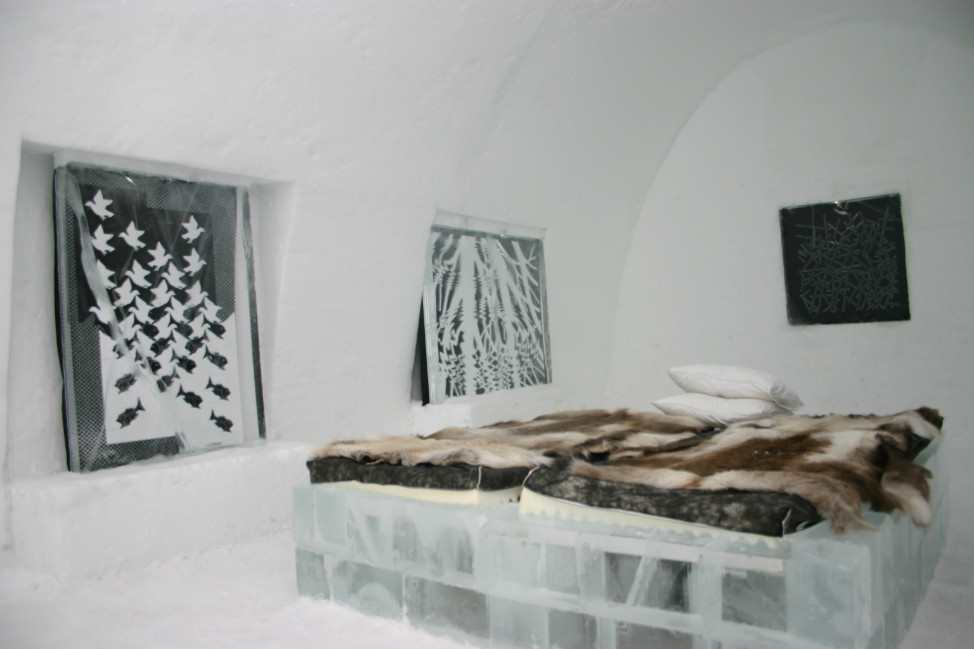 You have yet to experience winter in its truest form if you haven't stayed in an ice hotel. Made of snow and resplendent with breathtaking snow art and ice sculpture and furniture, ice hotels are indeed some of the most unique places to stay. When you socialize in the ice bars by drinking from frozen cups, sleep on ice beds (which are thankfully covered with real mattresses), or go skiing, you will find that ice hotels are truly some magical places to stay.
The Schneedorf (Oetz, Austria) which starts from 109€ a person with dinner and breakfast is right in the middle of the picturesque Alps.
Check availability and book a room in The Hotel of Ice in the Romanian Carpathians which offers a host of activities such as skiing and snowboarding, snowmobiling, sleighing and ice skating in their Winter Park.
The Hôtel de Glace in Québec City is almost a work of art with its brilliant and tasteful décor. Usually open from January to March its 44 rooms are available for reservation HERE.
Most Unique Places to Stay #2: Airplane Hotels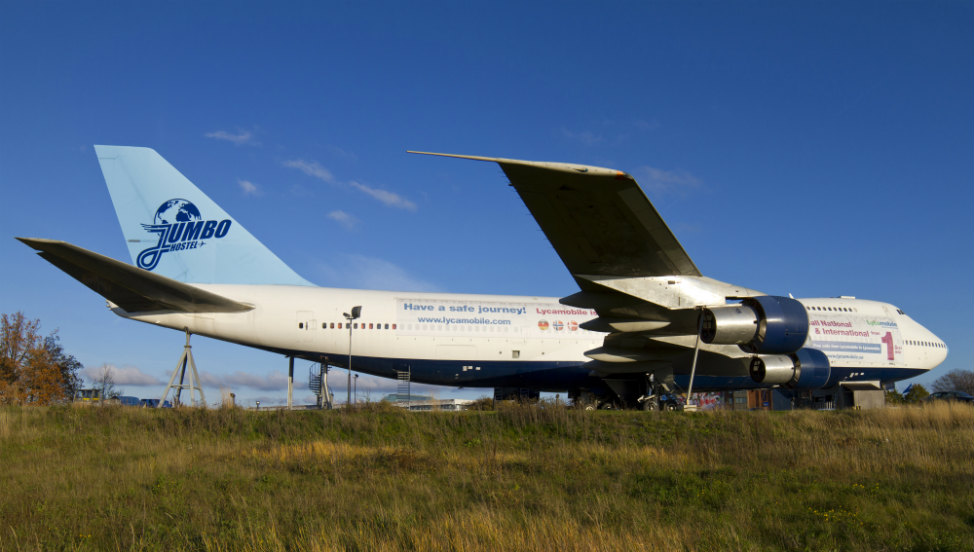 Aviation-themed accommodations, better known as airplane hotels, feature second in our most unique places to stay list. Some hoteliers hit upon an ingenious idea to transform decommissioned jets into a unique and incredible travel experience.
At Jumbo Stay (Stockholm), you can book one of their 33 rooms ranging from 550 SEK per night to 1895 SEK. While most airplane hotels have a strict no-guests policy, at Jumbo Stay hotel even non-guests are welcome to their café for a quick bite.
A gem of an airplane hotel lies nestled in the lush coastal rainforest bluff, Costa Verde. A renovated vintage 1965 Boeing 727 airframe, which previously flew passengers for South Africa Air and Avianca Airlines (Colombia) has been remodeled into a gorgeously detailed, two bedroom, Boeing 727 fuselage suite.  It sticks out from the jungle canopy, providing you with a spectacular view that gives the illusion of being in flight. With all its hand-carved furnishings, teak furniture, kitchen amenities, two queen beds and a 360-degree dazzling view, this unique accommodation is available for reservations at www.costaverde.com/727.
Once a favorite transport for the German Democratic Republic government, the Vliegtuig Teuge is currently a single, completely furnished, luxury suite. The 40 meters long, erstwhile political transport was converted into a commercial liner and then a restaurant. For 15 years now, it has been a hotel at the Teuge airport, Netherlands. Equipped with a Jacuzzi, shower, infrared sauna, mini bar, flat screen TVs (three of them!), Blu-ray DVD / entertainment combo (plus a selection of DVD's), and a pantry with coffee/tea making facilities, oven/microwave etc. this gorgeous suite can be all yours for about $474 a night (ok that's kinda ridiculously expensive but hey, how often are you staying in a place like this)!
Most Unique Places to Stay #3: Bubble Hotels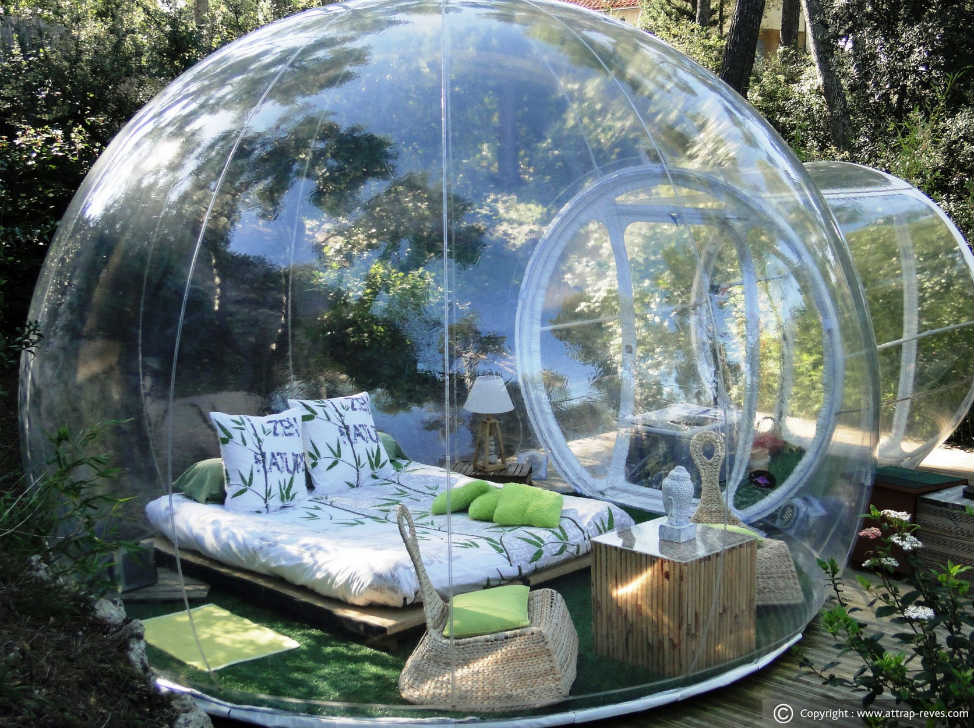 If you enjoy gazing at the starry skies and sleeping amidst Mother Nature without having to pitch tents and ward off bug attacks then a bubble hotel might just be the thing for you! Bubble hotels feature third on our most unique places to stay list for their ability to combine the best of worlds….camping out and an elegant luxurious hotel experience. They are literally a room or tent with a 360-degree view!
Attrap-reves lets you choose your own bubble, according to your comfort level, from their several fully furnished bubbles. Starting from about €109 (US$137), each bubble is equipped with a king-sized bed, nightstands, reading lamps, and a set of table and chairs, all of which have been designed to fit different styles for guests to choose from. Each bubble provides a scenic view.
If you want to have an experience of a lifetime watching the aurora borealis or the midnight sun then head over to www.buubble.com to choose from one of their bubbles located about 93km from Reykjavik, Iceland. Priced around USD 221-237 per night, all the bubbles have double beds and air blowers to keep them warm. However, you might have to wait until July 9 if you want a proper toilet, shower and kitchen because, so far, they are only equipped with outdoor dry toilets.
Most Unique Places to Stay #4: Underwater Hotels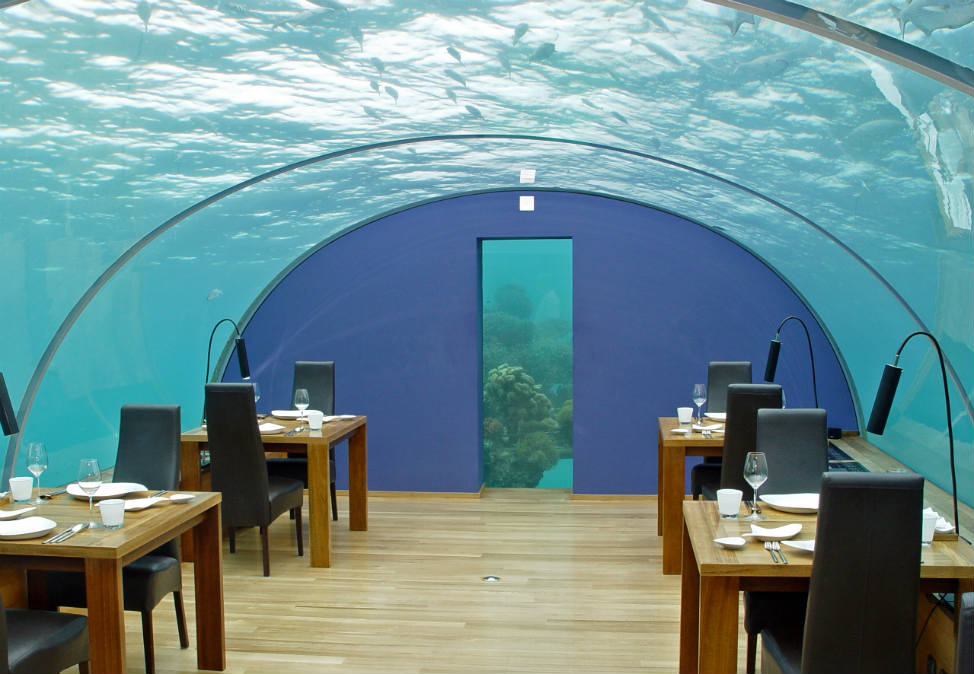 If sleeping next to the fishes underwater without getting wet is your thing, or if you wonder what underwater life is like while being firmly planted on dry land then read on. The fourth most unique place to stay is none other than the underwater hotels. Being at rock bottom (literally) never looked so good or decadent. Thanks to the latest engineering marvels, the under-the-sea view is no longer limited to a sci-fi dream. There are some great luxurious and plush underwater hotels aiming to give guests the adventure of a lifetime.
For a truly spectacular experience and a whopping £5,500 a night, the underwater suites at Atlantis the Palm at Dubai known as 'Neptune' or 'Poseidon' are perfect. You can see all the marine life of the Persian Gulf swimming by you through the floor-to-ceiling windows in this unique suite.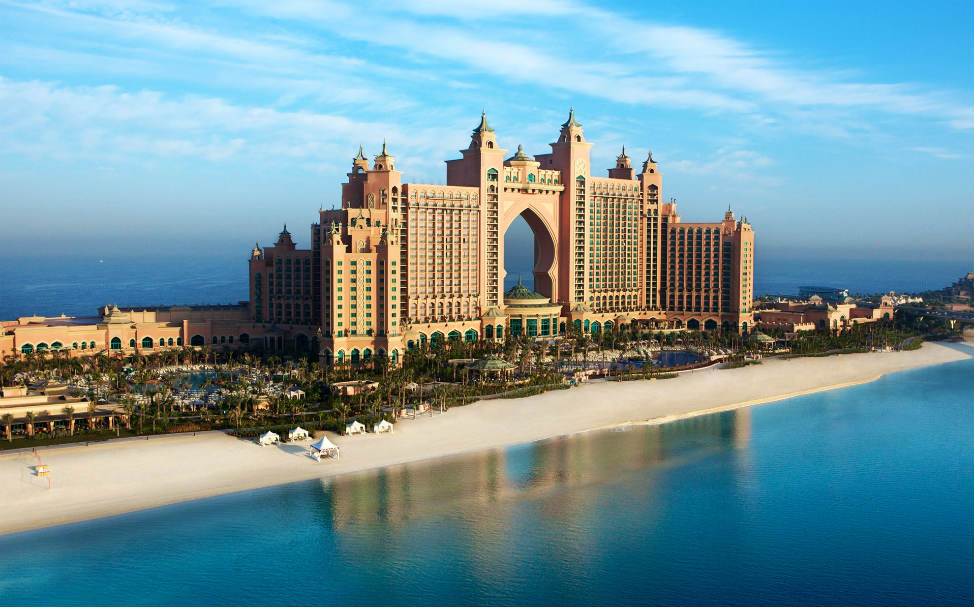 The Manta Resort at Pemba Island, Zanzibar, boasts a very unique place to stay called the Underwater Room which is akin to a private floating island, replete with the most breathtaking views of the sea and marine life from your submerged bedroom. This 1500$ a night room is unlike any other in the sense that it is half-in and half-out of the sea of the very exclusive Manta House reef. You can choose to either sunbathe and stargaze from its deck or swim underwater if you feel a little more adventurous.
Have you ever scuba dived to the foyer of your accommodation or been served pizza underwater by a scuba diver before? If you are waiting to tick these items off your to-do list then look no further than Jules's Undersea Lodge named after the famed novelist of Twenty Thousand Leagues Under the Sea. It is the oldest underwater hotel, surrounded by angel fish and other dazzling species off the coast of Florida and near Puerto Rico. Situated almost 30 feet below the surface and known as the La Chalupa Research Laboratory in the '70s it is now a 600 sq. ft. two-bedroom guesthouse, and the only way to get there is to scuba-dive to its wet-room hatch. For the $800 'JUL for Two' package, you get a night stay with a majestic view of the coral reef and marine life along with a pizza delivery.
Most Unique Places to Stay #5: Treetop Hotels
Feats of contemporary engineering, tree-house hotels and lodges, feature fifth in our list of most unique places to stay. Channeling our inner child, while vacationing, becomes easier with tree-house hotels as our accommodation. Indulge in luxurious amenities such as fireplaces, Jacuzzis, and even infinity pools while stargazing from treetops in these one-of-a-kind unique places to stay.
The Ariau Amazon Towers at Manaus, Brazil on the banks of Rio Negro with its 268 treetop rooms, suites, and houses is connected by over 5 miles of 30ft-high wooden catwalks. It is also surrounded by monkeys, macaws, sloths etc., making this unique place a truly magical retreat. From its inception in 1986 its guest list boasts of names such as Prince Charles, Bill Gates, Susan Sarandon, and the great-great-grandson of Charles Darwin. All packages (even if it's just for one night) include buffet breakfast, lunch and dinner, access to a private treetop pool, airport and boat transfers, excursions etc. etc.
The Tsala Rooftop Lodge, in Plettenberg Bay, South Africa is a marvel of architecture. This dazzling stone and glass lodge has ten treetop private suites comprising of a luxurious bedroom, a chic sitting room with a fireplace and a spacious bathroom along with a private deck overlooking the Tsitsikamma Forest and your own infinity pool, providing the ultimate privacy. It also has six two-bedroomed treetop villas with similar amenities as the suites. Every meal at this lodge is an exquisite affair fit for royalty. For bookings head over to tsala.hunterhotels.com.
Most Unique Places to Stay #6: Lighthouse Hotels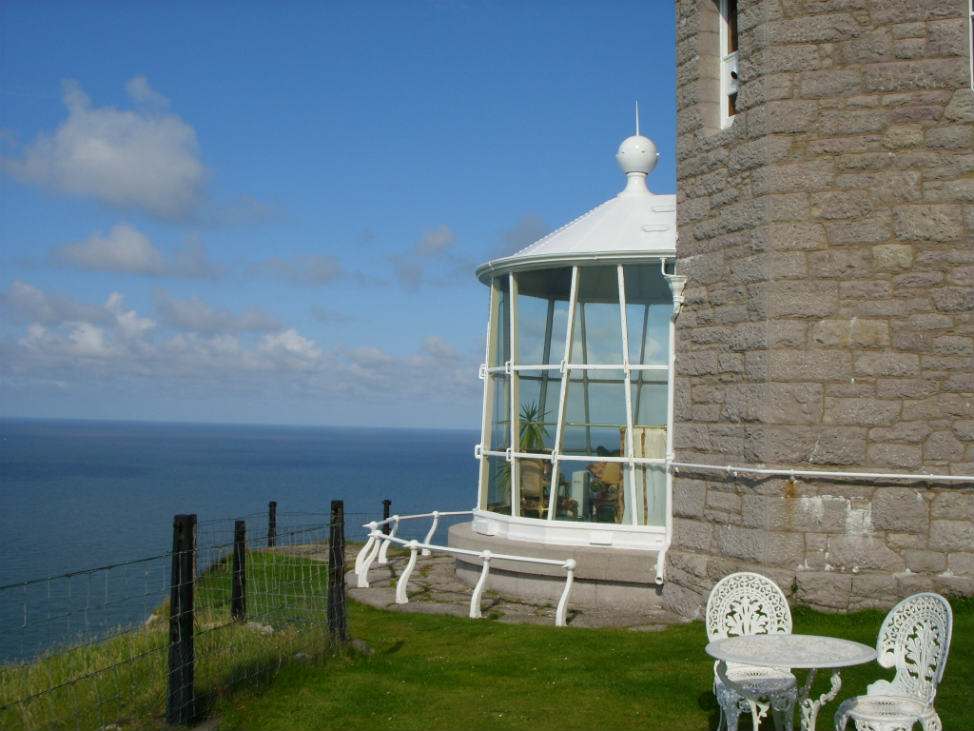 If you want to be cocooned in tranquility with only the sound of crashing waves to break the silence then lighthouse hotels are the way to go. As several lighthouses are gradually becoming defunct, innovative hoteliers and conservation groups are transforming them into cozy unique places to stay. If you are lucky to get a room in a still-operational lighthouse (yes, you need to book them months in advance since rooms are too few) you can actually doze off to the sound of the foghorn signaling to ships. Sounds like a scene straight out of an adventure novel, doesn't it?
Open from the end of May to the end of September, the Inn at Cuckolds Lighthouse, at Southport, Maine, is truly a dream come true for people who want to get far away from the crowd. The 360-degree view of the ocean is breathtaking. The only way to reach this beautifully restored and rebuilt 1892 Maine Lighthouse is by a Navy motor whaleboat, piloted by a U.S. coastguard licensed captain. These luxurious suites, with marble bathrooms, are priced from 1350$ a night with a minimum two night stay.
The Saugerties Lighthouse in New York is a delightfully elegant and cozy two-room bed and breakfast. This erstwhile landmark beacon on the Hudson River is accessed by a half-mile walking trail. This unique place to stay has been remodeled keeping in mind the 20th century décor and provides educational public tours and other special events. Starting from $225 a night, which includes breakfast, this charming getaway is almost like a throwback to the olden times.
Most Unique Places to Stay #7: Grand Castle Hotels
Did you spend your childhood wondering how the kings and queens lived? Did you dream of almost living a fairy-tale life (if only for a few days)? Do hallowed hallways, romantic turrets, manicured verdant grounds with sparkling lakes, lush carpets, sparkling chandeliers, soft plush beds fit for royalty sound enticing? If the answer is yes to all of the above questions then castle hotels are meant for you! Europe, especially Ireland and Scotland with their numerous picturesque castles, is a huge favorite among castle aficionados.
The Ashford Castle is a 13th century Irish medieval castle turned into a spectacular luxury hotel with 83 majestic rooms and suites. Spreading over 350 acres on the strikingly beautiful shores of Lough Corib, this unique place to stay has been graced by the likes of President Reagan, John Travolta, Brad Pitt, and Pierce Brosnan—who tied the knot here. These palatial grounds, which have been fully restored to their historical and artistic splendor, also served as the backdrop of the Oscar nominated movie 'The Quiet Man' starring John Wayne and Maureen O'Hara in 1951. Indulge in some fine pre-dinner drinks at the Prince of Wales Bar before heading to the formal George V dining room or the more laid-back Cullen's at the Cottage or Dungeon. Priced from 550 euros rates can go up to 3000 euros or more depending on the room type and availability.
The 12th century Tulloch Castle Hotel, which was once the abode of the Clan Davidson, is now a 20-bedroom, magnificent, period hotel with its 250-year-old wood-paneled Great Hall and meticulously restored fireplaces and ceilings. Priced from 110£ (breakfast included) guests can expect a cozy stay, Scottish hospitality, fine cuisine and even a visit from the renowned resident friendly ghost, the Green Lady, after whom the bar in the castle  was actually named.
Most Unique Places to Stay #8: Underground/Cave Hotels
Our list of most unique places to stay would be incomplete without mentioning the charming, yet quirky, cave hotels. If you want to get a feel of how our ancestors lived without having to rough it then we highly suggest the cave hotels as your accommodation for your next trip. Cave hotels are a great choice for summer vacations as it doesn't get any cooler than being underground!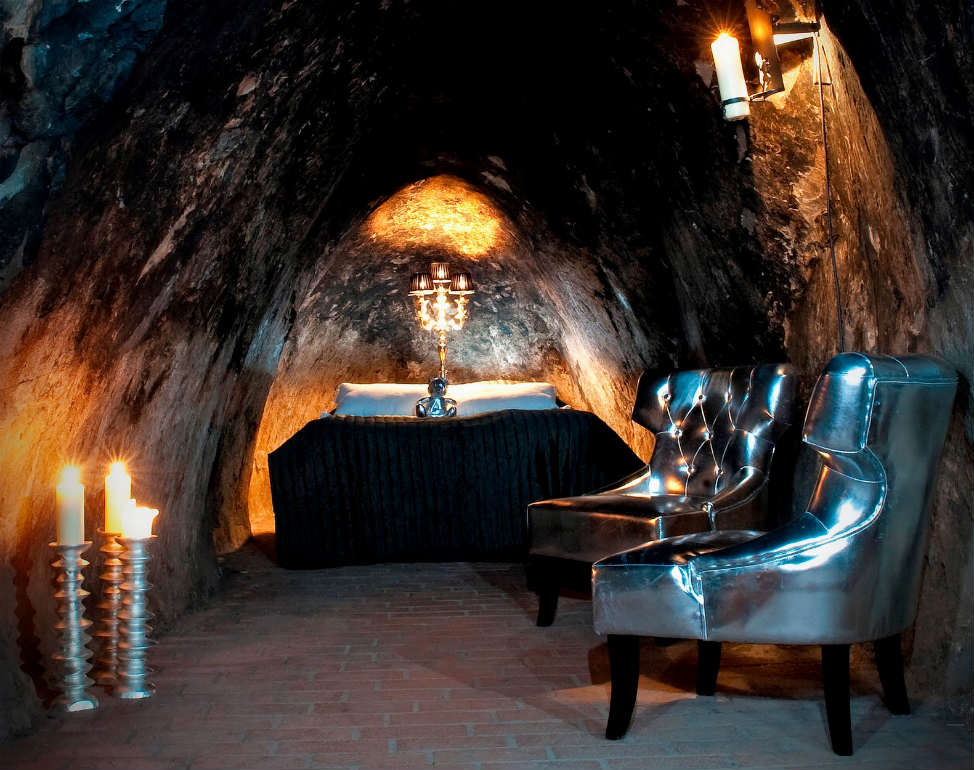 At the Sala Silvermine in Sweden, be prepared to be wowed by a basket of refreshments including cheese, biscuits, fruit, sparkling wine and chocolate, after a guided tour of their mines, which lie 155m underground. Dress warm because it is only 2 degrees Celsius in the mine. However, the Mine Suite is warmed up to a comfortable 18 degree Celsius throughout the year. The world's deepest hotel room can be all yours for £328 per night, which includes the guided tour, breakfast and supper. The hotel staff are always at hand above ground through intercom radio since phone network ceases to work in the underground area.
An erstwhile opal mine in New South Wales, Australia, the White Cliffs Underground Motel is now a rather unique place to stay where the rooms are known as 'dugouts'. Established in 1989, this motel has 30 underground rooms and 2 above ground rooms and the temperature doesn't vary much from 22 degrees throughout the year. This subterranean abode is available from $145 a night.
Like What You've Read?
Join my email community below to keep up with the next post and join all the other really cool people already signed up! Oh and don't forget to leave a comment about the most unique place you've ever stayed at. I love getting comments and promise to reply to every single one of them!