After spending nearly two months traveling in Thailand, people ask me about the best places to visit in Thailand. While this is very subjective, I'd say there are definitely some places to visit in Thailand which seem to top all others. As a simple starting point to plan your visit, decide whether you'll be flying in or crossing the border by land from a neighboring country (if backpacking). Truth be told, not all travelers I met wanted to do the same as I did, which was to catch the beaches and islands of Thailand's south (and what they're most known for) and then travel to the north, taking in a completely different view of Thailand.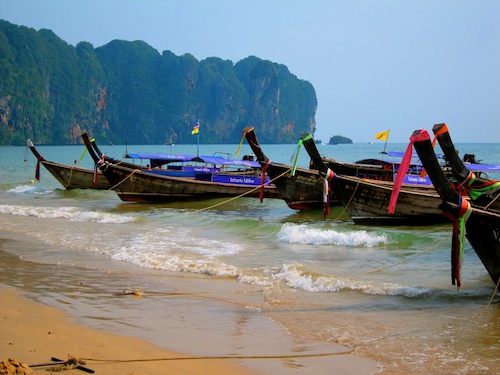 It seems inevitable though that whether you go North, South, or both, you'll eventually pass through Bangkok one way or another. And you'll get a glimpse into the life and culture that thrives in this notorious city of Southeast Asia. In fact, not only did I arrive and leave by way of Bangkok, I had actually passed through on two other occasions. So whether you are planning a visit there or not, chances are you're going to get pulled there logistically one way or another either by bus, plane or train. This isn't necessarily a bad thing though because even if this city of 8 million isn't your thing, there's still plenty to do and see while there and most aren't' disappointed if only passing through for a few days.
So if you do end up choosing to head North, you'll definitely want to put Chiang Mai at the top of the list. We spent 5 wonderful days there but I'd say you'll want to spend at least 3 days if you can.
Outside of visiting the many temples, there are markets to visit, tons of food and culture to take in and one of the best (and cheapest) zoos I've ever been to. And while in North Thailand, if you have more time, try to get out of the more touristy cities of Chang Mai and Chang Rai and head to the small mountain towns such as Pai. It's a great place to unwind, rent a motorbike for a while to cruise around or just head to the hills and go hiking. And as it goes with the 'smiling faces' of Thailand, the people up north, especially in smaller towns like Pai, are even friendlier than you might expect.
Once you finally cross into the south, a whole new array of choices will open up to you… and you'll be stuck with that decision… "Do I head to Thailand's western side and catch the beaches and islands on the Indian Ocean? Or do I want to travel to Thailand's Gulf and take in the islands and beaches there instead"?
Well, if you have the time, do what I did and visit both. Believe it or not, they are very different… from the waters to the nightlife. And luckily, they aren't but a short ride away from each other coast to coast. Should you decide to travel to the east coast shores, on the Gulf of Thailand, you'll likely want to head to Koh Samui, Koh Tao and Koh Phangan, the three most popular islands.
With Koh Samui having its own airport, you can really help plan your time more efficiently if coming from Bangkok or Chiang Mai as you could entirely avoid an overnight bus or train, plus the time it would take from the shore to the island by ferry.
However, since its such a large and more commercialized island, if you want to get away from the crowds, you can head to Koh Phangan and/or Koh Tao. Koh Phangan is known for its full moon parties however the rest of island is fairly quiet year round. And then if you want to head even further, Koh Tao has some good night life as well but is also known for having some of the best scuba diving in the world, all at affordable prices. It's a much smaller island but also much less crowded.
With those things to consider, lets look to Thailand's other shoreline, off the Indian Ocean. This side of the coast is arguably more popular with travelers, mainly due to the main tourist destinations such as Phuket and Krabi. Both are cities on the coast and act as a great jump off point to get to the surrounding islands.
Phuket is definitely the more popular of the two, likely because of the fact that Phuket's bars and clubs are quite lively but also because of its well-earned reputation for its beaches. Another key reason is the fact that cheap Phuket flights do exist which makes travel there much more popular.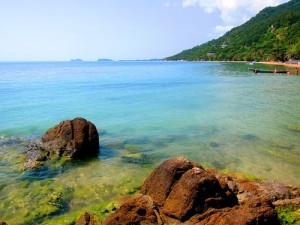 However, Krabi is an amazing place too with a multitude of things to do outdoors besides lay on the beach, party and snorkel. Each destination point offers different things to different travelers but most who visit typically don't leave without at least one visit to the islands off this coastline. And one of the most popular islands is Koh Phi Phi due its amazing beaches and its size however, the area surrounding it is littered with small islands too.
All in all, I'd say it comes down to what you want most out of your visit to Thailand… a quiet place to relax and enjoy the culture or a place to socialize, party or hit all the hot spots. Either way, you have options both North and South and chances are, Thailand won't disappoint you.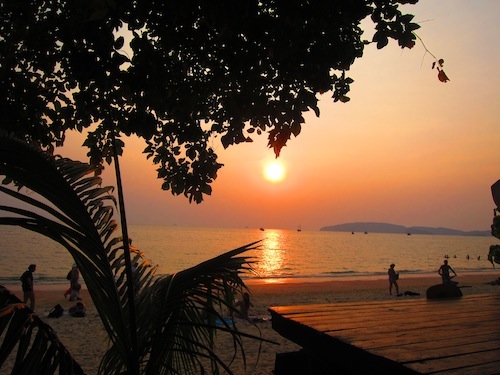 Regarding transportation, nearly all travel in Thailand is relatively cheap. In fact, while I was traveling, there were overnight sleeper buses that could take you both North or South from Bangkok for as little as $20 USD. Trains are a bit more but will be more comfortable and of course, if you can afford to fly… well, why wouldn't you? Unless of course you have more time, want to see more by traveling over land… or to save money! Best of luck on whichever destinations you choose and please leave your comments and questions!!