When you've landed in Phuket, the land of amazing sunsets and beautiful beaches, what's the one thing you need to do while here? Get on a boat and cruise around of course! After all, you're on Thailand's largest and most popular island…. So how about a dinner sunset cruise on the calm waters of Phang Nga Bay? Yep, sounds amazing to me… Now what? Where to do I find such a magical boat? The search begins…
A Recap from the June Bahtra Boat Tour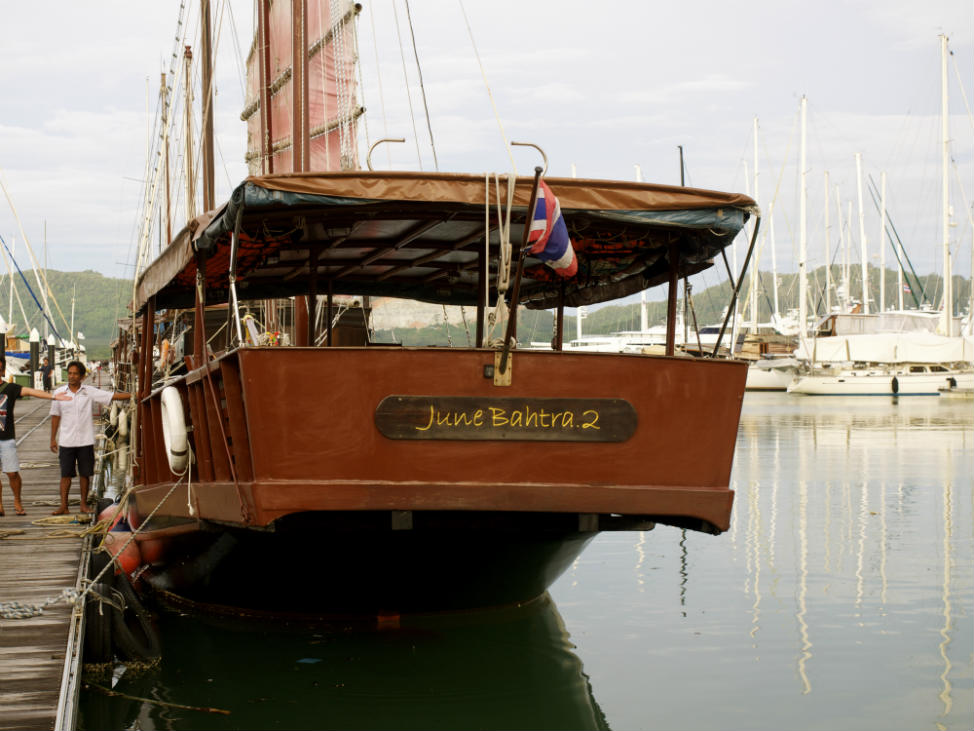 I was on a hunt to find the best and most affordable tour company that offered chartered trips aboard a Thai inspired 'Siamese Junk' boat on the waters of the northeast bay off Phuket, Thailand. And why are they called 'Siamese Junk boats'? I really have no idea! But, this was what we'd be taking and more specifically, we would be on the 'June Bahtra' boat tour and they were featuring just what I was looking for… an amazing time floating on the waters of the Phang Nga Bay heading out into an area where the mountains dotted the coastline in the distance and the sun would be setting in the background.  Of course, this wasn't the only tour offered as you could take a trip in and around James Bond Island as well. We actually had done that last time we visited Thailand and had left from Krabi, off the mainland. It was an awesome trip too but since we had so many in our group and wanted something more unique, we opted for the sunset dinner cruise and it was an amazing experience.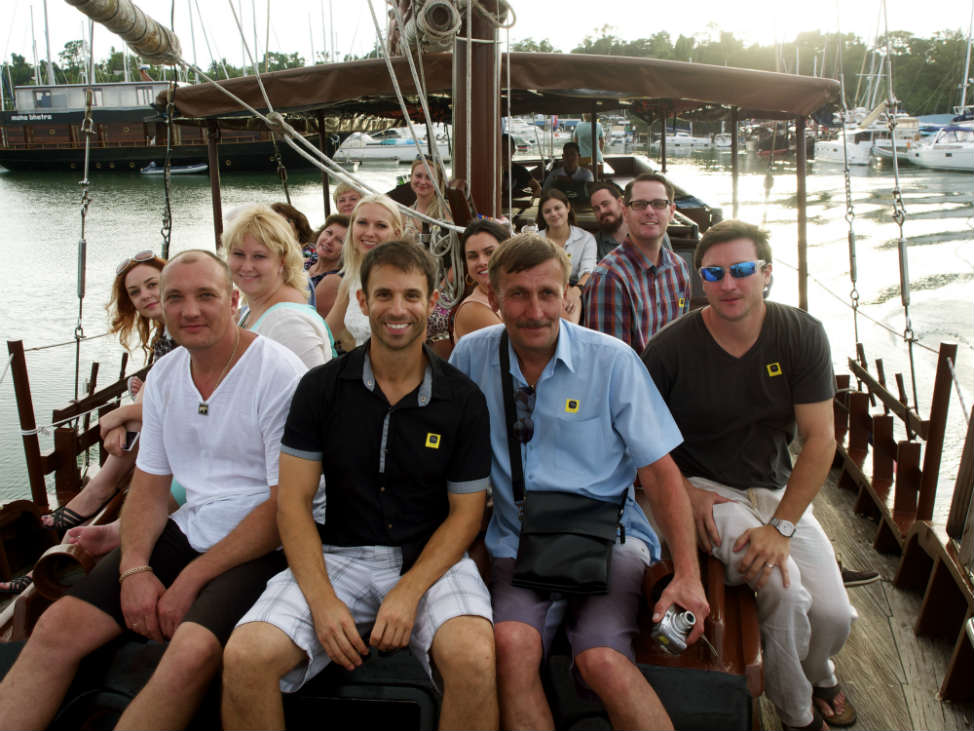 We started out the evening by arriving to the docks in essentially what I'd call a 'large commuter tourist van' that seems to be so common here in Phuket. And in typcial Thai fashion, our driver was weaving in and out of traffic amongst motorbikes and road construction in order to make it to the dock before it was too late to catch a good sunset. We were running a bit late but still had plenty of time and although the ride was a bit harrowing, I appreciate the urgency in departing on time for the sunset.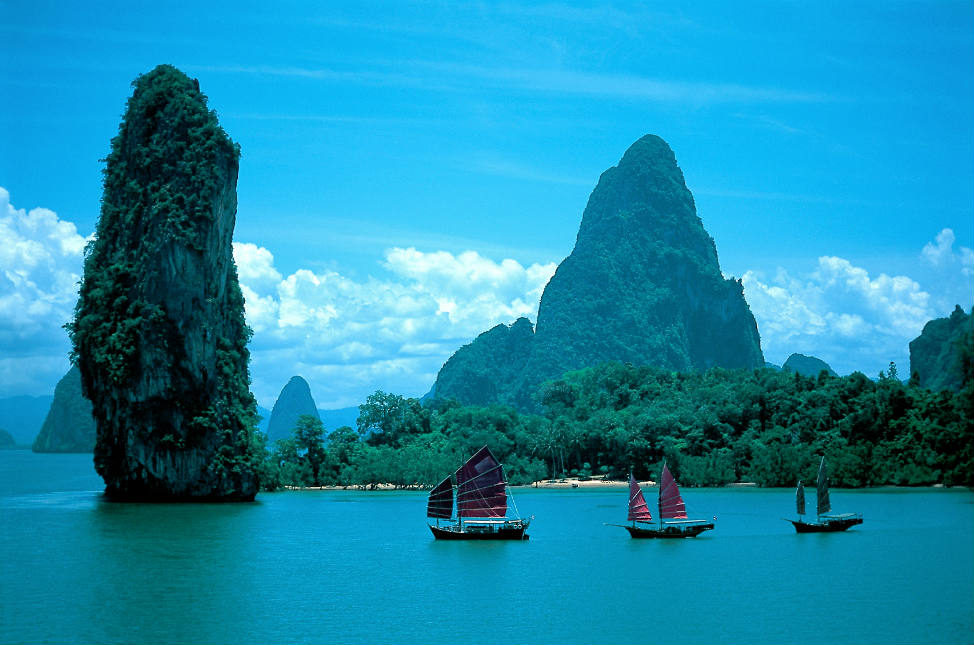 The was the best way it seemed to grab a photo of the June Bahtra boats on the water in Phang Nga Bay since I couldn't exactly just jump off ours with my camera to get a photo:) This photo was taken off Asian Oasis's site that we used for the tour and is reflective of James Bond Island, where we had been before.
The June Bahtra boat tour itself lasts around 2-3 hours and the sunset we caught that night was amazing. What was even more amazing was looking off to the right of the boat and watching planes on their descent down to the Thai airport just a few miles away. They looked to be hovering just above the horizon until they got to within a couple hundred feet of land before disappearing below the mountain range just off the water. Some even passed us directly overhead, in what seemed a few hundred feet above us even though they were probably at an altitude of 2000-3000 feet.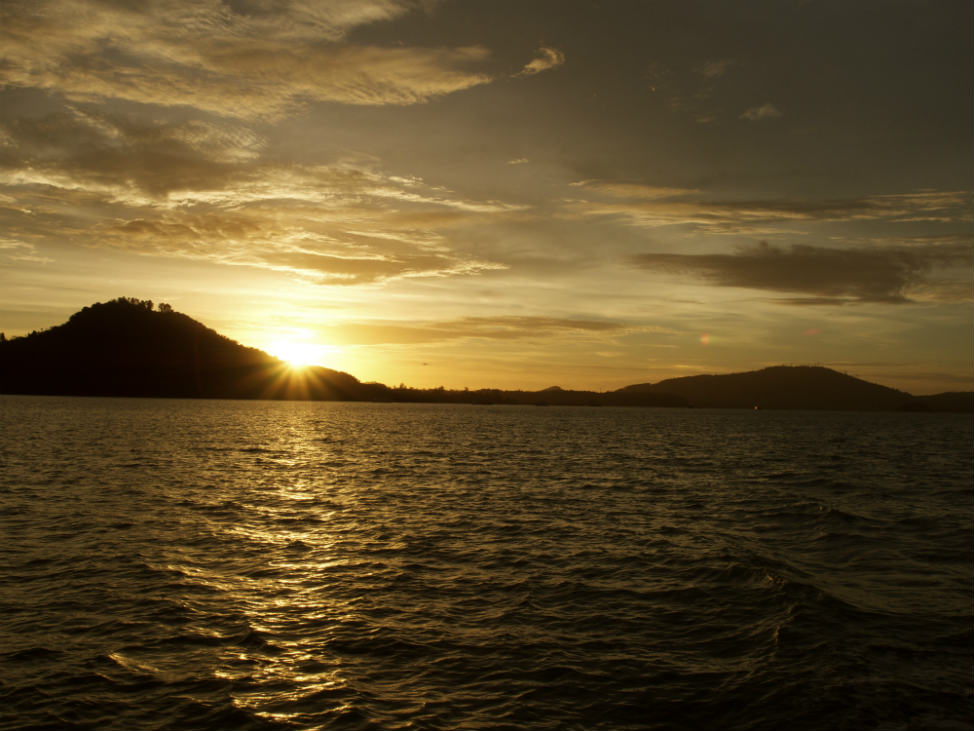 Soon after the sun fell behind the mountains, we were called to the back of the boat for dinner. And as seems to be the norm here in Phuket and Thailand in general, the food was amazing. Truth be told, I wasn't expecting much from a dinner cruise in terms of the food given since we were paying a 'package price' for this tour however, the food was wonderful and surprisingly, there was plenty of it. Beer and wine was not included of course but affordable enough for my backpacker budget. And who cares anyway? I mean how often do you get a chance to eat dinner on a Siamese Junk Boat while catching the sun set across emerald green waters with a backdrop of mountains surrounding you? If you're lucky enough (like I was), they may even let you raise the sails…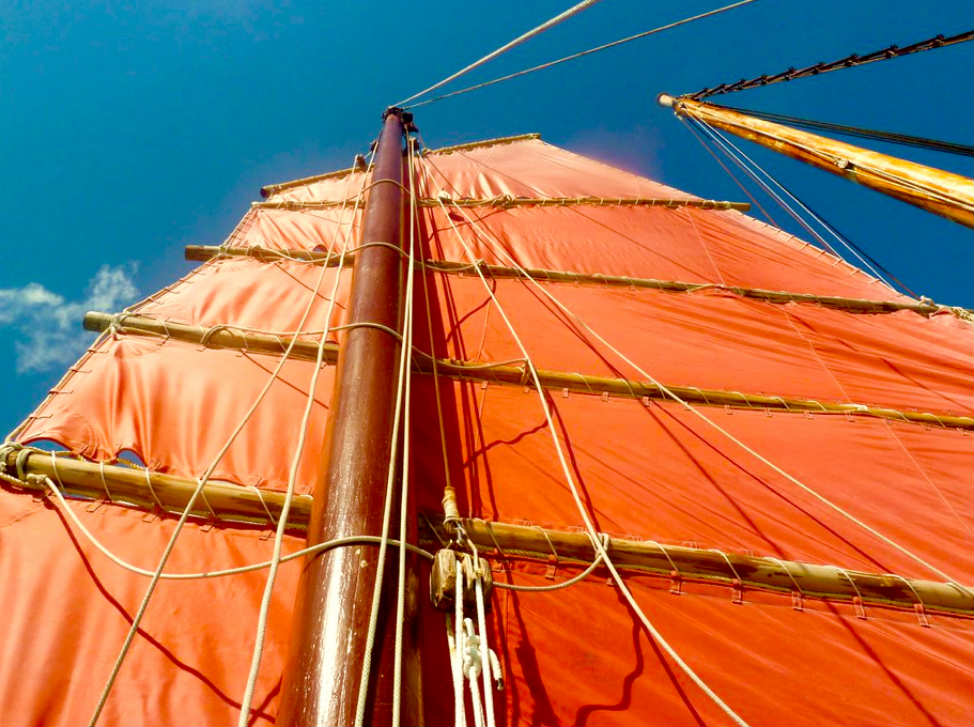 For more information on the June Bahtra Boat Tour:
If you're headed to Thailand and looking to book a tour on the Phang Nga Bay, we used the company, Asian Oasis. Communication was good and prices seemed fair after doing plenty of research with other tour companies. But there are many other companies available and at differing prices and packages so a bit of research is good for whichever tour you're looking to do.
Cost at the time of this writing was around 1,800 Baht. True, that's a bit on the high side (for backpacker budgets) but the trip was definitely a memorable experience… you may be able to find it lower however, especially if not needing to book in advance or book during the more popular dry season when prices will most certainly be higher. And luckily, that price includes transportation to and from your hotel or guesthouse.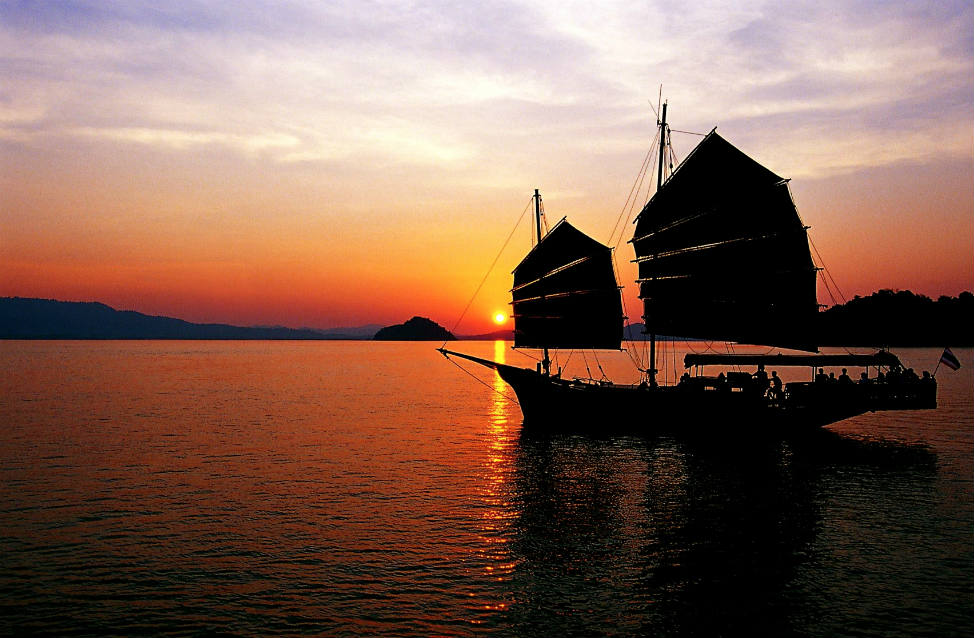 Again, not my photo (as I was on their boat) but a photo taken from their website showing the June Bahtra at sunset. Amazing tour all around!