After a long absence, I was finally headed back to the land of smiles only this time Phuket was on the destination list, Thailand's largest island. To be honest, I had diverted my travels to this area on my last Thailand adventure. And for good reason… It was known as being one of the most heavily traveled tourist areas in Thailand, complete with crowds and what I considered to be a lack of culture and authenticity. But hey, this trip could also great for many reasons too… Phuket is known for its beautiful white sand beaches, crystal clear warm waters and some great nightlife not to mention many other more traditional Thai attractions. It was time to really see what it was all about instead of pre-judging based upon the opinions of others.
Traveling in Phuket, Thailand… My First Impressions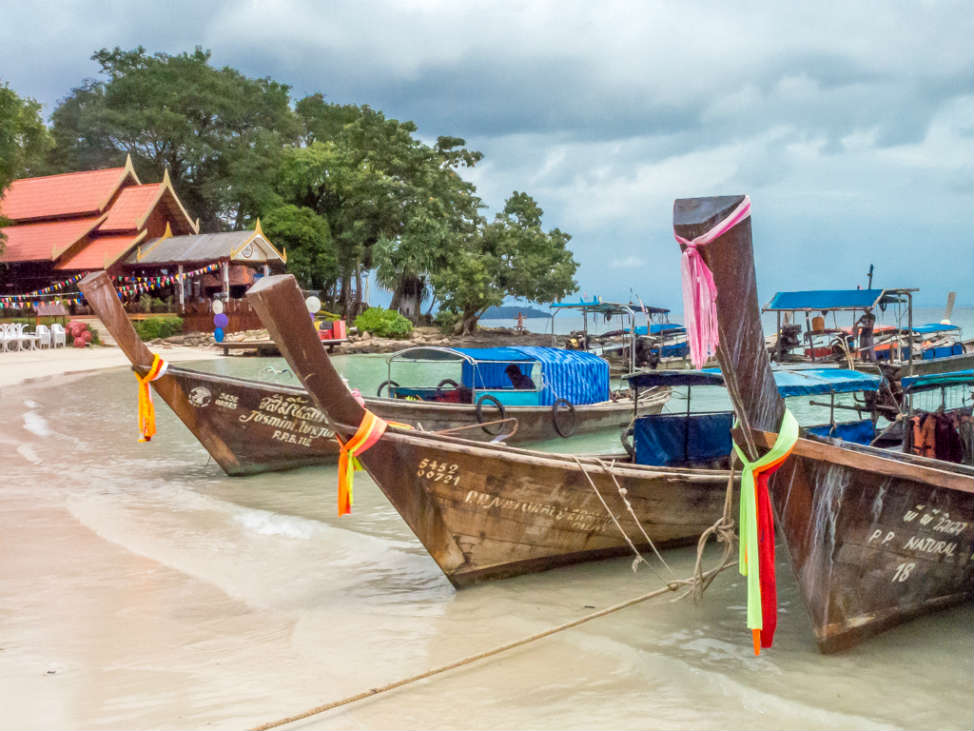 The infamous long tail boats of Thailand… yep, you'll find em' here in Phuket too…
And in such great fashion, as soon as I stepped off the plane and exited the Phuket airport, I heard 'Excuse me, taxi for your sir'? Just like that, I knew I was back in Thailand as 12 taxi drivers were surrounding me. Not necessarily in a bad way, but it always gives you that immediate feeling of being a tourist and their hopes of seizing you for 'fresh meat' on the price quoted to your destination. Having gone from rookie to seasoned Thai traveler on my last 6 weeks here, the surest way around this is to research the real prices to your hotel or guesthouse before you start flagging down a taxi. Had I not done this prior, I could have easily been taken for twice the cost of the trip that they were to quote me.
But soon, we were off and shortly thereafter, landed on the south west side of the island where we would be spending most of our time, on Kata Beach. Now there are a plentiful amount of beaches to choose from…it really just depends on what you're looking for. Some people want partying, some people want tranquility but I can tell you, no one is going to find true peace and quite here… Nope, not in Phuket. Well at least not during the more popular dry season, in which we were traveling at the time. If you really want to avoid the crowds, you're best off coming in the wet season and trying to find the least populated beach you can find. Of course the other option is to just sit in your hotel room or resort all day but hey, if you really don't want crowds, why not just travel to a smaller island anyway? After all, Phuket is one of Thailand's most popular travel destinations.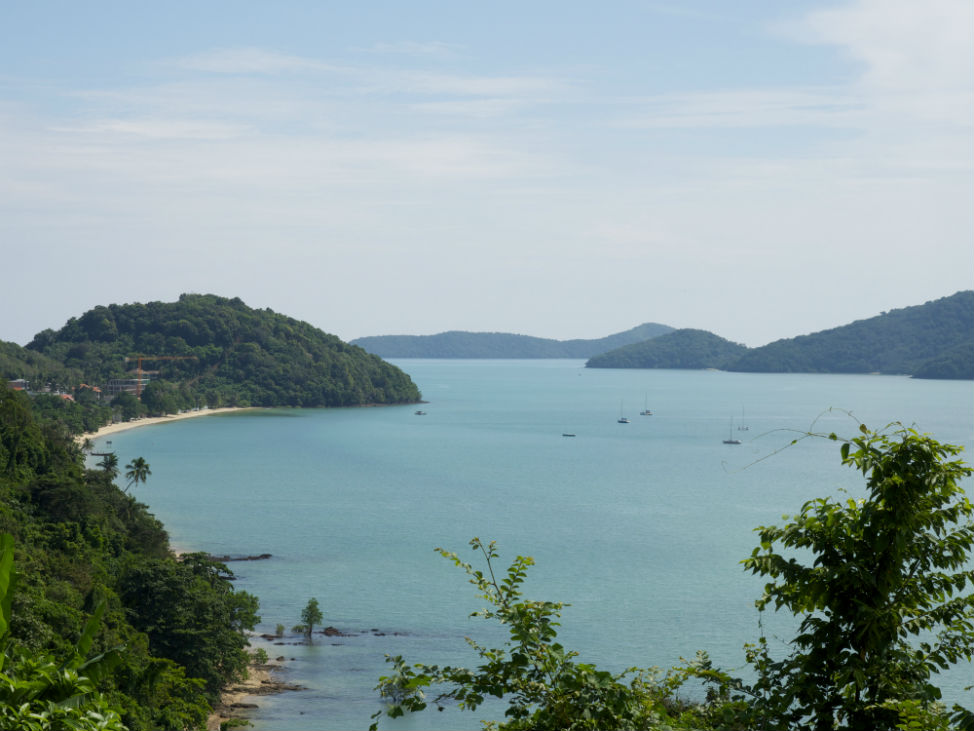 An overlook in Phuket… This was taken on the southeast side of Phuket which is much less crowded than the west side (as you can probably tell and in stark contrast to the beach photo below!)

But don't be fooled by the so called 'dry season'. It still gets its fair share of rain. In fact we were traveling about two weeks into the beginning of Thailand's dry season and still saw rain almost every day. However the welcoming fact was that it was always short lived, usually less than an hour and would typically only rain in the late afternoon. This was a tropical climate after all so you can't get upset about a little rain can you? It sure didn't both me…
And Phuket seemed to have all the things about it you'd likely find in most other heavily traveled areas of Thailand… namely massage parlors that seemed to be on every corner, custom suit tailor shops, open air restaurants, some Thai-Lady boys scattered about, street lined vendors doing their best to sell you as many souvenirs as possible and of course, taxi and tuk tuk drivers shouting and trying to keep up with you to find out where you're going and if they can be the ones to take you there.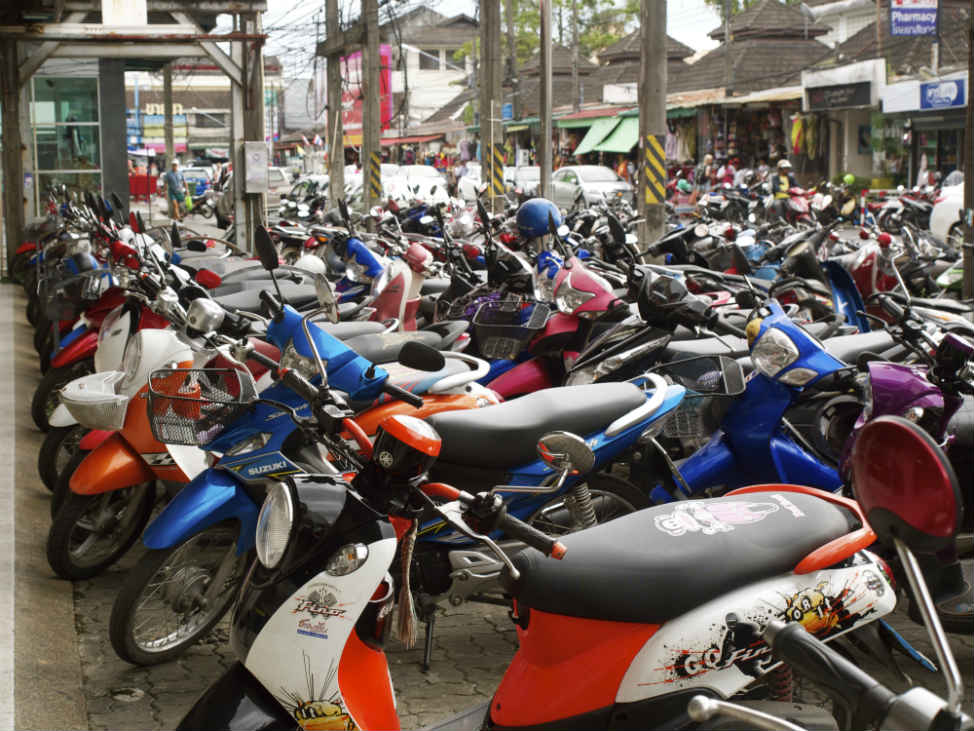 No matter where you go in Thailand, there will always be a plethora of motorbikes around!
Now what I absolutely didn't expect while here was the amount of Russian tourists that flocked the streets and beaches as well as the level of catering that seemed to go to them by the local Thai people. It was quite amazing to see that many areas throughout Phuket had more Russian Cyrillic on their signs, billboards and menus than there was English. In fact, I came to find out there is quite a large Russian population that lives here in Phuket. I guess they've found a way to work around travel and work visas along with border runs to extend them.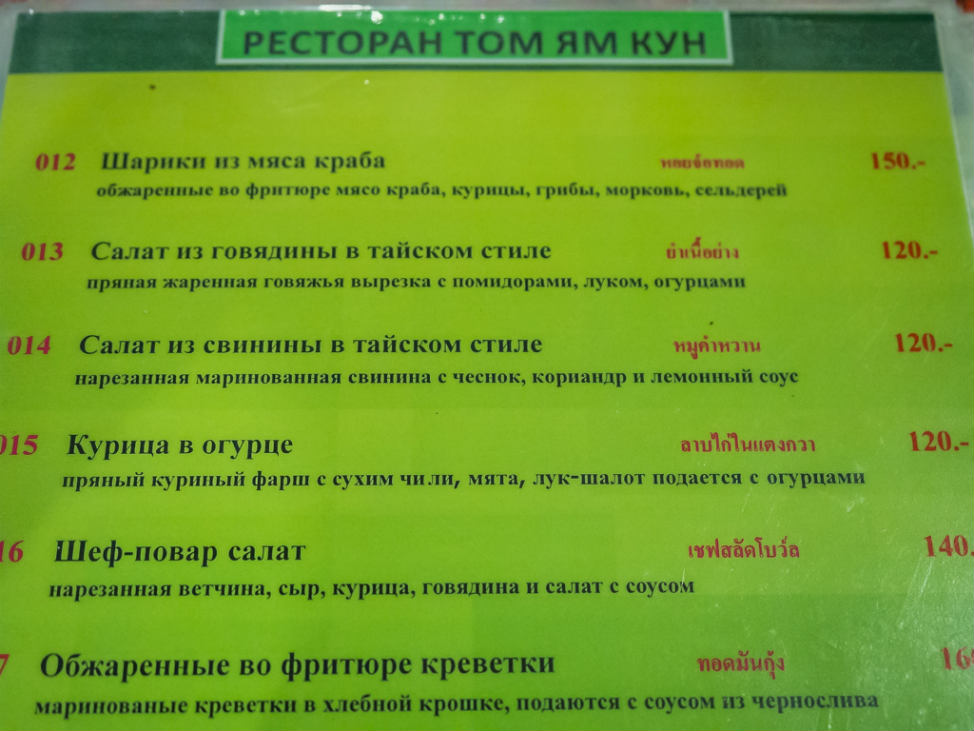 Yep, that there is a menu completely in Russian. This particular restaurant didn't even have one in English as a secondary menu…
As for the beaches here in Phuket, my first impressions would give them a thumbs up. Very tropical and for most of them, very beautiful. Phuket is a very mountainous region so traveling there allows you ample opportunity to get quite high above the beaches below and look down upon them with their white sands and crystal blue waters. An amazing sight to see… And this is probably the coolest way to view them too as most beaches, while actually on them are quite crowded so its best to head out early morning to enjoy them best. Here's a great example of what I mean…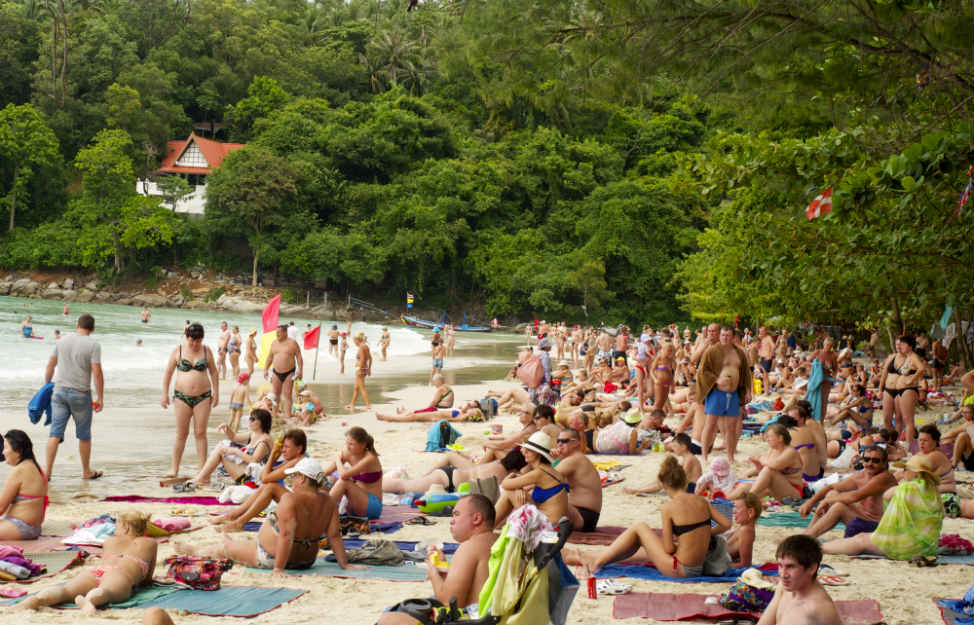 Does this look like a nice relaxing day on the beach to you? Yeah, me either! And it was for this reason that I decided to explore countless other beaches while here to find a less crowded spot…
One of the other main differences I found here that seemed more exclusive to Phuket as opposed to the rest of Thailand were the amount of 4 and 5 star hotels and resorts. Sure you can find these in other parts of Thailand but just not on the scale as you'll come across them here. There were even a plentiful amount of Western chain resorts such as the Westin and the Hilton though I can tell you many of the most famous ones here are Thai owned and operated. And I can only imagine what some of these places go for a night! Some of the rooms in these places  actually include your own private villa complete with your own private pool! (literally your own pool just outside your room or as part of your balcony on a highrise). Hardly a place for backpackers but yes, you can still find plenty of affordable guesthouses scattered about.
So aside from the crowds and touristy vibe that Phuket carries with its reputation, the most amazing thing that seemed to stand out to me in my first few days here was the food. It was simply amazing! And not just in the nicer restaurants but I mean, everywhere, from the street vendors selling small dishes and snacks, to the open air straw topped shacks serving food along the beach and all the places in between. It seemed that everyone here had taken courses on how to prepare the best Thai dishes! I simply never ate a bad meal and while not surprising that Thai food is delicious, I was sure I'd come across at least one dish I didn't like. But in fact, it was quite the opposite. I'd order something new and different and it would more often than not turn out to be something even better tasting than I'd anticipated. I knew right away that it would be the food I'd miss most when I'd eventually leave Phuket…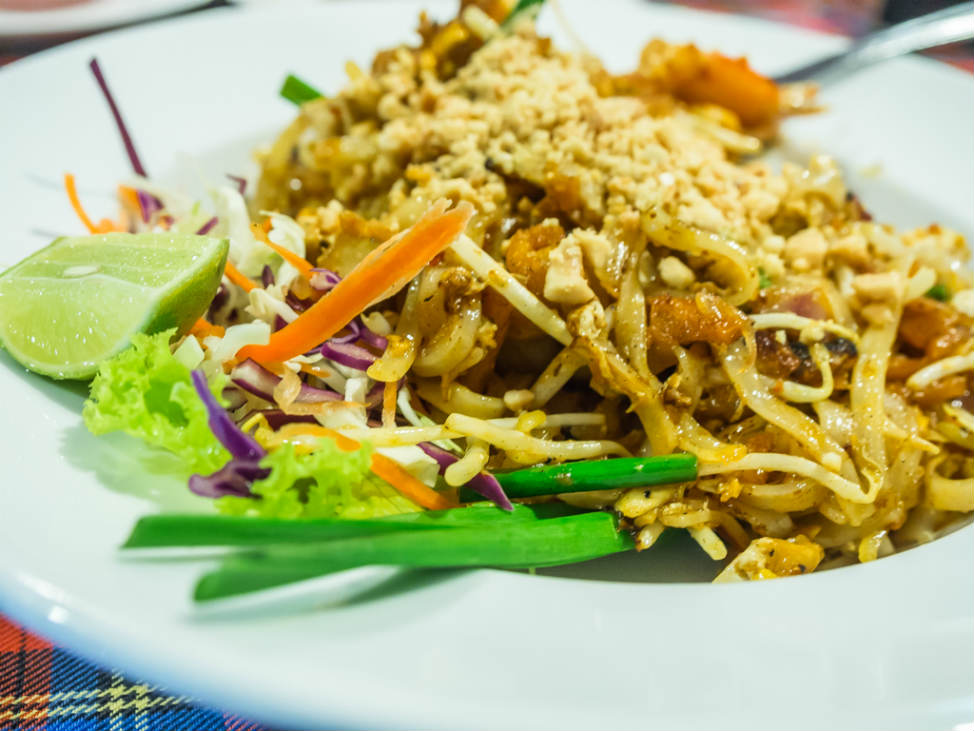 Your basic plate of Pad Thai but nothing basic about this amazing dish!
All in all, Phuket came across as somewhat typical in what I thought it would in regard to the crowds of tourists and the lack of authenticity in its Thai culture but at the same time, it has very much impressed me with its natural beauty along its shores, its amazing cuisines and its ability to cater to the travelers that venture here. It's no wonder it has become such a tourist destination. The Thai people really know how to cater to 'tourists', just don't think that you're exploring some unknown destination while here or getting a true picture of what Thailand is really like. After all, they have more Western owned businesses here than you're likely to find throughout the rest of Southeast Asia. If you're OK with that and Phuket's crowded streets and beaches, you're probably going to have a great time while here… we did in fact have an amazing time ourselves. Many more posts to follow on that so stay tuned!