When we eventually got dropped into Udaipur that night after an extremely long and crazy bus ride, we really had no clue where we would stay and had no clue where we were in the city as we had no map. But we were excited to be in Udaipur, the Venice of India as we'd heard so many good things about the city.
We ended up meeting someone as we got off the bus that recommended a place that he was heading to so we split a tuk tuk and were in route for the next twenty minutes. The place turned out to be quite nice and relatively cheap.
In fact, the place had a rooftop bar and restaurant that overlooked the entire city. It even showed a movie on a big screen every evening for free. We weren't too interested in that but the view over Udaipur was amazing. This city has so much water surrounding it, it can almost remind you of Venice. OK, so this India and that is a far fetched idea but after being on dusty roads throughout every Indian city and town we'd been in, Udaipur, with its waterways and canals, was a welcome change.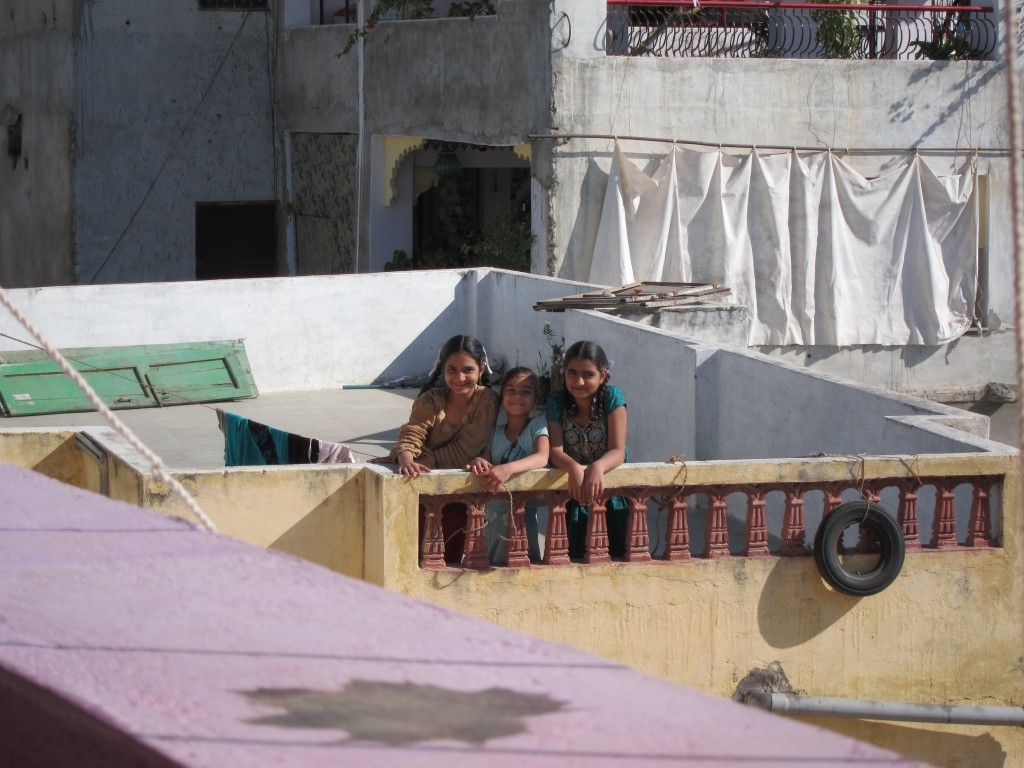 The next day we decided to take a boat tour around part of the city. Luckily the hour on the boat wasn't an expensive tour but they did have one major idiotic rule, at least in my opinion. Apparently, everyone on board the boat was required to wear a life vest at all times.
OK, I know what you're thinking…safety first. Well in reality, this was beyond ridiculous. The boat itself was actually a decked out pontoon boat that seated about 30. I'd say its top speed was about 3 knots and of course since we were on a calm lake with no wind, there was no wake at all. Plus, I don't think we ever got more than half a kilometer from land. Can you seen how ridiculous this was? I mean, some of these poor ladies were wearing dresses to go out on the town with. Nothing like slipping into a wet life preserver….  I was surprised not to have to wear a full faced helmet while walking along the pier to board the boat! We actually took our vests off during the middle of the tour and apparently were seen by one of the tour owners who was shouting at us from the shore… nothing like getting in trouble on an organized boat tour.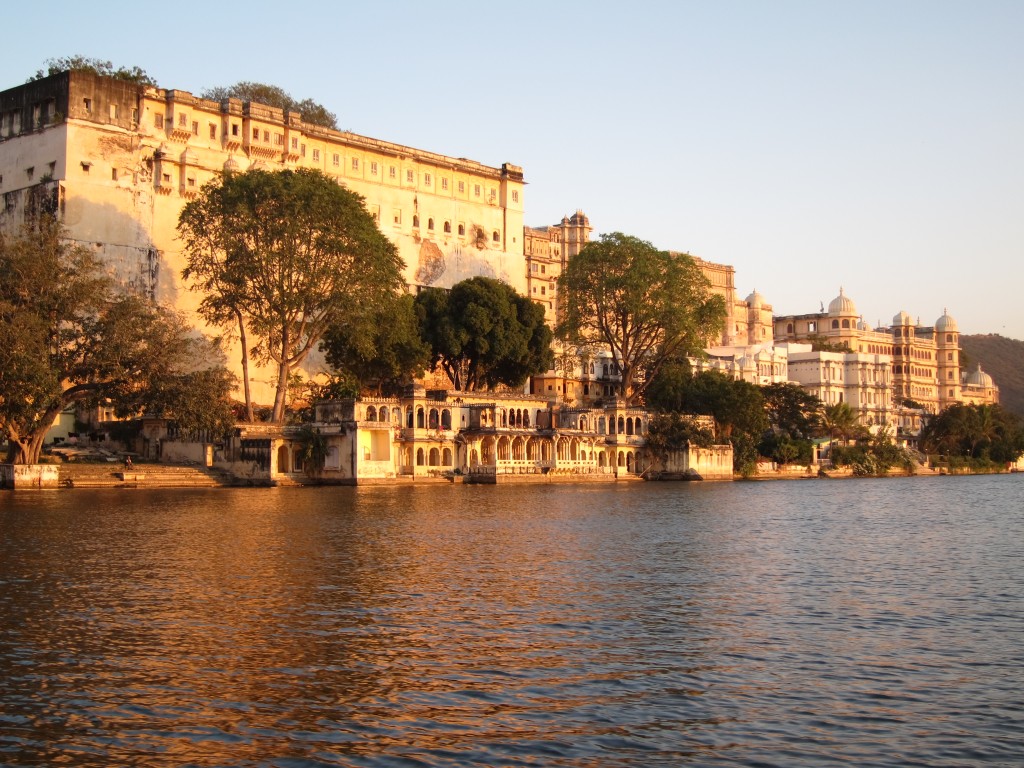 Thankfully, the tour was worth it and we had taken it just at sunset which was even better. They took us past the City Palace and the Lake Palace, both of which were filmed in the James Bond film Octopussy.
The Lake Palace was actually built originally for the royal family as a summer palace but is now a 5 star hotel which is often frequented by celebrities when visiting Udaipur. No, we wouldn't be staying there. As for the City Palace, it looked amazing and we had given some thought to visit it the next day as another one of our really cheap tours just as the rest of this city had provided for us. However, we had decided after seeing so many forts and palaces in the past week or so that it would not be the end of the world if we missed one. Just spending time in Udaipur was good enough.
Later that evening we were in search of a good restaurant that overlooked both the city and water and luckily found an excellent one just over the bridge from our hotel. To say that it was nice would be an understatement. In fact, walking into it, we almost thought we'd need to go back and get a bit more 'dressed up'.
The service and the food were amazing and spending a night there for dinner had made us forget that we were still in India. Well, Udaipur in general can give you that feeling too… But what was most ironic were the prices at this place. It was still extremely cheap by western standards although a place like this back home would be considered one of the nicest restaurants in town, with a view included. It was amazing.
In fact, we ended up eating there again before we left Udaipur. So what else did we do while we were here? The answer… not much. Unfortunately we both got sick (me on the second day and her on the third day here) so what would have been an even greater experience in Udaipur was just merely great.
Looking back on it now, it seems only a blur but after throwing up a couple times between the both of us, the couple of days spent doing nothing wasn't too much fun. We were positive though that it had been the result of the food we ate during our camel safari tour a few day prior since a few others had felt the repercussions of the food that was served out there.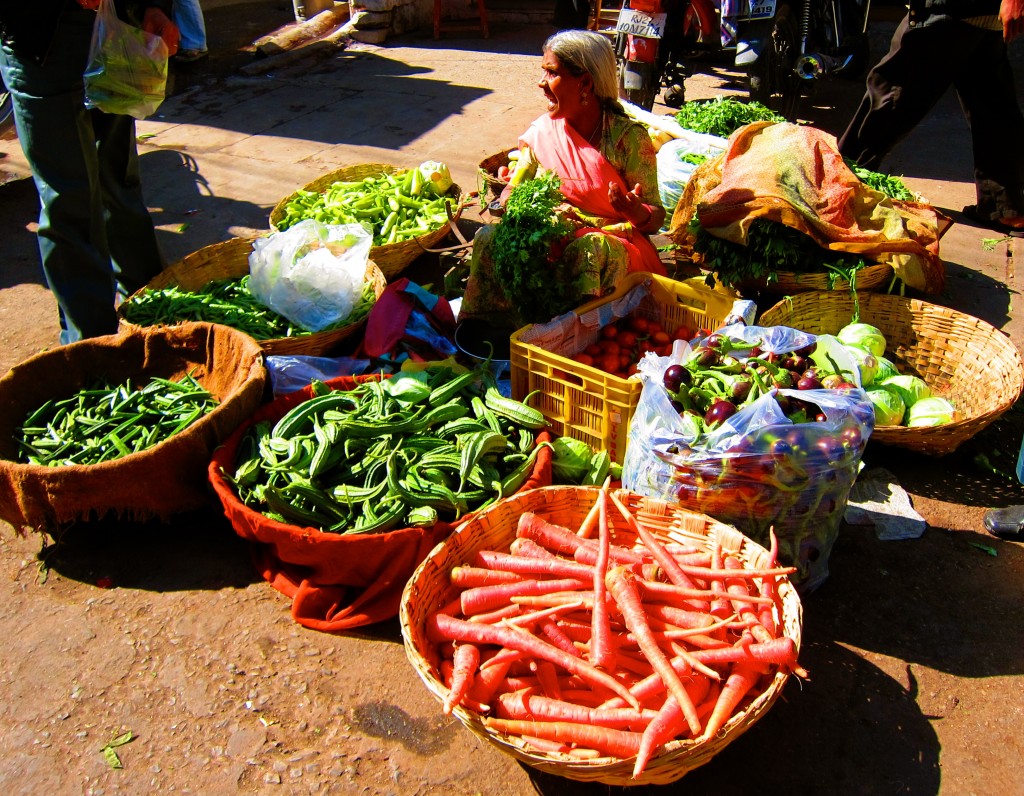 So what was next on the lineup of destinations? Well, I actually had more time to spend traveling around in India but my friend, whom I'd been traveling with the past 2 weeks only had about a week left before heading home. So instead of trying to cram in a few more cities such as Mumbai and a couple others, we decided that after the craziness of traveling around in Rajasthan, maybe we would just head to Goa which lies on the coast about 12 hours drive south of Mumbai. So after about four days in Udaipur, we were headed to Maharana Prata airport for our flight south….