After a couple of weeks spent in Nepal, it was time to move on. It was great spending time there and the people were extremely friendly but it was time to start backpacking in India. And to be honest, I really didn't know what to expect. You hear from so many people that it is their favorite country while a few others will tell you that they didn't enjoy their time in India at all and had left sooner than they'd planned.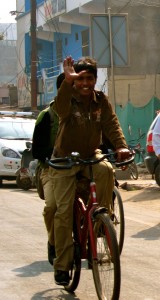 Well, going into it, I was aware of the reasons that spark so many negative  comments. Of those, the constant touts trying to sell you things, the cabbies trying to rip you off and of course, the expectation that you're going to get sick at some point from either the food or the water. However, I was doing my best to keep an open mind. Also, after travelling through many of the countries I'd already been, you become quite accustomed to people trying to push you into buying their products and services as well as people trying to rip you off. It happens everywhere in the world and India is no exception. The difference of course is the process by which it all occurs.
Leaving from Kathmandu, I was hoping to be able to take the trip into India overland because in my opinion, that is always the best way to see a country. However, after finding out there is no train that will take you directly there and finding out the bus would take two full days (no thank you), I found a cheap flight straight into Delhi. I was hoping to avoid Delhi altogether but since it is closest to Agra, my next destination, it was easiest to go this route. What wasn't easy however was getting through Nepali security for my flight into India.
For all those that think it's quite a process to get through security in the U.S. and England, I swear you go through twice as many security checkpoints in the airport in Nepal. You even go through security again and have your bag checked as you're literally walking the stairs into the plane. I felt like Greg Focker from 'Meet the Parents' in the last scene of the movie. Especially when my plane was boarding and I was standing within 30 yards of it from the door of the airport. Instead of allowing me to just walk there, they had me wait for the next bus to take me which took another 10 minutes to pick me up. It's all about protocol I guess.
When I arrived into downtown Delhi, I quickly realized the differences between here and Nepal where I'd just come from. Don't be mistaken, there are still cows roaming the streets and chaotic traffic, but here, it's multiplied on so many levels. Overall, its just simply crazier!
After traveling through here and Agra, I've decided there really is no easy way to describe what it is like to travel in India and experience this country. Take just about everything you are accustomed to back home and toss it out the window. Things are just plain different. It's the people and their way of life, the traffic, the smells, the food, the markets, the cows running into oncoming traffic, the stray dogs and of course all the other animals you'll encounter in the streets… monkeys, camels, horses, elephants, goats, pigs, water buffalo, chickens. You know, the usual.
I ended up staying only one night in Delhi and to be honest, I didn't do any sightseeing while I was here. Just being here was enough 'sightseeing' in and of itself. I had arranged a pick up from the airport from the guesthouse I was staying in as I thought that would make things easy. Well, when the cab driver pulled up to what was supposed to be the guesthouse, there was merely a huge closed gate on some side street. He got out to find the entrance door and five minutes later came back, had me grab my bags and follow him through a small smurf door about 30 inches tall with my bags in hand. Of course when we got through it, it looked as if we were in a scrap yard. At this point I knew my travels in India were going to be the most memorable yet!
The only thing I really accomplished while in Delhi was buy a new computer. Unfortunately my original computer had crashed while in Nepal and Yadu, my Nepali mail carrier, still has it sitting in his office. Apparently, without $120 in 'insurance' plus another $60 in shipping costs, you can't ship a computer internationally due to customs. He didn't tell me this until later, after I had already left the country and paid for the originally agreed shipping cost. Since all I wanted was the pictures off the computer's hard drive, and since I'd already left the country before I found this out, my Asus Netbook is still sitting in Kathmandu. Merry Christmas Yadu, it's yours to keep. The next day, I was off to Agra, home of the Taj Mahal…
I ended up taking the train with a friend into Agra the following afternoon from Delhi. It's only a short train ride and since the Taj gets so many tourists, we decided we would stay the night in Agra and then try to catch the Taj at sunrise when it first opened up and would be less crowded. Since we arrived that afternoon with time to spare, we decided to head to the fort in Agra which is only a couple miles from the Taj Mahal.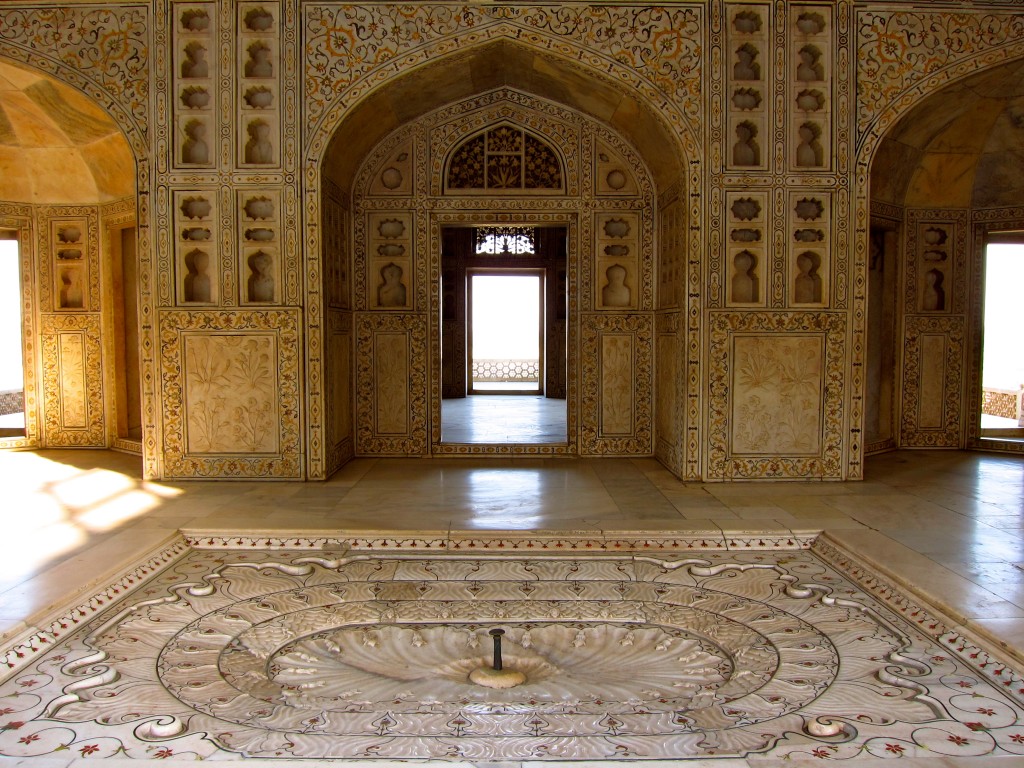 This was the first fort I'd been to in India and although almost every city in Rajasthan has one, this one was quite impressive. Construction on it began back in 1156 but actually wasn't fully completed until 1605. Much of it was originally built from sandstone and involved almost 1.5 million workers by the time it was finished.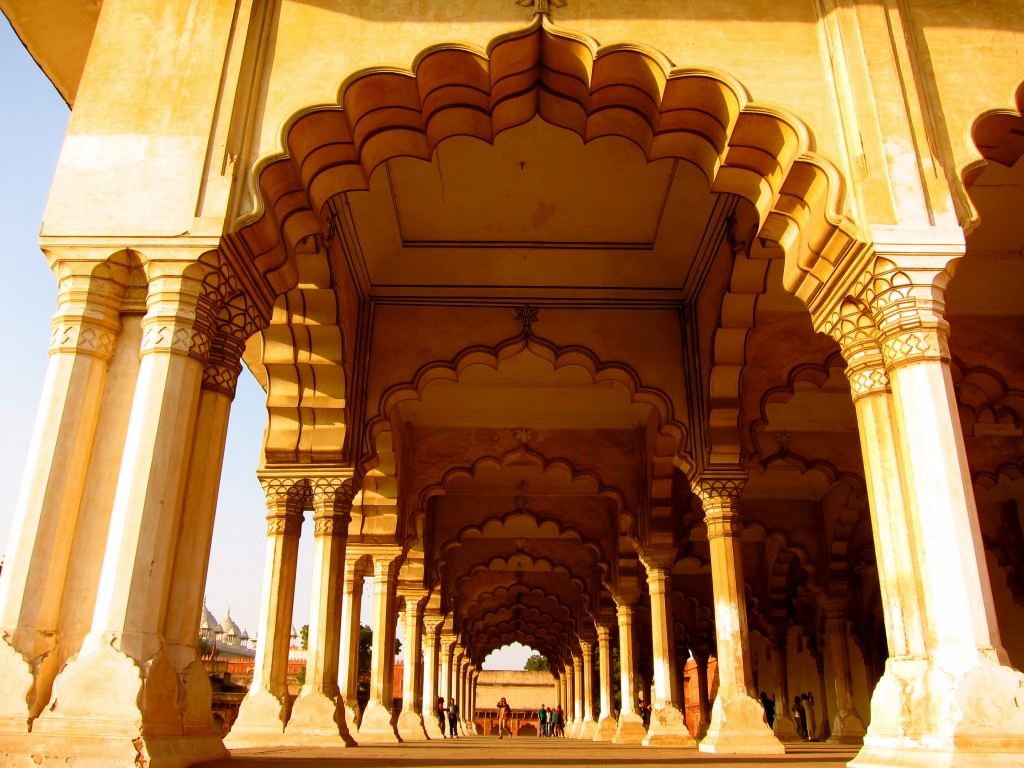 We spent a couple hours walking around inside and learning about its history. The fort was occupied by many rulers over the years but what was most  intriguing was the story behind Emperor Shah Jahan. He was the one who built the Taj Mahal, in memory of his wife and during his reign, he made many changes to the interior of this fort to reflect the design and construction of the Taj itself. Later during his life, his son, Aurangzeb, took over and had his father imprisoned within the very walls of this fort.
Afterwards, we were headed to see the sunset from behind the Taj Mahal which is said to be even better than the sunrise. It was completely free to do this and it was only about a twenty minute drive from where we all were staying. The view we had from that vantage point was amazing and was filled with about fifty other tourists looking to grab some photos before the sun had set.
More than anything, I think this visit was just helping to build the anticipation for seeing the Taj up close and personal tomorrow. After all, it is the main reason people visit Agra and to a lesser degree, India itself, especially those that have only a limited time in the country.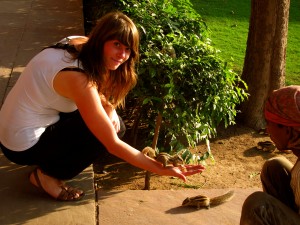 We were there for the better part of an hour before finally heading back. Later that evening we had all gone out for dinner but, in trying to keep to an authentic Indian dining experience, we ate right on the side of the road… tables included. There is just nothing like eating naan and curry on the side of the road in India as camels walk up and down the road. And out of the five of us, if I remember correctly, the bill had amounted to around $6 USD for all our food.
With an early start the following morning, we were on our way to visit the Taj Mahal. When we arrived, before even making it into the entrance, there were monkeys running around everywhere. After my time in Nepal, I had become accustomed to seeing them in the most random of places however, monkeys do some crazy funny things and seeing them this early in the morning monkeying around only added to our Taj experience.
Since the Taj Mahal is such a profound monument with such extensive history, we decided it best to hire a guide just for our group which I'd highly recommend if you visit. It only adds to the experience instead of just walking around admiring stone work. OK, so here is a brief history lesson….
The construction on the Taj began in 1632 when Emperor Shah Jahan's wife past away the year prior. It was built solely in remembrance of her and the tomb where she would lie within it would be center piece of the entire structure.
We learned that they had hired workers from Iran to actually build the Taj due to the style of construction it was meant to have. And they took everything into consideration, even the pillars that stand at the corners are tilted slightly at an angle so that the sun's shadow during the day doesn't cast over the center of the building. And if you haven't been able to tell already, everything is symmetrical, from the grounds to every last detail of each building and pillar.
When you finally make it inside, which you aren't allowed to photo, you realize the interior isn't nearly what you thought it would be. Essentially, it's a mausoleum that was built to hold Emperor Shah Jahan and his wife, whom he had originally built the Taj Mahal for in her memory.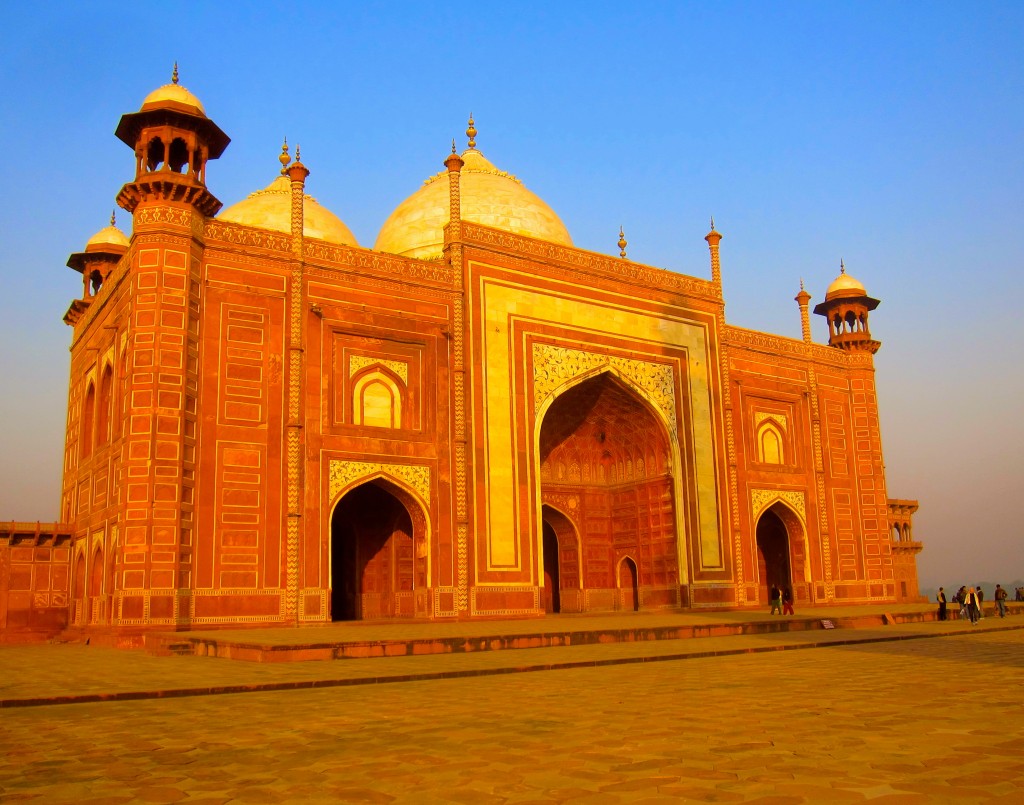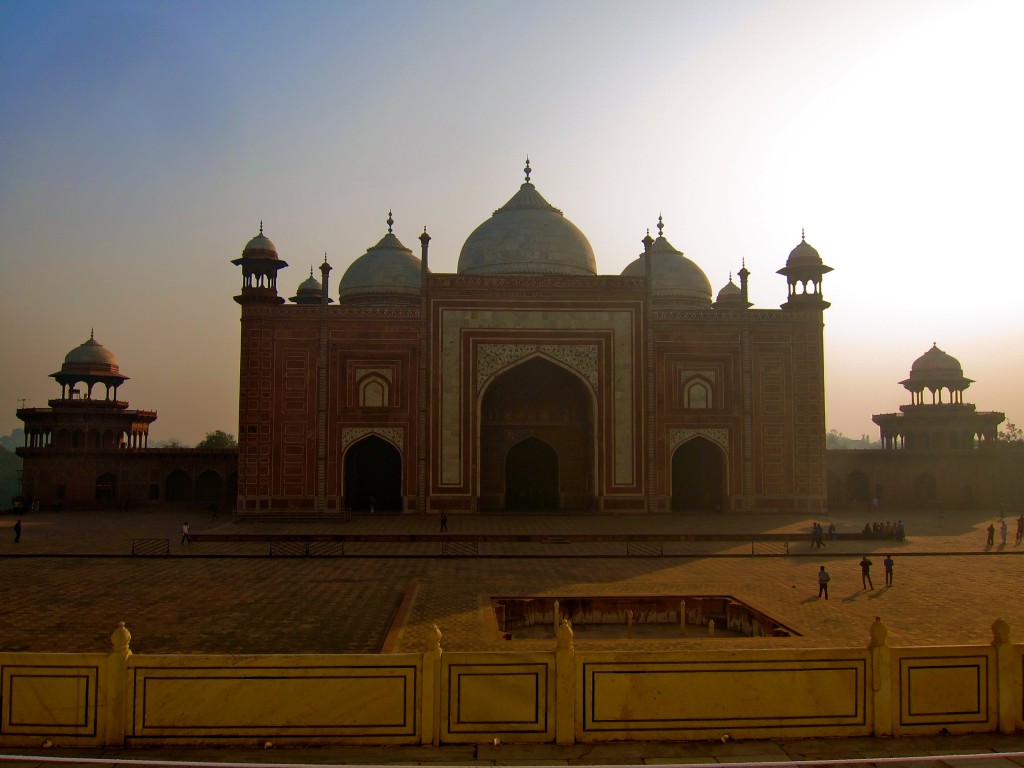 Don't get me wrong, it is still amazing to see inside and the attention to detail, with rare stones that are intricately laid with the marble and the beauty of the design but when you view it from the outside, I think you just expect something different in its interior.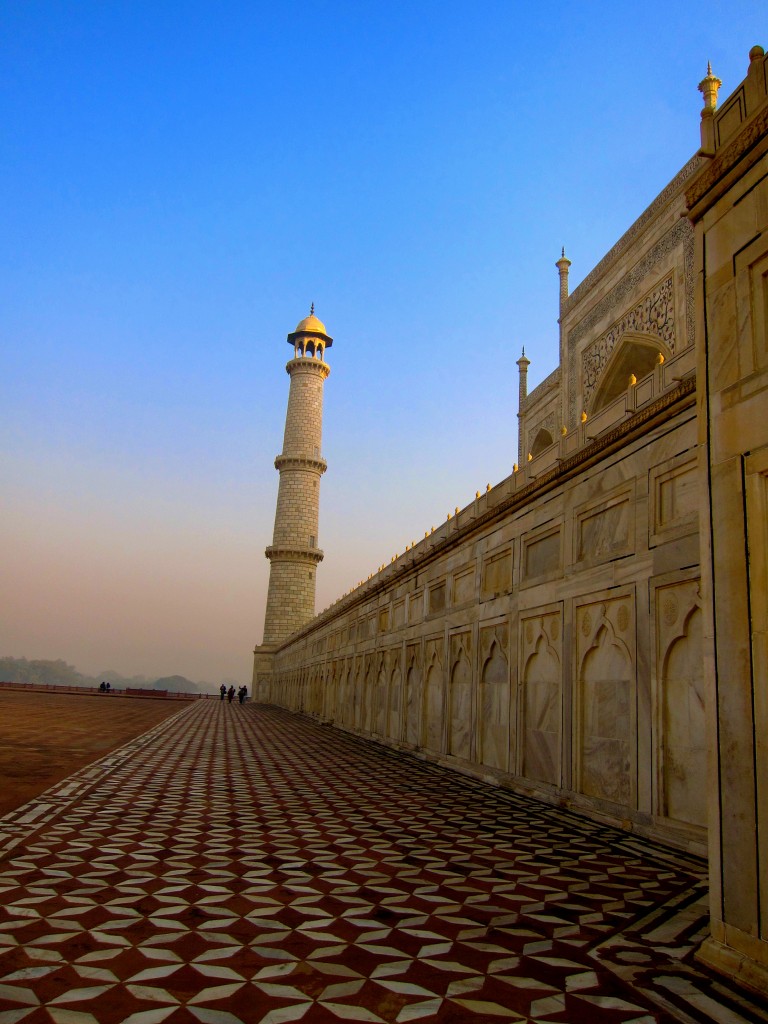 After about two hours at the temple, and of course taking way too many photos, we headed out for breakfast. It was my first time eating chocolate banana pancakes, which were amazing by the way, and we luckily had a view from the rooftop of the restaurant that overlooked the Taj Mahal along with some monkeys jumping roof to roof on the surrounding buildings.
Soon thereafter, we were touring a few other places around Agra. Many people may not realize this but there is actually a 'baby' Taj Mahal that was built as a 'draft' for the Taj Mahal. We stopped by the Baby Taj but after already seeing the main Taj and spending quite a bit to get into that one, we decided not to go into its smaller counterpart. Soon after, we were headed out of town on our way to Jaipur, another major destination for travelers in the state of Rajasthan…. But the fun didn't stop there. It was about a five or six hour drive to get to Jaipur from Agra and we were luckily traveling by car. But if you have ever been to India, you know that the traffic and driving habits of the locals here is just short of crazy. I like to call it organized chaos. If there was such a phrase in Webster's dictionary, it would state: "Organized Chaos" -> See "Driving in India". You see, stoplights are not the norm in this country. Instead they have intersections where the cars just, well all drive into the intersection at the same time. Literally. If you would like to see a short two minute video I took walking through the streets, (keeping in mind its not been edited and I'm an amateur on the video front) check out this video. As you can see, utter chaos at its finest. Believe it or not, I have yet to see a wreck in India. I don't know how that's possible but somehow it all works out.
And if the cars, tuk tuks, rickshaws and stray cows in the streets weren't enough, through in some camels, dogs, monkeys, bikes, motorcycles, parades, pedestrians, vendors pushing their street carts and some choice water buffalo to complete the chaos. I think this is what makes India, India. It is so intense being here, it's hard to describe. If you were to be stuck in a crazy dream that had you walking down a street, there wouldn't be much else to throw in to separate your dream from India's reality. And if you can deal with the craziness, you'll find traveling to other countries a bit more boring. I think that is why some people either love it here or hate it. Things simply aren't what you're accustomed to as everything is so different…