We woke up early that morning to head to the Nepal border crossing from Tibet. As we continued along these Himalayan roads, the switchbacks were getting more intense. By the time we were within a few miles of the border, I was about ready to be done being a bus passenger.
As we continued getting closer to the Nepal border crossing, the traffic was getting more hectic. And whatever type of traffic you're accustomed to back home, it's a different world over here. I can't even count the amount of times we came head on with other vehicles trying to pass us on this two lane road as we rounded these mountain turns. With only one two lane road going to the border there were hundreds of trucks carrying their cargo that were running up and down the road in both directions as well as being conveniently parked and waiting to cross the border right in the lane we were driving on.
And of course our driver was determined to get us over the border in record time, passing any vehicle that was in front of us. Apparently blaring your horn as you drive head on into another car makes it OK right before you swerve to miss the opposing car just feet before impact.
As we were coming back down the mountain our brakes eventually started smoking and we pulled over next to a mountain stream so he could throw buckets of water on them to cool them down. Ironically, the spot he chose to stop and do this just happened to have a truck that had lost control, crashed through the guard rail and shot over the cliff. In most sections along this road, the cliff drop off was in the hundreds of feet but luckily for this truck, which was still sitting on the side of the mountain, it had only dropped about 75 feet. However, from the looks of it, it was doubtful the driver would have survived based on the impact the crash had inside the cabin.
We eventually reached the border but the fun didn't stop there. It took another couple of hours to get through the Chinese border patrol. And leaving from Tibet is even more of an issue at the border because of the political situation that still exists there.
My friend who was standing in front of me had tried to hide his Lonely Planet 'Tibet' guide book within his bag but was found and confiscated by the Chinese authorities. Why it would matter to keep a guide book only after leaving the area is beyond me. They would have done better to have taken this upon entry.
After getting through the border and then securing our proper Nepal Visas, we then were on lookout to find a ride to Kathmandu. The drive took about 3 hours but it took less than a few minutes once we crossed the border to realize we were no longer in China.
Things were so different.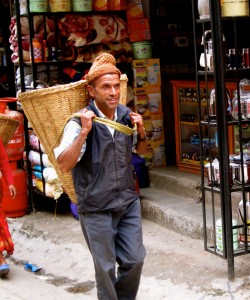 The people it seemed so far were still as friendly as the Tibetans but their way of life was much different. And there was no shortage of random livestock running around in the streets. Just in the first hour of driving on our way to Kathmandu, we had passed chickens, pigs, cattle, water buffalo, mountain goats, sheep, horses, monkeys, cats and of course stray dogs…. all running around in the middle of street.
And the roads themselves were far from maintained. Often no more than dirt or gravel roads, many of the sections we drove over on the way to Nepal were washed out. And it seemed the driving habits of the Nepalese were even a bit crazier than what I'd become accustomed to in China. However, we did finally make it into Kathmandu and I was planning on staying here for at least a week or two…