13 Ways to Save Money Traveling
After 12 months on the road and a ton of research prior to leaving home, I've learned a great deal on how to stretch your money for a round the world trip. Here are a few ideas to help you save money traveling, the same ones that had saved me money traveling since starting my trip.
1. Plan a smart travel route
What does this mean? It means traveling in a 'smart' direction to see the most along your route and trying to avoid flights when you can. When you plan in the smartest way possible, you'll have additional time to see more along the way and will save plenty on transportation costs. You can also time things with the weather in each country, such as avoiding winter in the northern hemisphere or hot summers in the Southern Hemisphere depending on which half you're traveling in…
2. Avoid tours and travel agencies!
For the most part, travel agencies that organize your transportation, lodging, food, and entertainment are always going to charge you more than you would pay should you just book it yourself. So do you really need a guide for the Great Wall of China? The Taj Mahal? A hike up  a mountain? Or for travel from point A to B? Usually you don't as you can always just go yourself. There are many things you can see or do just the same as if you book a tour. So why pay the added cost? Unless they are going to organize things that would be extremely difficult for you to do, it's almost always a better option to just do it yourself.
This is especially true for transportation. Using an example of traveling in Southeast Asia, specifically in Laos, the 'tourist bus' we took from one city to the next turned out to be worse than the 'local bus' we ended up taking back a week later. And it was nearly twice the cost for the tourist bus! And if it's the 'educational' or informed benefit of having tour guide, just remember the beauty of Google and Wikipedia. You can find out plenty about the place you're going the day of or night before (or week/months before) about a particular place before you go there. For instance, if you're going to visit the Red Square in Moscow, can you just do a bit of research before hand and bypass the guide? Visiting the Forbidden City in Beijing? Could you just watch the 'Last Emperor' movie to learn before you go? Doing these things will definitely help to save money traveling as you go, if and when you can avoid them.
Sometimes though, tours and travel agencies can be near unavoidable such as if you are in an unusual place or have no good alternatives. And sometimes… tours can be a good option, especially when you're solo. in this case, just try to limit the times you use them. And shop them where you can. You'll save a lot more during your travels.
3. Save on flights
There are many ways you can save on flights and with flights being the biggest cost of your trip, you'll do well to pay close attention to these in order to save money traveling… I first wrote an article about saving on flights using bonus miles here. However you can also save by booking in advance, flying standby, using 'buddy passes' and even using a RTW ticket (though this can limit your flexibility and freedom with certain ones). Bonus (frequent flyer) miles are also a wonderful option if you can accumulate enough of them to redeem for 'free' travel. You just pay the tax and fees on a flight. Learn more about accumulating miles in this article.
For booking flights in advance or trying to fly standby, typically airlines will offer cheap tickets on certain dates and sometimes booking in advance, weeks if not months ahead can save a lot, especially if the airline is running a special.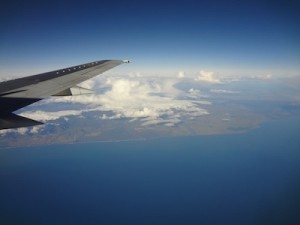 And if you don't know what 'flying standby' is, it's simply showing up at the airport and hoping that there is an empty seat on the flight you want to take to your destination. If there is a seat available, you may be able to pay half price or at some substantial discount than what you'd normally pay. The only problem is the fact that you need complete flexibility in your schedule for this and also need to expect that you won't always get the chance for an available seat which could mean hours or days at the airport before getting on a flight.
Buddy passes can also be an option. They are simply the passes that an airline gives to its employees to use throughout the year for discounted travel. For instance, if you have a friend that works for an airline, they may be given a certain number of buddy passes to use throughout the year but what is great is that this person can give them to friends or family to use. So if you have a friend (or a friend of a friend) in the airline industry, see if you can use one of their buddy passes. I did this when I started my trip and simply paid the discounted ticket rate and also gave a gift to my friend for the opportunity to use one of their passes. It can work out well this way and can save you a lot of money. The tickets usually have an open return date too from anywhere in the world the airline flies so this is beneficial as well.
And lastly, there is the option of a 'RTW flight ticket'. If you're planning to go to a lot of different countries, you may consider one of these. Basically, you are buying multiple flight tickets at a discounted rate. It can be a good option for someone looking to save money traveling on flights and that knows exactly which countries they want to travel to and on what dates. Some RTW tickets do have some flexibility which you can research further. Here is a good article from Nomadic Matt where you can learn more.
4. Spend
more

time in cheap places, less time in expensive ones!

This goes without saying but seriously, one week in London could cost as much as one month traveling anywhere in Southeast Asia like Thailand. If you have the time but want to travel longer and want to save money traveling in the process, limit your time in the expensive cities and countries. You can also just put the more expensive destinations off till later when you have more money on future travel.
5. Avoid the dreaded 'Tourist Price'
This means avoid paying extra for taxis, buses, food vendors on the street, tours… well, just about anything! After a year of travel in more than 20 countries, I've come to realize that NO country can be excluded when it comes to others trying to take advantage of travelers. Sure some countries are worse than others but in every country I've been to, someone, somewhere is going to try to charge you a higher price than what the locals pay. They may think you don't know the real price, that you can't speak the language, that you don't know how to get where you're going, etc.
So the first thing you need to do is learn how to negotiate! Unless the item is marked with a price or if that taxi has a meter, go ahead and assume you're getting the 'tourist price'. Many locals will try to charge you anywhere from 10% to 1000% more for something than the locals would pay for the same item. How can you avoid this? Aside from honing your negotiation skills, you can also stand behind a local in line to see what they pay. You can shop around to get an idea of prices from different vendors. You can simply walk away at the first price given (this works in almost every country in Asia I've come to learn). You can even go the extra mile and learn a few words of their language you can speak at the outset and then try to keep your mouth shut which gives the impression you're aware of the real price, etc. Whichever you end up trying, it will all become very easy after a while and second nature. Eventually you'll quickly realize who is ripping you off and who is not.
6. Keep a Reusable Water Bottle
Yes, I'm serious. Sound stupid? When you think about having to spend $2-3 dollars a day, everyday, for bottled drinking water, this can end up costing you anywhere from $700-$1000 over the course of a year. Folks, that is enough to travel in places like India, Nepal, Mongolia or Southeast Asia for a month! Think about that…
Do you have room to keep store a bottle each day in your day pack? Just fill it up when you're in hostels, hotels, restaurants, etc where you can. You'd be surprised at how many places you can find free drinking water. It's not just cheap… it's smart! Give yourself those extra weeks or month in that country you want to visit…. it adds up.
7. Be smart… save on lodging
Use Couchsurfing or stay in hostels and affordable guesthouses. Particularly in Southeast Asia, there really aren't as many hostels as you'd find in Europe and sometimes, it can be cheaper to stay in a single room guesthouse than a 6 bed dorm room in a hostel. Whichever you choose, just remember a few extra dollars every night adds up quick so if you haven't set yourself a strict budget on lodging every night, just be sure to research all your possibilities before getting into town. And sometimes, often in SE Asia, China and India, it can be cheaper to just show up and find a place that isn't listed in HostelWorld, Hostels.com or HostelBookers. These places want your business and will usually negotiate a room rate, especially if staying more than one or two nights. Just remember to check the room before you fork over any money….trust me:)
8. Set a budget for each country
For instance, in France or Germany, your 'daily budget' will be much higher than say a month in Mongolia or Thailand. Find out what to expect and how many days or weeks you're thinking of going and then aim to meet that budget allowance each day. This will help keep you on track and aid in those hard decisions day in and day out like… should I go here? Should I buy this? Etc. If it's not in the budget and you don't have anymore money coming in, this can easily end up shortening your trip!
9. Spend MORE time in each place you visit!
Nothing will eat up your budget quicker than transportation. After all, most countries you travel to will be far cheaper to live day-to-day than your own. So where does all your money go? Transportation! If you can minimize trying to see too much in too little time, you'll be able to travel longer and will get much more out of your travel experience than rushing around as is the tendency for so many travelers. I'm guilty of this myself. When I first started my trip in Europe, it was very tempting to try to see too much too quickly but I later realized it is much better to just spend more time in each place and see more of that city or town than it is to rush around spending half your trip on a bus or train. You'll also meet more locals this way and get a better overall experience in each country you visit.
After a few months of travel, I decided I wouldn't travel anywhere unless I could spend at least 3 days at each destination. This will also help keep you from getting 'travel burnout'. Just imagine having to pack, unpack, find a new place to stay, etc every 1-2 days. It will quickly wear you out! So save money traveling, stay longer and enjoy your time. You'll be thankful you did and if you missed anything, you now have a reason to return again….
10. Walk!
Yes, it can be hot, maybe you've got your pack on or perhaps you don't have a clue where you're going but this is all part of the travel experience. If you're new to a city and trying to find your way, you'll save a lot of money by walking those short distances than constantly taking taxis, metros and buses. You'll see more of the city this way, meet more locals, and save plenty of money that you are better spending elsewhere.
11. Avoid ATM & Credit Card Fees like the plague!!
Find both an ATM card and a credit card that will not charge you for foreign transactions. I use a Chase/British Airways card that charges no fees for foreign transactions and also gives me 1-1/2 bonus miles for flights for every $1 I spend. Most credit cards however will charge 2-3% or more every time you use the card in a foreign country. That can add up quick!!
As for my ATM card, I was fortunate enough to find a bank account that I could open prior to leaving that doesn't charge ANY fees at foreign ATMs in every country on the planet.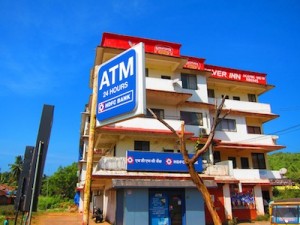 They even offer a small amount of interest on the checking account. It may take a bit of research and time to find a card that can offer this but it's well worth the effort. When you think about having to pay exchange rates in every country you go to plus having to pay a fee every time you pull money out of your account, you realize just how much this adds up on a long-term trip such as a gap year.
My 'other' (back up) ATM card with a different bank charges $5 for foreign fees however foreign banks can charge anywhere from $5 – $15 or more for a foreign ATM card used at their bank. This could cost you hundreds if not more over the course of a year! Luckily my main bank card I use reimburses ALL fees charged by foreign banks… And when you can pull out money from a checking account in their foreign currency, you'll never have to deal with 'currency exchange' offices that charge you a percentage. If you want more information on this, just email me or leave a comment below…
12. Save on Booking Fees
Aside from the fees charged by ATMs, you can also be charged fees for booking your lodging each night by hostels, hotels and guesthouses. For instance, HostelWorld is a fantastic website to use to find a place to stay, however they charge you $1.50 fee every time you book a place. What's $1.50 x 365 days? Not traveling for year? OK, whats $1.50 x 60 or 90 days? See my point? I use HostelWorld to research and find a place to stay but then I actually book my hostel or guesthouse through HostelBookers. They do NOT charge a fee for reservations however their site isn't as easy to navigate (yet) for finding a suitable place. Their maps aren't as user-friendly as HostelWorld and they also don't have as many customer reviews as HostelWorld, which for me, is the number one thing I look for aside from location and price when determining where to stay though they are improving over time.
13. Organize Visas Well in Advance
Save money on visas by traveling to countries that either don't require one or are inexpensive to get. You can also arrange your visas well in advance for those countries that require you to get them at home instead of on the border. Doing this well before your departure will help to avoid the added cost of paying for 'Rush' or 'Express' visa service. And remember, it's always cheaper to arrange your visas direct with the embassy instead of paying a visa agency to organize and secure your visa.
So there you have it…   13 ways to save a bit of coin (or a lot) during your travels. Some of these ideas of mine you might think are crazy, outlandish or foolish. That is fine!! Just take the advice of the ones that make sense to you and toss the rest. Either way, it will hopefully save you money and keep you out there traveling longer!
Happy travels!