Advantages and Disadvantages of Traveling Alone
About to take that big trip? Considering going solo? Worried about the idea of traveling alone? After traveling solo twice in my life, first for a couple of months in Europe years ago and now traveling solo around the world for almost a year, I'd like to throw my two cents in on some advantages and disadvantages of traveling alone, how to make it successful and some things to consider during your travels.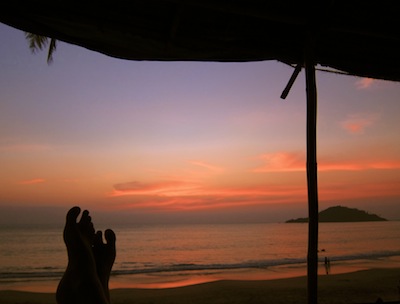 As you're planning out that trip abroad, you may want to bring along a friend or family member for the experience. Unfortunately, not everyone has friends and family that share the same desire to travel abroad as you do or they may simply not be in a position where they are able to do so. This is especially true when people don't want to give up a current job or family obligations which is understandable. The commitment it takes to quit that job, take a leave of absence or make other arrangements to plan either a short month or even a year off can be a frightening thought! It also takes discipline in order to save up the money needed although even though RTW travel doesn't have to be expensive!
In either case, you may simply find yourself having to commit to a solo travel experience if you really want to go. However, I am here to tell you that it isn't lonely as you might think. You may be traveling solo, but you'll never be alone! During my RTW trip, out of any given 30 days in a month, I usually only found myself traveling alone about 2 or 3 days at a time. Typically, this was when I was traveling from one city or country to the next after I split off from friends I met in the last city or town I was in.
Advantages of Traveling Alone

If you were to ask me whether I would choose to travel with a friend or go solo on my next adventure, I would tell you I'd go solo all day long. Sure, I wouldn't mind having someone to go along with but the fact is, traveling solo affords you more freedom to do what you want, when you want and for how long you want to do it. There are never any disagreements on where you want to travel to or how long you want to stay. You are always free to decide your complete travel route and itinerary.
And there are other advantages! By traveling solo, you'll likely meet many more people along the way than if you were traveling with a friend. This is mainly due to the fact that you'll be much more apt to make the initiative to meet other travelers and locals along your journey.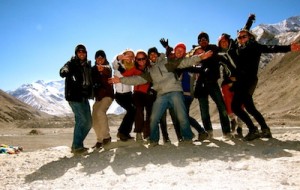 Obviously hostels can offer the easiest way in which to meet others but there are many other ways too. You can network through Couchsurfing communities for the particular city you are in and attend any events or meet ups that may be taking place. You can volunteer in organizations and also join tour groups with others. You are also bound to meet others while en route to your destinations on planes, trains and buses. I almost never had issues meeting others as a solo backpacker and the few times I did, I simply networked through the Couchsurfing community and other sites such as Lonely Planet that allow you to find and connect with fellow travelers that may be in your area.
Another advantage of traveling alone is the fact if you really want some time to yourself, you're free to do so at anytime. Getting tired of the hostels scene? No problem, just check yourself into a guesthouse or private hotel room for a couple of days. Want to take a break from the hustle and bustle of city life? No worries, just head to the nearest beach and laze around for a while. It's easy to take time out for yourself while traveling solo and this may even been the one reason you decided to take this trip in the first place!
So really, you can see that going solo on your trip can give you the best of both worlds… the option to meet new people and socialize whenever you want, the freedom to decide when you want some alone time and also to set your own travel plans and itinerary. And if you are still feeling apprehensive about it, just keep this in mind. Once you meet up with some people who you mesh well with, chances are you'll end up traveling with them for days or even weeks on end. And if at anytime things aren't working out, you can always just head in the opposite direction and go your own way.
Disadvantages of Traveling Alone

There are a few notable disadvantages of traveling alone to consider. The first being the fact that you won't be able to split costs with someone else as often as you could if you had a permanent travel mate. This would be the case in those situations where there may be no cheap hostels in town and instead, you may only come across guesthouses or hotels which will cost you more. Another situation may be when you just have to pay for that cab or tuk tuk by yourself to get where you're going or need to pay for something else that you could easily split if you had someone traveling with you.
Another disadvantage is not being able to share all your travel experiences with someone else. Sure, you'll share most of them with fellow travelers you meet along the way but when you finally make it home, it can be nice to be able to look back on your trip with your travel partner and reflect on all the experiences you had together.
And lastly, for those rough travel days (and there will be some), when you're tired or sick (or hung over) and you've got that map out and all you want to do is figure out which street to turn down or how to get from point A to B, etc. it can be nice to have that friend by your side to help navigate and to simply share in the experience. As mentioned, most often you'll find yourself traveling with others from one place to the next but the most likely times you may find yourself solo are the times when you first enter into a country since those last friends you were traveling with may not have had the same travel route as you.
So I hope to have alleviated some fears or anxiety you may have about traveling alone as well as helped you make the decision to blaze your own path. Clearly there are both advantages and disadvantages of traveling alone but from someone who has done plenty of solo travel and had an excellent time in the process, the pros definitely outweigh the cons!
For some excellent resources on solo travel, check out the following:
Solo Traveler Blog – Great solo travel information on how to travel safely, where to go, how to meet others, how to budget, and much more.
Solo Travel – Another great resource for more travel advice on going solo including tips for the 'older' solo backpacker (yes I am in this category!)
Couchsurfing – More than just staying with a host. Network on here to find fellow travelers or locals that want to meet up in the city you're in. There are also many social events going on all the time too that offer a chance to meet up with others.
Lonely Planet Thorn Tree Forum – An excellent place for networking with other travelers. After deciding on traveling to Iceland, I found someone through LP that wanted to split the cost of a car with me for a week-long road trip and it worked out great!
And finally, I'd like to hear your opinions, thoughts, and questions or simply any advantages or disadvantages to add?
Like what you've read?
Share this article with those you think will benefit and join my email community to stay up date on future posts to help you plan, save and turn your travel dreams into reality!