Save on Flights RTW using Bonus Miles
To save on flights RTW using bonus miles, one of the easiest and quickest methods is to use airline mile credit cards. They can be your best friend on a world trip if you choose to plan your flights yourself as you go instead of buying a RTW pre-planned ticket. Trust me, I did a ton of research to find ways to cut costs and maximize my flexibility while traveling.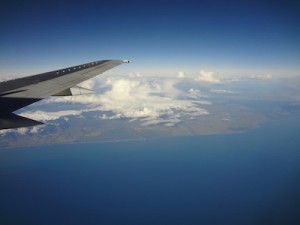 Used wisely, the promotions and benefits of these cards can save you thousands in flight costs by taking advantage of the miles offered. Just try to sign up for the cards as far in advance of your trip as possible to redeem the most miles and meet the spending requirements needed, if any. Many of the promotions can offer upwards of 100k bonus miles just for signing up on one card and meeting their minimum spending requirements.
I'm currently signed up for three cards: Citi AAdvantage (2) and Chase British Airways (1) with a combined 155k bonus miles earned once I met the minimum spending requirements in the first 3-6 months depending on the card. Plus, between these two card types, they allow you to combine the bonus miles earned between each (British Airways and American Airlines) and also utilize their partner airlines that fly worldwide. And this program that allows you to partner with other airlines is called "One World". What is One World? It is a collective group of airlines that have partnered together to offer flights around the world to more than 800 destinations. By accumulating miles with One World, it allows the ability to travel on any airline within One World which includes many of the world's major airlines such as Cathay Pacific, Quantas, American Airlines and British Airways as well as 20 other partner airlines.
So how exactly did I go about accumulating these 155,000 bonus miles?
First, I signed up with 2 Citi AAdvantage cards. The first offered 75,000 bonus miles after meeting a minimum spending amount in the first 6 months. The second Citi card offered 30,000 bonus miles after meeting their spending requirement within 3 months after activation. To achieve the spending requirements, I simply started paying ALL my bills I could using the two cards including anything else I had coming up for big-ticket purchases.
Obviously you can't pay your rent or mortgage payment on a credit card but you'd be surprised at what you can pay every month using your card.
This can include your phone, utility bills, food, entertainment, all your equipment needed for your trip and any other high dollar purchases you may make. I even asked friends if I could use my cards to pay for big-ticket purchases they had coming up such as a new TV or appliance!
For the third Chase British Airways card, it allowed 50,000 bonus miles on sign up and activation. For this card at the time, there was no minimum spending requirement but you had to pay a $50 fee upfront that would renew itself after 12 months. But wait,  you had to spend $50 to get the bonus miles? Yes! And I was happy to do it! The 50,000 bonus miles, which were redeemable immediately, meant I could travel from the US to Europe round-trip for free! All I had to do was pay the taxes and fees on the flight which is only about $100-150. So essentially, what would normally cost $700-1200 on a round-trip ticket would cost hundreds less. I'd say its worth it!
So after about 3 months of using the cards before I left, I still had about $1-2k I still needed to spend to meet minimums. No problem though, I'd be able to use just those cards needed at the beginning of my trip until the spending minimums were met. And another great advantage with the Chase/British Airways Visa card is that they will not charge you ANY foreign transaction fees anywhere in the world! Most credit cards will charge 1-2% on every purchase if you use their card out of your home country but not this card. No fees, ever. Another plus is that you earn 1 1/2 miles for every dollar you spend so if you were to spend $15,000 on a gap year trip (or $20-25K, etc), you would have earned enough miles for another international flight while you were still traveling. And the Citi cards earn you 1 bonus mile for every $1 you spend as well.
So how do you redeem the bonus miles and book flights?
Whenever you want to redeem your miles, simply go to One World to see which flights operate out of the destination you're planning to travel to. If it connects with the city you're in, its then an easy phone call to book your award travel through whichever airline you want to redeem with such as British Airways, American Airlines, etc. The number of bonus miles it takes to travel from one country to the next is typically set by the region it falls under in One World route planner. Here are two links to learn more about destinations and also the number of miles needed for travel from point A to B. Please be patient for the first link… the One World Map. It takes about 10+ seconds to load! The other is the One World Mileage Chart which details the amount of bonus miles needed on flights country to country (and within a country).
To sum it up, it definitely pays to find out how you can accumulate bonus miles in your own country in order to save on flights RTW. There are other programs in which to earn miles so it doesn't just have to be through credit cards but credit card companies may offer the most number of miles on sign up and they are always running different promotions. When I first signed up for Citi, they had just ended their 1o0k mile promotion but I was happy to see their current 75,000 promotion. As they try to find new card members, there is a good chance they may run another big program again so be on the lookout for this before your trip. And from all the research I did, I found the One World program to offer the most flexibility to a RTW traveler since it partners with so many different airlines around the globe with travel to hundreds of destinations.
You can learn a lot more information by going to www.frequentflyermaster.com/ which offers information on accumulating frequent flyer miles without flying and even without the use of credit cards.
If you have any questions or comments, I'd love to hear them!!