After coming back from Ko Samet and spending a night in Bangkok, I was soon headed off with my friend to do a 10 day Vipassana meditation course about 3 hours north of Bangkok. I really didn't know what to expect and the only reason I had even heard about the course was through my friend who had asked me a couple months prior if I had an interest to meet up and attend it. Since there was no cost to join and since I'd heard from about 5 other friends in India who had taken a similar course that it was a beneficial experience, I decided I had nothing to lose. So here, two months later, I was on the bus headed north to complete a ten day course which was essentially ten days of monk training.
When we pulled up out front, males and females were quickly segregated. And after signing in once inside, they asked for all of us to hand over just about all our belongings except our clothes.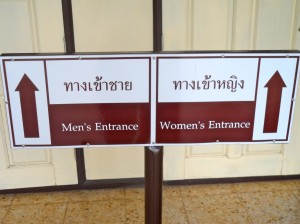 Where as most people had one simple small bag containing their phone, I had three large bags for all my stuff! They took my laptop, my iPad, my iPod, my camera, my wallet, 2 books, 1 notepad, and even my 4 pens! The guy taking my stuff couldn't help but laugh. And of course, I would be missing it all as it was all this stuff that had become part of my daily life. So here were just some of the rules for the entire ten days of Vipassana meditation while I was here: Hand in your 'distractions', no talking to anyone (except to the teacher), no eye contact with anyone, males and females were completely segregated during the course, no killing any other beings (apparently this included mosquitos), no use of any 'foreign' substances including aspirin, no exercising,  etc.
For me, the hardest thing about this course was what to do with the 'down time' when you're not in Vipassana meditation. Basically, you had to sit in silence during all meals but there were a few thirty minute to one hour breaks during each day but these seemed to be the hardest for me. Since there wasn't anything to pass the time, you just had to learn to sit around thinking when you weren't in Vipassana meditation.
The complex was actually quite nice even though this entire course was completely free. Everyone had their own dormitory bedroom, we had hot showers and the entire place was extremely secluded and peaceful with water surrounding all the buildings. The only things you would hear during the day were birds chirping, lizards croaking and chime bells that would ring when it was time to meet for either Vipassana meditation, meals or our wake up call at 4AM .
Here was our daily  schedule for all 10 days:
4AM – Wake up Call
4:30-6:30AM – Vipassana meditation
6:30AM – Breakfast
8AM – 11AM – Vipassana meditation
11AM – Lunch
1PM-5PM – Vipassana meditation
5PM – Dinner
6PM-7PM – Vipassana meditation
7PM-8PM – Teacher Instruction Discourse
8PM – 9PM – Vipassana meditation
9PM – Sleep
Remember, this was all done in total isolation and silence during the  entire course. But since they wanted folks to be able to assimilate back into society on day 11, they allowed us to speak with one another after lunch on day 10 before releasing us back into society. Trust me, by day 11, your head is nowhere near the same place it had been when you first arrived!
So, if this schedule scares anyone like it did me, stick with me on here because I have to say, after going through this for these ten days, I'd say it was definitely worth it and the overall benefits of the Vipassana meditation was rewarding. Let me go into a bit more detail on that….
The first few days we started, we were told to just focus on clearing our minds. This was one of the hardest things to do during the first two days because your mind, as you're trying to sit in silence and meditate, is racing all over the place jumping from one thing to the next. If you've ever been stressed out at work or just with life in general, I'm sure you can relate! Its those same times you lie in bed for hours trying to sleep but you can't because you're so distracted thinking about things. By day 3 however, all the mental chaos had passed and I was able to sit and think clearly more so than I probably have in fifteen years. It was almost hard to believe it was even possible. If I had to describe what it's like to have a 'clear' mind, just imagine lying in bed in that same situation described above only this time, you literally wouldn't have any thoughts going on in your head. You could literally choose what you wanted to think about.
But to be honest, the hardest thing about those first three days was the sitting, legs crossed, for hours on end each day. If you want to relate right now, just try and sit Indian style with me for the next fifteen or twenty minutes. Then try to imagine an hour or more of that countless times a day. Yeah, it was rough. By the way, since Vipassana meditation was founded in India 2500 years ago, I think its safe to assume how the expression 'sitting India style' came about…
Our Vipassana meditation hall consisted of a very large room with fans and open windows and curtain doorways. There were about one hundred of us in the course and the majority of us were 'new' students. The 'old' students were those that had completed at least a ten day Vipassana meditation course in the past. The only others in the room were five monks that sat to my left. And most of the one hundred folks in the room were local Thai's with the remaining students from all over the world.
Ok, so getting to the actual experience of meditation, we started out our first few days as I've mentioned just focusing the mind on clearing thoughts mainly through respiration and extreme concentration. This is done using a type of technique called 'Annapurna'. By the fourth day, not only had I gotten accustomed to sitting for an hour or more at each sitting, but we then started on a new technique called Vipassana. The technique we learned here is actually 2500 years old and is still taught today in its pure form from the original Buddha who taught it back then. It had originated in India and was then carried over to Burma (Myanmar today) where Vipassana meditation was preserved and where our teacher had adopted it and began teaching it more than thirty years ago. It focuses on the technique of being able to get into the 'unconscious'  mind even though you are totally conscious while in deep meditation. It is very hard for me to describe the experience I had during this course and to be honest, everyone's experience will be different. That is one reason they ask for total silence during the course so that others don't compare each others individual experiences on each day that passes. But to help explain Vipassana meditation, you essentially focus on sensations experienced throughout the body as you train your mind to pick up even subtler sensations. The more subtle and focused you can train your mind, the deeper into the consciousness you can go.
Since I don't want to drag on about the next 6 days, I'll get right to the overall experience I had here. By day 10, I was thinking clearly and for every problem or decision I had stirring in my head, it was so much easier to focus on it and look at it objectively. I even realized that after the course my handwriting improved even though I hadn't written the entire time I was there. Yeah, that was weird. But there are many more benefits I've not even gotten to on here. The three main purposes of this style of Vipassana meditation is to instill morality, achieve mastery of the mind and to release the mind from impurities such as craving and avulsion so that you no longer negatively react to your external environment.
Even though this course was extremely tough,  I sincerely recommend it to anyone and out of the hundred or so of us taking it, only one person had left the Vipassana meditation course before it was over. There are Vipassana meditation centers all over the world and there are thousands that pass through this course every year. It is entirely free including food and accommodation but they do expect you to work while you're there. And everyone I talked to after the course seemed to benefit in more ways than one and had also not regretted their decision to follow through with the course even though they also said it was one of the hardest things they had ever done. If you've been through something similar to this, I'd love to hear about your experiences… Also, if you're interested in this specific course taught near Bangkok, you can find the link here.
So on the eleventh day, it was back to society. No more silence and tranquility. Even though I had only been here just over ten days, the feeling I had when I walked out the front doors of the Vipassana meditation center felt a bit like it must when one gets out of jail. Essentially, this was much the same although in prison, at least you can talk to others, exercise, read and even watch TV. It was weird being out of there the first few hours into town but we were headed to Cambodia and I was excited. Well, to be honest, I was excited to be doing just about anything right then after all that isolation!