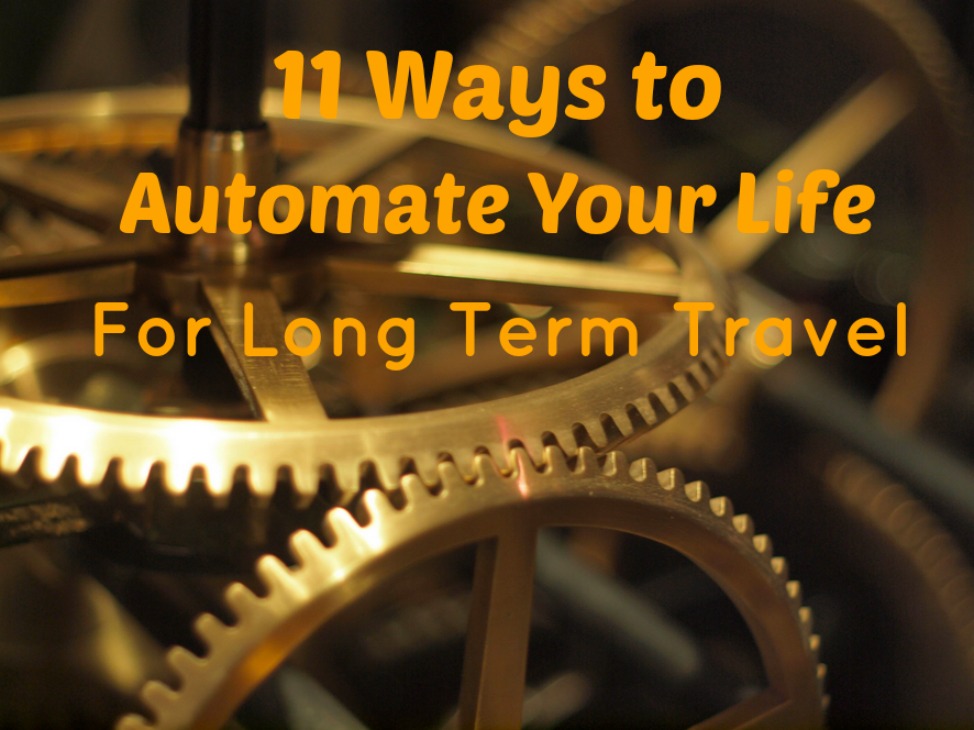 11 Ways to Automate your Life for Long Term Travel
Whether you're taking a three week trip or a full year, you're going to need to get your home life in order so that everything doesn't fall apart a couple weeks into your trip!
Nothing can be worse than being 3 days into your trip and realizing you forgot to do something back home… something that was really important. Trying to handle things back home from abroad can challenging if not impossible especially if it was something needing handled in person. For some reminders of those things, read on… See how much of this relates to you and what you can get planned out before your next big trip! The key is to automate your life so that you can enjoy your trip. After all, isn't that the end goal, to have a stress free trip? And luckily you'll find that a lot of the effort that goes into automating your trip will pay off once you return as things will just run smoother than before you left. Don't worry, you'll see…
11 Ways to Automate your Life for Long Term Travel
1. Get your Mail Sorted
You have a few options here. You can put a hold on your mail from the post office. They will simply stop delivering mail to your home for however many days or weeks you'll be gone. You can also have somebody pick it up periodically which is suitable when your travels are less than two months. The last option which is preferable for those taking longer trips in excess of 2-3 months is to just have your mail forwarded to a friend or family's house. It's even better when you can fully trust this person to open important looking documents that may need your immediate attention such as mail from the government, etc.
2. Automate

All

your Bills
OK first off, I must ask, why aren't you doing this already? Whether it is your utility bills or that six month or one time recurring bill, make sure all are set up for automatic debit from your account so that you don't come home and realize you're six months late on a payment. It's best to just sit and make a list of everything you can expect to pay for for the duration of your trip. Look up older bank statements for anything that may only bill you once a year or once a quarter so you don't forget anything.
3. Consider Renting Out your place
For those that will be gone more than a few weeks, consider renting out your place. It's a great way to cover costs while gone. You have a few options here: you could rent it short-term through various website services such as Airbnb or VRBO. You could also rent it out long-term (with or without all your furniture in place). In that case, you could just hire a management company to look over it for you for a small percentage of the rent. This is a great way to keep cost down from home while you're on the travel road. Another option is to use the service Mind My House. It's essentially a way for people to house sit your home while you are away. It is becoming more popular and many on the site will have references and come with an experienced track record. It's not for everybody of course, but it's an option.
4. Decide on Selling your Vehicle
I couldn't imagine anybody would want to sell their car just for a short three month trip however if you're planning to go more than six months or even a year, it is probably a good idea. That car is going to depreciate in value over time and unless you have somebody that will drive it at least every few weeks, it can end up with mechanical problems if not driven often enough. Also, that car may be costing you a monthly payment that could instead go towards your trip.
5. Find out about phone service
Will you have service on your phone where you're headed? If not, decide whether to get a Skype or Google number or just buy a phone and sim card when you get to where you're going for service. International service coverage is available on the most phone plans yet very expensive. Plus the coverage won't be everywhere depending on where you're headed. So to sum it up, if you're traveling for more than 2-3 months, consider canceling your phone plan before you leave. There is no reason to continue paying for service you don't (or can't) use.
6. Cancel any recurring services
The phone service brings me to my next point… Why pay for things you won't be using while you're away? This could include anything from subscriptions, gym memberships, utilities, etc. Pretty much anything you pay for on an ongoing basis that you won't be using or needing while gone. It's very liberating to do this so enjoy doing it!
7. Renew Anything Needed, Especially Credit Cards and I.D.
If any of your bills will be paid through a credit card, make sure that credit card doesn't expire while you'll be abroad. This is even more important if you are using those cards while you travel. The reason this is such a pain is that the card company will send you that new card to your home address, not an overseas location. Essentially, once it expires, it will render it useless for the rest of your trip. So it's better to call them now and order new one. And as for passports, driver licenses and anything else you'll need while abroad, make sure they will all stay current too while you're away because they need to stay valid and you won't be able to renew them while you're gone.
8. Notify your bank
Let them know you will be traveling so that they do not cancel your card while you are away, using the card in foreign places. I cannot tell you how many travelers I was with that this happened to and there was no way for them to get a new card sent via mail while they were overseas. Usually once that card it 'canceled' in the system, you may have to get a new one.
9. Set up Auto Notifications
If you are traveling, chances are you are going to be slow on emailing people back and even slower being able to retrieve and return phone calls. If it's important to you, don't anger the people trying to get in touch. Simply set all your notifications for an auto-reply such as your email, voice mail and anything else needed. Let people know it may take a day or two (or more) before you get back to them. With the differences in time zones, lack of cell/WiFi signals and the mere fact that you are 'checked out', people will understand and you will in turn enjoy your time away much more with less stress.
10. Designate a 'Power of Attorney'  
Don't worry, it's not so serious as it sounds. This person is simply someone that can sign on your behalf. And sure, not everyone will decide to do this but it's worth bringing up. Selecting a Power of Attorney in your absence can go a long way when something serious comes up back home. Simply find someone you absolutely trust and that is willing to sign anything on your behalf should the need arise while you're gone. It's very unlikely this person will be needed but it may just give you great peace of mind and cover you if a situation arises.
11. Take Care of the Yearly and Quarterly 'To Do's'
Make a list of all the check ups, inspections, quarterly and yearly services and appointments you typically have or need. These can include any of the following below:
Medical insurance

Filing your taxes

Registering to vote; do it early, or do it abroad

Any yearly inspections needed before you leave

Doctor or Dentist appointments or eye exams

Vehicle Insurance or Registration/Renewals

Any maintenance on your car or house that has been deferred but should get done before you depart
And one last piece of advice I'm going to give on ways to automate your life before you travel. It's best to start automating your life weeks if not months in advance before you leave to make sure everything is running smoothly before you go. The longer you'll be gone, the quicker you should start this process to get the ball rolling. It can be quite stressful trying to get all this wrapped up 10 days before you depart. There's nothing worse then hopping on a plane and ending up in a new country only to realize something got screwed up back home and to realize you now have to deal with remotely!
 Know of any other ways to automate your life? Leave your comments below, I reply to every one of them!
Like What You've Read?
Share this article with those you think will benefit and join my email community below to stay up to date on future posts to help you plan, save and turn your travel dreams into reality!