8 Global Entry Program Benefits…  A relief for Frequent International Travelers
Sick of frustrating long lines in the airport? Ready to expedite your time in the airports? Who isn't… Avoid the hassle of long lines and aggravation! Check out the US Global Entry Program benefits….
If you haven't heard of this before, the 'Global Entry Program' was created by the U.S. Customs and Border Protection agency. Essentially, it provides quick clearance to travelers that have gone through a pre-screening process and are considered 'low-risk'. For the frequent international travelers holding this special clearance, they can expect the following:
Global Entry Program Benefits:
Dedicated lines and kiosks specific to the Global Entry program

Reduced wait times (can literally save you hours and hours over the course of a year)

No paperwork to fill out

No Lines for processing

Currently available at most major US airports.

No more needing to fill out the blue entry form on the plane before you land

For other countries that participate, you can enjoy these similar Global Entry Program benefits

The Global Entry card can act as a great secondary Federal ID to carry with you
Currently, the Global Entry program will require a $100 application fee though there are companies (mostly certain credit card companies) that may reimburse the cost.
List of Eligible Countries that allow citizens to participate and enjoy Global Entry Program Benefits:
Qatar
South Korea
The Netherlands
Mexican nationals
United Kingdom
Germany
Canada
There are similar Global Entry programs available in other countries too which include:
Australia
Japan
Canada
Mexico
Lastly, here's a list of the Global Entry Countries that have participating airports:
Canada – Edmonton International Airport (YEG), Halifax Stanfield International Airport (YHZ), Montreal Pierre Elliott Trudeau International Airport (YUL), Ottawa Macdonald-Cartier International Airport (YOW), Toronto Pearson International Airport (YYZ), Vancouver International Airport (YVR), Winnipeg James Armstrong Richardson International Airport (YWG)
Ireland – Dublin Airport (DUB), Shannon Airport (SNN)
Aruba – Queen Beatrix International Airport (AUA)
Guam – Guam International Airport (GUM)
Northern Mariana Islands – Saipan International Airport (SPN)
Puerto Rico – San Juan-Luis Muñoz Marin International Airport (SJU)
For any US Passport holders as well as those holding a U.S. permanent resident card, this program makes a lot of sense when you think about how much time and aggravation you can save every time you go to the airport. Just keep in mind that if you are traveling with others, they will also need to have a Global Entry card in order to gain the benefits of expedited travel and yes, this includes children that are traveling with you.
So How Does it Work?
When you're at the airport, those holding a Global Entry card will head to the Global Entry kiosks. From there they will show their passport or U.S. permanent resident card on the reader device, go through a  fingerprint verification, and then make a customs declaration. Then they would get a transaction receipt from the kiosk which will direct that person to the baggage claim. Pretty simple right?
The biggest obstacle in getting the Global Entry card is the fact that all applicants must go through a very extensive background check and interview before enrollment. Have a criminal record? You may not want to apply. However, once you are through and approved, the benefits can be enormous to frequent travelers…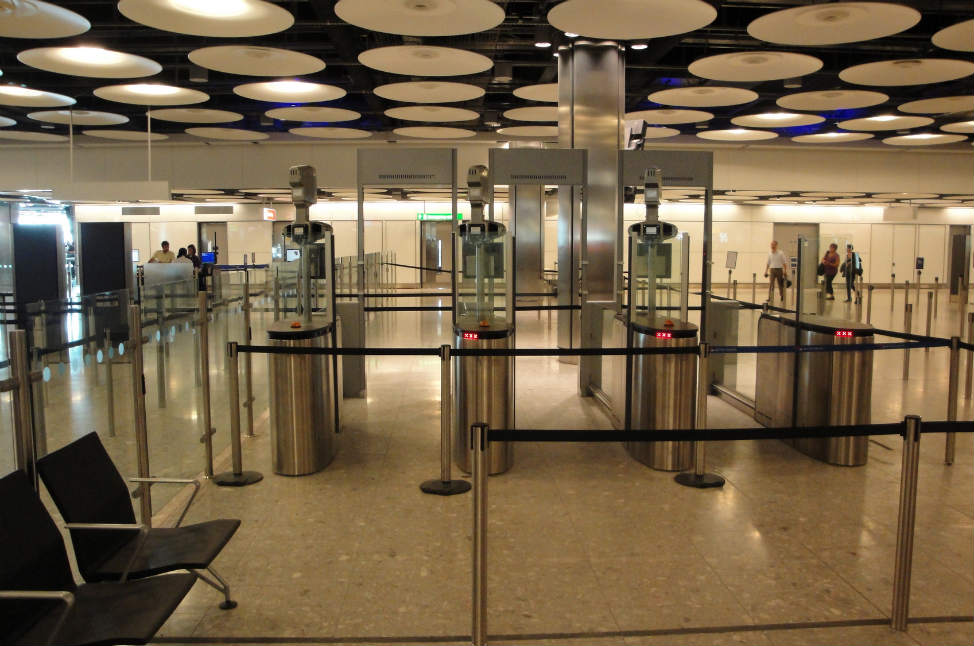 Now THIS is what you prefer to see when you arrive at the security checkpoint… Smooth Sailing!
If I've done a great job in convincing you to move forward with getting your Global Entry card, then take the next step… In order to schedule an interview and for more information about the Global Entry program benefits and details, go straight to the U.S. Customs and Border Protection site. It will provide the most up to date information and will have their list of frequently asked questions. As you can imagine, the program details and the participating countries and airports will continue to change on an ongoing basis, especially since I've written this article.
But regardless of any changes, go ahead and save yourself some time and future aggravation and get signed up for the US Global Entry Program… The benefits will far outweigh the hassle of getting pre-approved for the program!
Like what you've read?
Share this article with those you think will benefit! And join my email community below to stay up date on future posts to help you plan, save money and turn your travel dreams into reality!