Day 6 on the Ring Road, Iceland….If you may remember from my first couple posts on Iceland, we were given a 10 list challenge to complete on our road trip along the Ring Road that was handed to us by our Canadian friends in Reykjavik. These 'challenges' were miraculously thought up at the bar over some drinks, so as you can imagine, it was quite a creative list. Below was the list we were given…
So here's how we did…
1. Hug a sheep – To me, this basically means to bush tackle a sheep but then again, I'm not the one who wrote the list. In the end, we both made a few attempts at this and came fairly close but those damn sheep are fast! I caught my second attempt on video… The best is the look on the sheep's face and the bit of hesitation that follows when he realizes I'm on the way! By the way, this is an un-edited video so still a bit rough around the edges….
2. Swim in the North Atlantic (Iceberg lake is acceptable) – This we nailed on our last day. It would have been better to do this on a different day when the weather might have been better as it was raining and the wind in the area we were in was gusting around 3000 mph. Yeah, 3,000. Needless to say, the dip in the ocean didn't last long…
3. Tolerate 44 degrees Celcius  (111.2 F) for more than 2 minutes – Meaning a geothermal pool of course. This we came close to as there were some very hot spots in certain areas of the geothermal pool we were in at Lake Mývatn. I don't really know the exact temperature but I'd say it was close to 44 in some spots.
4. Sleep in the car – Done
5. Pick up Hitchhikers – So we had our first opportunity to pick up a couple hitchhikers right outside of the first town we stayed in…
We were headed out onto the Ring Road that morning when we saw two guys standing at the edge of town with all their bags. There was no doubt they were headed to the same town we were going to and we slowed down enough for them to think we were going to stop and for them to get a good look at us but then we just drove off. Needless to say, it was a bit awkward later when we ran into them in our hostel that night. So note to self: When there's only one road and one town to stay in, expect to run into the same people over and over…
We did however get our one hitchhiker while at Lake Mývatn. I did not get a picture showing the proof but he was from Switzerland and was traveling through Iceland for a couple weeks and had only hitched with us for a few miles.
6. Hike more than 17km starting at noon – So the real challenge here is to make it back before sundown. This one we did not even come close to doing because we had so much driving to do during the day.
7. Bite a Glacier – Easy. Done.
8. Take a cold shower directly after a hot spring – Alex achieved this one at Lake Mývatn after the geothermal pool. However, I decided not to take this one on…
9. Find a rock younger than you – This was wasn't too difficult as we were in several areas with lava rock that had been recently formed.
10. Drop something in the ocean off a boat and get it back – We nailed this one as well while on our boat ride at Glacier Lagoon
All in all, I'd say we passed. We nailed a solid 7 from the list, and came close on two others. That's a passing grade in my book. I'll have to check with the Canadians to see what they think.
And on our last day driving back to Reykjavik, we stopped off the road to hike around a waterfall and while we were there, we ran into three girls that were just starting their road trip. However, they were traveling the Ring Road in the opposite direction from what we did as they were starting from Reykjavik and heading to Northern Iceland first. We talked about our road trip and also told them that since they were just starting their road trip, they must also complete this 10 challenge list so we passed it on and told them to let us know how they do and to pass it along again to keep it going….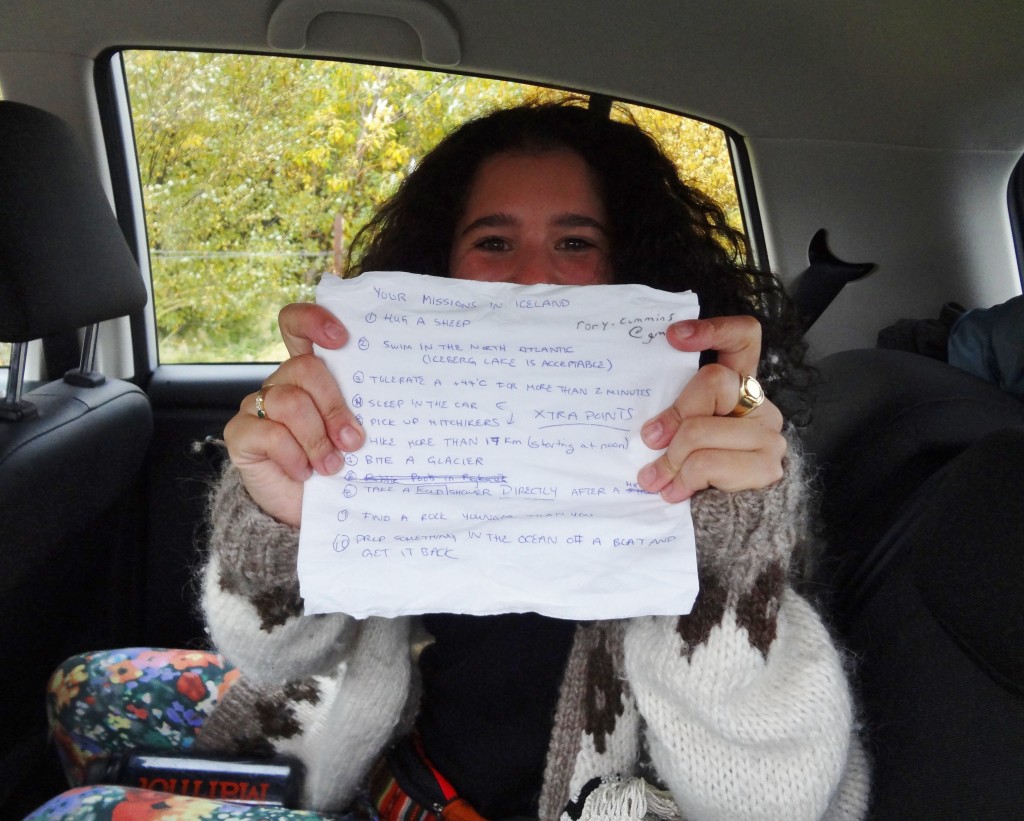 And here are some great stats from our Ring Road Trip:
Total Number of Kilometers driven on the Ring Road: 1339 Kilometers
Total Number of Kilometers driven on the entire road trip: 1496 Kilometers
Number of different gravel and dirt roads we drove on: 24
Number of Kilometers we drove on gravel: 300+ Kilometers
Top Speed: 126 KPH
Average Cost of Gas: $2.36 per Liter
Number of times we almost hit sheep on the road: 3
Number of hitchhikers picked up: 1
Number of Waterfalls seen: 772 (no seriously, I think this number is about accurate)
Number of Rainbows seen: 22
Notable foods eaten: 4 hot dogs, 5 bags of Icelandic Doritos, 6 Cheeseburgers, and 1 small sliver of Icelandic traditional dung-smoked Salmon
Most popular Icelandic name for a guy: Thor
Number of Restaurants we saw named Thor's Restaurant: 1
Number of Outfits worn: 1