The following morning was an early 5AM wake up call but luckily we were headed to Everest Base Camp for the day. With a base camp elevation of more than 18,000 feet, I was excited to say the least, even though sleeping the night before was a bit rough. I had solved the issue of sleeping in bitter cold by wearing just about all the clothes I had but what made the night so peaceful was a pack of stray dogs that did not stop barking for more than twenty minutes the entire night. We all headed down for breakfast (two Tibetan flour tortillas with egg and some type of jelly) and left out by 6am bound for Everest base camp.
However we didn't make it too far before we came to yet another Chinese border crossing. This time we all had to get off the bus and line up in order to show our passports. Apparently there was an additional border to get into the Everest Base Camp area. Within fifteen minutes we were back on the road but within just a couple miles of that crossing, the road conditions changed dramatically from a well maintained paved road to rough dirt road with constant switchbacks for the next 100 kilometers.
We were getting thrown around so much in the bus that we were a bit unsure if it would make it all the way. Driving 100 kilometers going less than 20kph takes some time. That's only 62 miles but it took us over three hours before we finally made it to the small town near the base camp so you can imagine how rough and steep the roads were trying to get there.
And the town is really less of a town than it is a monastery with a small village surrounding it. The official name of it is Rongpu Monastery and it's located about ten to fifteen minutes from the base camp.
There are some houses and a small restaurant there which we stopped at for lunch. Some of the group decided to visit the monastery but to be honest, after being in several temples and monasteries over the past few days, I decided not to go. Maybe it was the fact that I was more focused on seeing Everest than anything else, I don't know.
If you want to read a great book on Everest that's based on a true story, read "Into Thin Air". I had read it a couple years back and after reading it, you realize just how unforgiving this mountain can be to climbers. In 1996, for which this book was based, Everest claimed 16 lives and 8 of these deaths occurred on the same day. And in total, up until this past year, there have been 219 deaths occur while attempting to summit the mountain.
After leaving from here we were headed straight to the base camp. Since we were here in the 'off season' for Everest, it was rather deserted. For some reason, I was expecting to see a bunch of tents and people running around but there was none of that going on. There was a small building off to the left where the Chinese government was set up and a small hill overlooking the camp where we all ran up to take way too many photos of the mountain.
After exhausting our cameras, we all just sat there taking in the immensity of the mountain. When you're sitting there staring at it, it is hard to believe the amount of lives it has claimed over the years.
Standing at an elevation of 8,848 meters (29,029 ft) Everest was first officially  summited in 1953 by Edmund Hillary and Tenzing Norgay, a Nepali sherpa. There were many unsuccessful attempts made before this which all started way back in the early 1920's.
Since this trip was coming to a close, it had been great experience to travel through Tibet but it was Everest I was originally more interested in seeing. My original plan was to access it from Nepal as it shares its border with China but Tibet is said to have the better, clearer view of the mountain from the 'North Face'….
And traveling through Tibet saves a bit of time too as its a full fifteen days trek there and back to access it from the Nepalese side. Anyway, after we were done taking way too many photos we were headed off to Zhangmu where we would be spending the night that evening.
However, the half day drive back out of EBC got interesting to say the least. To get to EBC from Tibet, you have to take a rough dirt road with some extremely high passes and the drive itself takes at least four or five hours depending on what type of vehicle you're in. Since our plans had  changed the day before due to our bus breaking down, we all still needed to cross the border in Nepal the following day so in an effort to 'save time' our driver decided to take a short cut to get to the next town instead of backtracking on the road we came in on. Within a half hour of driving back from EBC, we took a detour onto a small dirt road and this is where things got interesting. This road was meant to save a few hours drive time but in reality, we achieved far from that.
Basically, the road we came in on traveling to Everest was extremely rough but was at least wide enough and somewhat maintained to allow for all types of vehicles to travel on including our bus. However, the 'shortcut' road they opted to take was merely a small wagon path that snaked through the Himalayan mountains. It was mainly built for tractors and wagons by the local Tibetan people. In no way was it meant for a full size bus to travel through and this became obvious on the first bridge crossing we made as the bus almost bottomed out on the path leading up to the bridge's edge.
There were a few other times when both the driver and the guide had to get off the bus to either add rocks under the tires for traction or to figure out the best way to traverse an obstacle. I really can't remember the last time I had ever heard of a tourist bus going four wheeling but we did just that. It wouldn't have been so bad if people's heads weren't getting slammed against the roof  and windows of the bus.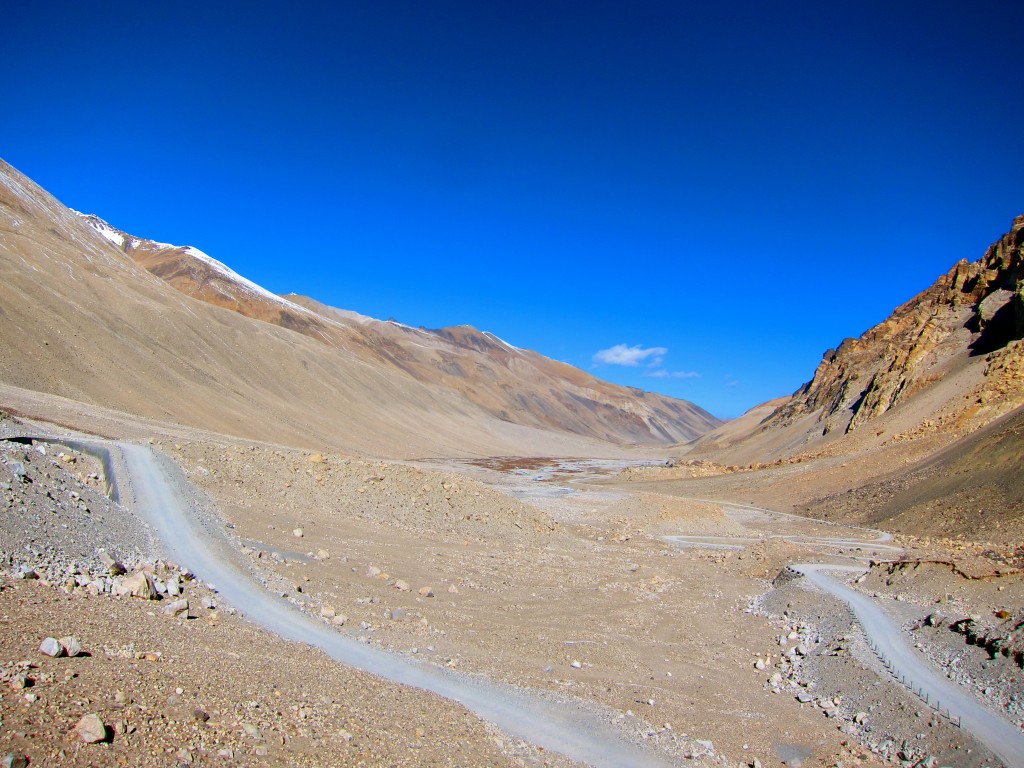 That night was another adventure. We arrived into Zhangmu just as the sun was setting. The 'shortcut' we took was hardly that. It ended up taking us an extra two hours than what it would taken us had we gone on the main road. And when we arrived to this one horse town, it was near desolate. The accommodation we were set to stay in not only had no power but lacked running water as well. All the pipes were frozen and we knew it would be another fun night…