Fellow traveler, blogger, and friend of mine Brooks Conkle, offers his own firsthand advice below on "Free Things To Do in New Zealand" for your next adventure travels to this amazing island county. While his insights below on fun, free, and unique things to do in New Zealand are discussed below, don't forget to check out his own personal blog at BrooksConkle.com for more stories, advice and insights on everything from work and business to travel and life goals.
Free Things To Do in New Zealand
There are tons of free things to do in New Zealand and I've got some important tips to help you find them.
New Zealand is the land of hobbits, home to the Kiwi (fruit, birds, and people), and the most beautiful place that I've ever been.
I lived/traveled in New Zealand for 18 months.
While there I ran a marathon, hiked one of the top trails in the world (Milford Track), learned to snow ski, worked on vineyards and made 30 bottles of my own wine, learned to drive a manual van
(on the opposite side of the road I might add), lived in my van for 3 months (sometimes down by the river), went skydiving, went bungee jumping 3 times in one day, and swung across the largest canyon swing in the world (the largest at the time).
It was jam-packed full of adventure to say the least.
I attempted to plan out my entire trip prior to leaving.
What a waste of time.
The endless outline I had made changed within the first week of arrival.
Based on my 18 month stint, I'd like to provide you with 4 tips for finding free things to do in New Zealand (and any other location I might add).
1. Be willing to go with the flow and let adventure find you.
2. Slow down in order to be able to spend more time in each location.
3. Ask the Locals what you should do in the area.
4. Question tourist attraction pricing, especially when dealing with natural exhibitions.
Let Adventure Find You
My travel style is relaxed.
I love to grab a cup of coffee at a cafe on a sunny afternoon and watch the local culture pass by.
I love to take my backpack and aimlessly explore cities for a full day.
I love following interesting road signs that look like they may take me somewhere interesting (even if miles away from my route).
I love to stay at accommodations where I think people will be friendly and willing to talk, share and listen.
I would prefer to get to see a few places thoroughly rather than travel in a whirlwind in order to see as much as possible.
I never liked the idea of the need to get home in order to be able to relax after a vacation.
And this happens.
I see folks do this after cramming as much as possible into 2 weeks.
So take a different approach.
Listen rather than speak.
Be willing to let the adventure find you.
Slow Down
Slowing down when traveling to New Zealand, or any country, is a compliment to letting the adventure find you. It consists of:
– Only planning the first day or two of your trip.
– Giving yourself enough time to leisurely see the areas that you really want to   see.
– It's ok to not fill every gap of available time with an activity.
– If you only have two weeks to vacation I would recommend you find an entirely different country to visit (NZ isn't exactly the most accessible location in the world).
If you still want to take on this adventure, then lets discuss some free things to do in New Zealand.
Grab a copy of the Lonely Planet Guidebook.
It's an incredible guide to the entire country and will label things to do into pricing categories (Free being one of those).
A side note: some tourists will buy this book in order to not visit any of the places in it, as they fear that these locations will be teaming with tourists and backpackers.
While I agree that many folks (backpackers at least) use this strategy, the book highlights many cool spots, so it would be a tragedy to miss many of the locations pointed out.
Ask The Locals
The absolute best source of free things to do is from the locals.
Ask them.
"Hey I'm in town for the day, what can I not afford to miss while I'm here?"
This is often overlooked but has never failed me.
A prime example.
There was this cool beach that my friend and I stopped at for the day.
The tourists? They were all hanging out on the beach.
But we asked the magical question to the locals.
"What should we see or do in this beach town? What can't we afford to miss?!?"
This led to a secret passage of sorts around a rock wall to the rear of the beach cove.
It contained a beautiful green mermaid pool that was separated from the ocean by a rock partition.
So you could dive into this beautiful calm water with waves crashing in the background.
Incredible.
And Free.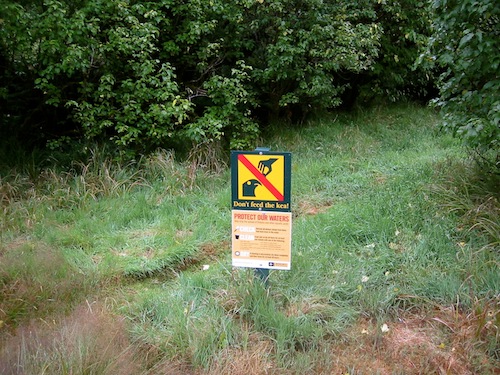 If you're interested in free accommodation while learning some about farming or animals then I'd recommend WWOOFing (Willing Workers on Organic Farms).
I had great experiences as a result of being a "WWOOFER".
I was able to harvest garlic (which is sweet when it's fresh!), learn to breathe fire, hike to see a massive area of nesting gannets, harvest mustard plants, swim naked in Hawke's Bay off the South Pacific (not directly because of WWOOFing I guess), cook and eat grubs (some tasted like wood pulp, others like buttery chicken), and have a 100% homegrown meal.
I can't guarantee that you will have the same adventures that I did.
But you will meet folks from different cultures and nationalities.
Something about this just brings about creativity and the potential for new things.
Remember? Slow Down and Let The Adventure Find You…
You'll also be able to ask your hosts (locals!) what you just 'have' to do while you're in their area.
Always question tourist attractions and their fees
If you'd like for someone to give you a tour or need additional information then pay the fee.
But if you're interested in a bit of do it yourself exploration, then you can easily have the same experience (sometimes better!) for Free.
I'll give you 2 examples of this.
In Taupo, New Zealand we almost paid $20 to go into a thermal bath area.
After talking with some locals (there's that local tip again!) we found out that just up the road we could park and hop into a stream and get our own thermal bath for free.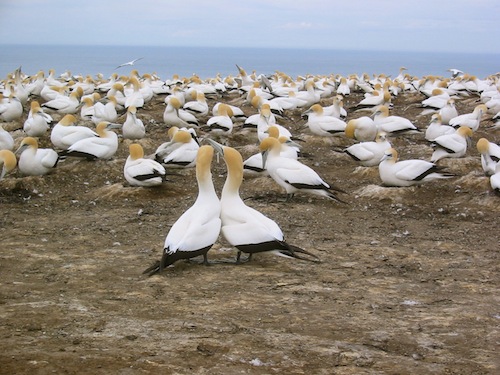 One stream was freezing cold water from a natural spring.
A joining stream carried geothermal water and was nearly boiling hot.
You could swim out to where they met.
It was awesome!
In Rotorua, New Zealand there are tons of touristy things to pay for (I went Zorbing. Quick fun, but definitely a cool experience to feel like a human in a washing machine. Totally worth it!)
Rotorua also has geothermal activity.
You can pay to see mud bubbling.
Granted, this was only going to cost like $10, but we realized that there were some free options right down the road.
We pulled down to those.
Watched some mud bubble – spit – plop.
Definitely cool, but probably not worth paying for.
In Conclusion, I would Recommend that you Go to New Zealand!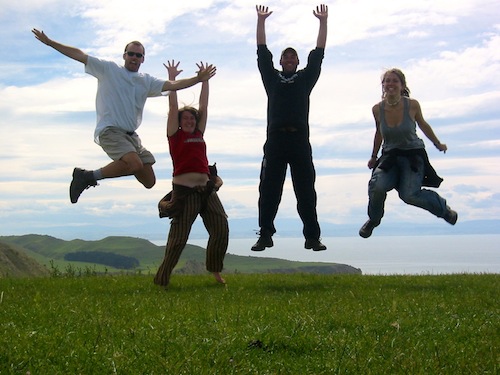 I recommend traveling there. It's an amazing place with amazing people.
Additional Free Things to do in New Zealand Include:
– Playing on the Sand Dunes at Cape Reinga.
– Seeing the famous left hand surf break in Ragland.
– Visiting Eastern New Zealand which is the first place in the world to see the sun rise.
– Allowing a Kea Bird to play with anything that you leave unattended.
– Ride a bike in wineries in Blenheim or Napier/Hastings area.
– Enjoying limitless lakes, hiking trails, caves, and nature.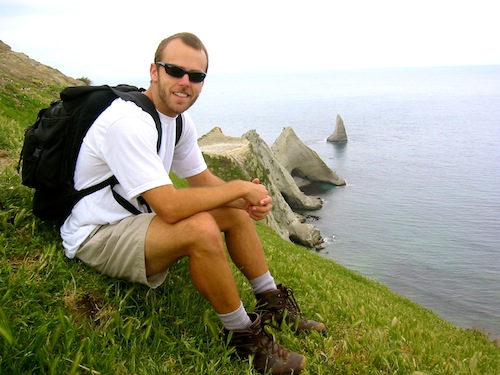 If you're planning a trip to New Zealand, I'd love to give you advice.
And if you've already been, please share your favorite activities below!