After two days of sightseeing in Lhasa, the fifteen of us headed to Shigatse which was  a much smaller town. We were headed to the Tashilhunpo Monastery (also called 'Tashilumpo'), home of the Panchen Lama. On the way there, we were coming up on one of the highest passes we would make that day at 4,790 meters (15, 715 ft).
The road had snaked through the Himalayan mountains with some nerve racking switchbacks for about an hour but we finally reached the first pass and the view was breathtaking. Set below the mountains was Lake Yamdrok, one of the three holiest lakes in Tibet. We headed down to the Lake and made a short stop to grab some photos. And of course we weren't alone…. there were local Tibetans at almost every scenic spot we stopped at. It seemed they were just waiting for us.
Some of them would approach you for photo opportunities with them (which was not always a free proposition) while others just wanted to welcome you. There were even those that would want to charge you to use their 'bathroom' which was never more than a concrete hut with a hole cut out in the elevated floor. I'm not sure how you set a price on that.
When we finally reached the Tashilunpu Monastery it was very different from the ones we'd seen in Lhasa. It houses the largest population of practicing monks in the region.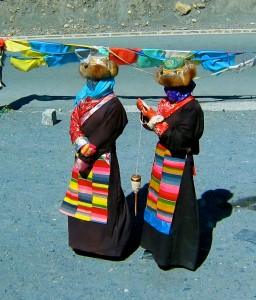 We spent about two hours exploring it and then moved on to the town where we would be staying that night. The town itself was much larger than we'd thought it would be and after running around town for dinner options and finally heading back, I was about worn out. It was another rough night as I was again suffering from altitude sickness. If I remember right, we were at around 4,300m, another 1,000 meter increase in less than a day. And I was still trying to acclimate to the altitude in Lhasa from the day before.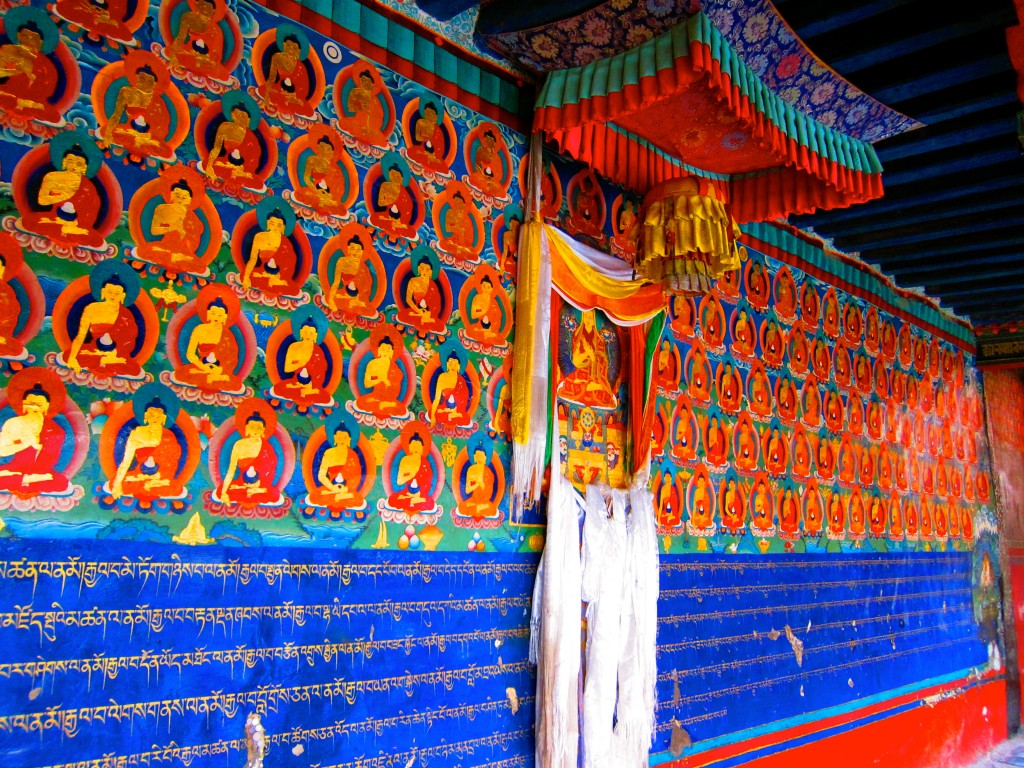 Normally you would be less apt to have this problem of altitude sickness but given our tour was so short and we were moving into higher elevations so quickly, we weren't allowing ourselves time to acclimate properly.
We had even learned that those looking to hike Everest will stay at the base camp for one to two weeks to acclimate before starting their summit. But just in the last four days I'd gone from Chengdu with an elevation of 1,640 m to Shigatse at roughly 4,300 m and we were planning on going another 1000 meters the next day.
The only thing you can really do to help with the altitude change is to drink an ungodly amount of water and limit all physical activity.
Well, we were all drinking so much water on the bus that we'd have to stop about every hour on the side of the road. It was ridiculous but it was what we had to do. And its hard to describe the feeling of altitude sickness. Just imagine lying motionless in bed and after thirty minutes, you're still breathing so hard that you'd of thought you just sprinted a half mile. In addition to this is a constant headache and an eerie feeling of dizziness (since you hadn't had a drop of alcohol). Not everyone in our group of fifteen was suffering but at least a third of them were affected. Some of them were able to make it to Lhasa a few days before the tour started or had taken the train to help acclimate.
After a rough night freezing our tails off in another place with no heat, we were supposed to be heading to Lhatse in the morning, our next destination town and the one which was closest to Everest Base Camp. It was in that town that we were meant to spend the night however, we never did make it there….