Coming up on almost 12 months of travel, I thought it would be interesting to post a collection of some of the people around the world that I've crossed paths with during my travels. Below are some photos of people around the world that I've either met along the way or have been intrigued enough in passing to take a picture whether just curious or simply amazed by them…
People Around the World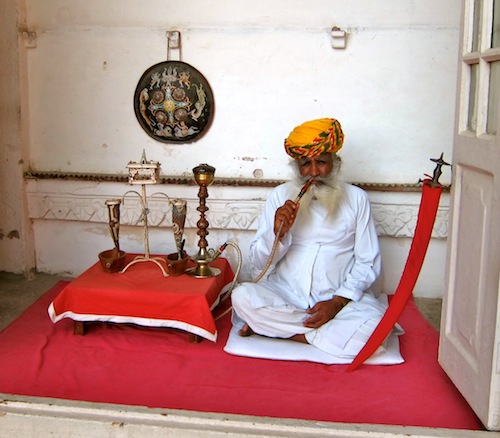 Taken inside the Mehrangarh Fort in Jodhpur, India. The Fort itself was one of the most amazing forts I'd been to India. Definitely a must see if you travel through Rajasthan. Maybe you'll get lucky and this guy will still be hanging out smoking shisha…
While in Chiang Mai, Thailand we ran into this well dressed group just outside one of the hundreds of temples within this city. There was a major festival going on that just happened to fall on the same day when we were here visiting.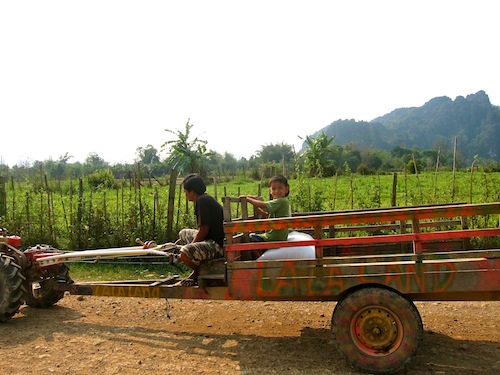 I caught this kid riding in the back of what I'd refer to as a true 'Tractor Trailer'. This was taken on the dusty back roads from Vang Vieng, Laos heading towards Nathong Village.
While traveling from Lhasa to Shigatse, Tibet we made a stop at Karola Glacier that held some breathtaking views. I was fortunate enough to grab a photo with these two lovely ladies!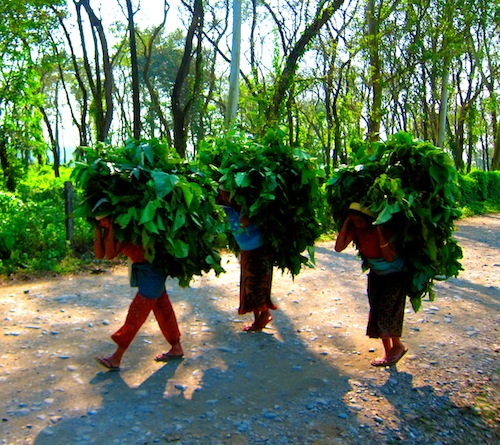 After leaving from Kathmandu, when I arrived into Chitwan National Park in Nepal, I passed these 3 guys on the road leading into the park. They were carrying food for the elephants that were in the park of which there were dozens to feed!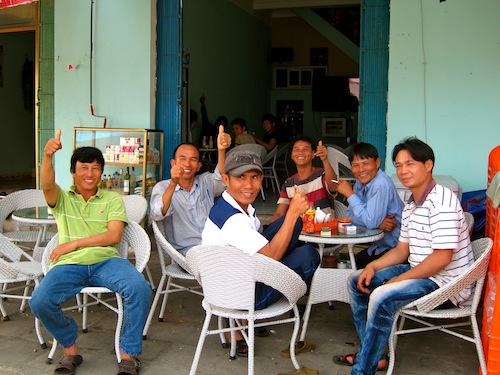 This was the result of me doing my best to teach a group of Vietnamese fisherman how to give the thumbs up. Apparently a few of them were distracted by the girl I was with on my left! This was taken at Cat Ba Island which is the largest island in Halong Bay, Vietnam.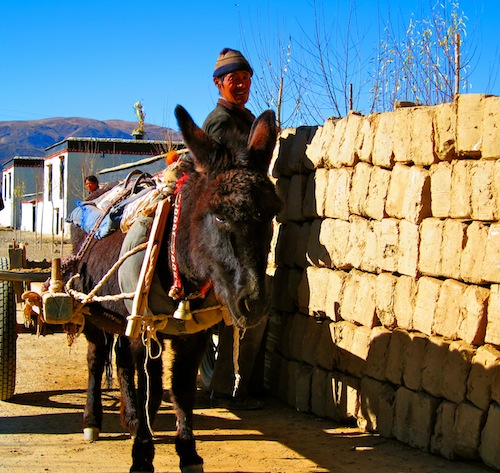 I took this shot in a very small town in Tibet which was on the way to Everest Base Camp towards the Nepal border. Those are mud bricks on the right used to build homes as well as shelters for animals during Tibet's brutal winters.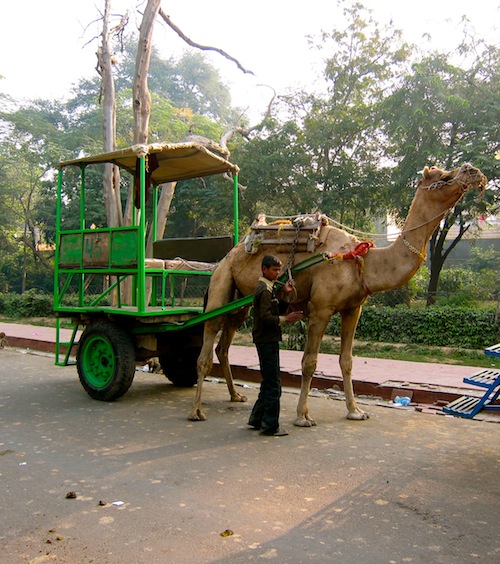 A shot taken just outside the Taj Mahal in Agra, India. Anyone need a lift? You can hire these for trips around town (or just to and from the palace). It was definitely surprising to see so many camels in Agra while I was traveling through there…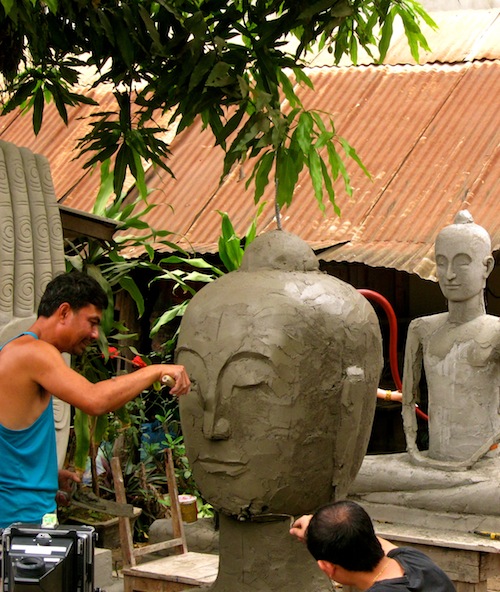 A couple guys sculpting the head of a Buddha.  I came across these two while in Luang Prabang, Laos and it was interesting to watch for a bit. Just beyond where I was standing here, lies Phu Si Hill in the center of town that is home to the Wat Tham Phou Si temple and many more Buddha statues.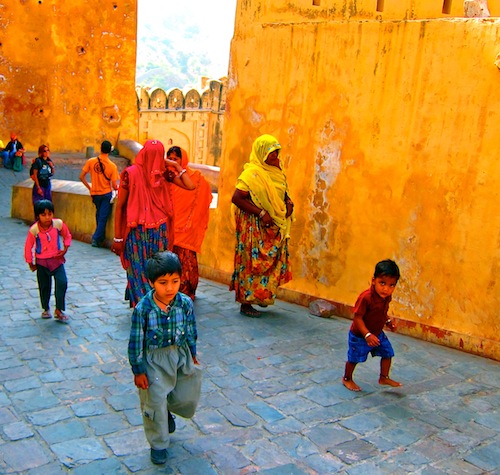 As I was walking out of the Amber Fort in Jaipur, India it was hard not to take a shot of this group. India is known for its many colors and though not the best shot, this definitely helps portray the diversity of colors worn by its people.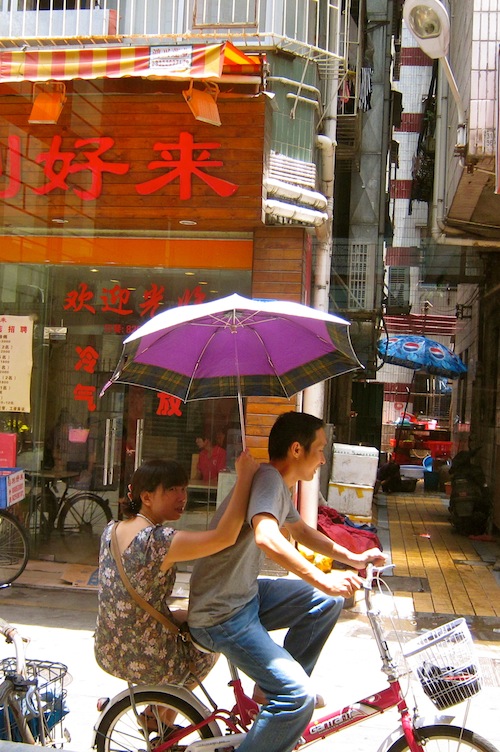 On a sunny day in Shenzhen, China, I couldn't help but take this photo since so many of the locals here not only ride two on a basic 'one-seater' bicycle but also take their umbrellas everywhere around town!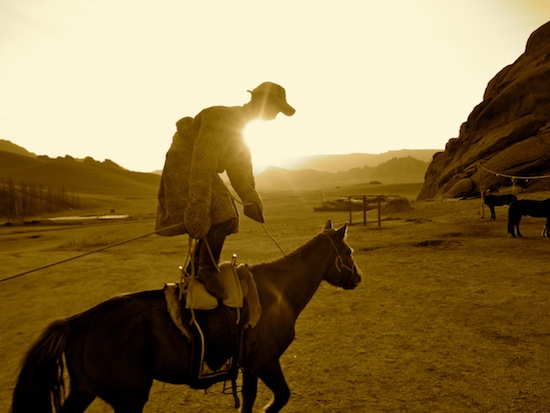 A shot of a talented 10 yr old rider and his horse in Terlj National Park, Mongolia. Notice he's also pulling along another horse in tow…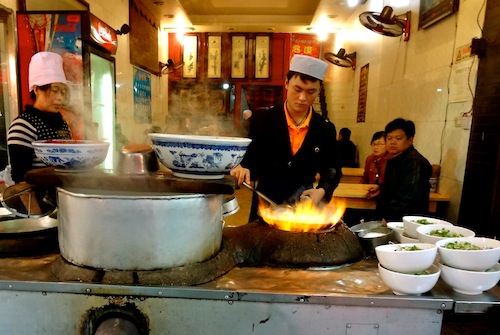 This shot was taken in Xi'an, China in the Muslim Quarter of the city. The street vendors and restaurants you'll find throughout this area is home to some of the best food you'll find anywhere in Xi'an or even China for that matter.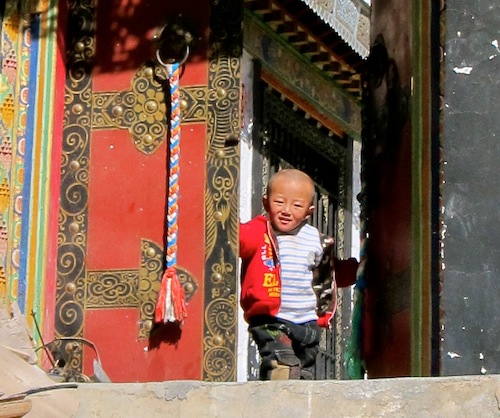 Heading into the Potala Palace in Lhasa, Tibet I was greeted at the door… OK, so this wasn't the main door into the palace but it wasn't far from it. And of all the places I've traveled to so far, I've never seen more smiles on people faces than I had seen while traveling in Tibet.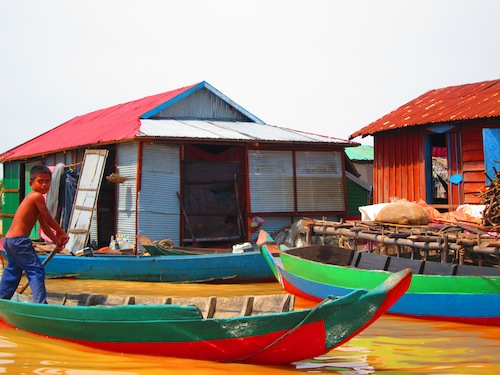 Drifting down the shallow waterways of Tonle Sap Lake amongst hundreds of homes on the water… Tonle Sap Lake is located just outside Siem Reap, Cambodia and is worth a visit if you're traveling through to see just how diverse and unique this environment is that the people reside in. Nearly every home on Tonle Sap Lake has a small foot bridge over the water to get to the front door.
Another shot taken in Chiang Mai, Thailand. I really wish I could explain the attire shown but unless you spoke Thai at the time (which I didn't), you also may not know what the cause was for celebration…