Ring Road Iceland – Day 2….The storm that hit us the night before had luckily passed as we started out on the second day of our road trip but it was still raining and continued the rest of the day. And we got a bit of late start that morning but still planned on visiting two different glacier sites with one being the largest glacier in Iceland.
After driving just an hour from Höfn we came across this site called Laufskalavarda. There was once a farm here but it was destroyed by the first recorded volcano back in 894. There was also a neighboring farm inhabited by a settler here and this lava mound was named after the farm. By tradition, everyone passing by it is supposed to add a stone at the site to bring good luck…
The next site we crossed a bit further up the road was the gorge Fjadrargljufer that sat in the mountainside off in the distance. It is a gorge about 100m deep and 2 km long and unfortunately its a bit hard to see its size from this photo.
It would have been a hike in which you'd need to commit at least an hour or two to get to the gorge and since we had other plans for the day we decided to pass on it but while there, we did make a small hike to a neighboring hill to get some great photos as the sun finally broke through the clouds.
You can see in this photo just how wide open the landscape is out here. Right before we left, four Russians rode up on road bikes with all their camping gear. They were doing the entire Ring Road by bike which I'm sure would commit more than a week to the trip but what a way to see the countryside. We saw a few others doing the same along the way.
As we pressed on from this point, there were waterfalls every couple of miles  alongside the cliffs we passed. Needless to say, it was exciting to come across them but I had a feeling by the end of this road trip, we wouldn't hardly notice them since there were so many.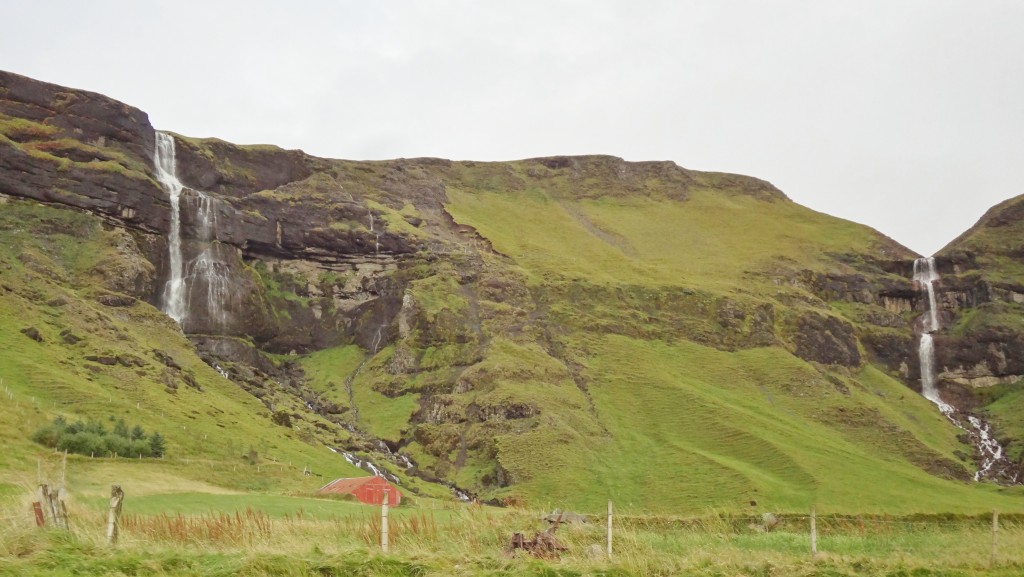 Driving further, the landscape changed yet again. This time to a more open field with grassland vegetation with black sand and distant mountains.
Next up was Gigjukvisl Bridge which crosses a large portion of sand-flats over 370m in length. In November 1996 there was an eruption causing a huge glacial flood and the flood-waters rose so rapidly, they brought with them huge blocks of glacial ice as large as 10x10x20m thick and weighing up to 2,000 tons. They ripped the bridge apart and the steel I-beams pictured below were found half buried in the sand downstream and twisted in pieces.
From here we pressed on till we finally reached our first planned stop for that day, the Skaftafell National Park area. Skaftafell is Iceland's second largest national park. Right beside the information center was a path leading to the edge of the Jokull Glacier. They do offer organized glacial walk tours but these are not only a bit expensive but require a lot more time than we had on our road trip.
It was about a 30 minute hike to just walk to the glacier and it was extremely scenic with fall colors  along the way. Once we got to it, we realized just how large the glacier was. The mouth of the glacier extended out over the land and as it melted it created a small pond with floating ice. If you wanted, you could walk right up to the edge of the glacier but unless you have good waterproof boots, you may decide against this.
You can also notice the color of the ice. When you get up close to the glacier, you can see all the volcanic ash that has settled onto the ice giving it an almost 'dirty' look even though from a distance, it looks like a typical glacier.
After we left Skaftafell, we were headed to Jökulsárlón which is known as the 'glacial lagoon' in Iceland. It was one of the planned stops I was most excited about during this Ring Road trip. After an hour or so driving from Skaftafell, I was cruising down the highway with some small hills to my left when I noticed a small gap in the hills with a flash of the bluest ice I had ever seen. I quickly slammed on the brakes, threw it in reverse and went back to this spot. As soon as I got over the hill, this was the view I had. Apparently, I stumbled upon the glacial lagoon without even realizing we were close to it.
Jökulsárlón is the largest glacier lake in Iceland and formed when the glacier began to melt and recede away from the Atlantic. And it really depends on the weather as to what color the ice will be when you visit here. When it's sunny, the ice will be white and you will be able to see the mountains and the glacier in the background. When its cloudy (and raining such as this day) the ice gives off its deep blue color. If you ask me which I would prefer to see, I choose the dreary weather coupled with the exotic bright blue ice.
We continued down the road till we arrived at the Glacial River Bridge which was constructed over the area where the lagoon spills into the Atlantic. It is from here that most tourists stop as there is an information office as well as tours that are operated in the lagoon. When we went in to talk to them and learned a bit more about the lagoon. They told us that only one tenth of each iceberg is actually visible above water. We were also told of all the movies that shot scenes here. James Bond movies such as Die Another Day and a View to a Kill as well as Tomb Raider and some others.
After learning a bit, we decided to take a boat tour through the lagoon. It was really less of a boat than it was an inflatable raft with a single prop motor on the back which probably made it more intense as you felt you were going to fall backwards into the glacial waters at any moment. While we were out here, you could also see the icebergs moving around so the landscape in any direction was constantly changing.
While we were still there at the lagoon, we followed it to where it met the Atlantic Ocean which we were told had a black sand beach.
When we made it to the beach, they were correct, the beach was pure black. It was almost surreal when the waves would crash onto the black sand. We saw a few dolphins while there and after deciding not to go swimming, we decided we would head to Höfn as it was getting late and we still needed to find accommodation.