Day 4 on the Ring Road, Iceland…On our fourth day road tripping, we got an early start just at sunrise as we were planning to do much more today than we had the day before. The place we stayed the night before (pictured below) was actually a bit nicer than I thought it would be but the water in the place must be pumped straight from a geothermal hot spring as you could smell the sulfur coming out of the tap and it went from cold to burn your ass hot with no adjustment in between. There wasn't much need for an extra 'Instant Hot Water' device in this place.
Our plan for the day was starting with a drive around Mývatn Lake. And the area shown below which was just about a ten minute drive from where we stayed the night before.
Further down the road, we came to Skútustadagígar which is an area of pseudo-craters. They are the result of steam explosions when lava comes across a lake or wetland. The ones here basically looked like mini craters. We spend about a half hour walking around them and found some sheep running around in some of them too.
Next up was the Dimmuborgir area. This was one place I had really wish we had more time to hike around in as it was so diverse. Without going into a huge geological explanation of the area, it was basically formed by a lava field from a nearby eruption that came in contact with a small lake and later had cooled, leaving its present state. In other words, walking through it gave you the impression you were on another planet like so many other places do while traveling in Iceland. The only vegetation around were some small bushes as you can see from the photos.
When I was walking out of the Dimmuborgir area, we came across these two signs.
Next up was this monster…Hverfell crater on the outskirts of Mývatn.
Although the hike seemed a bit intimidating, we were told by a local that there was route on the backside of the crater that wouldn't take too long to hike.
It was true, the hike didn't really take too long but it was still a sandy surface and was also quite steep which made for a bit of an early morning challenge. I was fully awake when we reached the top…The view we got at the top however was well worth it, not just over the Mývatn Lake area but inside the crater as well of course. I'm sure its hard to grasp the size of this crater just from the pictures below but the crater's spans one kilometer in diameter and its height is close to 1,380 feet.
Hverfell crater was our last stop in the Lake Mývatn area but on our way out of town, we stopped in at the Vogafjos Cowshed Cafe.
Unfortunately we were only in for a quick coffee to check the place out but you can sit there and watch the cows right from your table. By the way, the inside of this place was immaculately clean and the coffee was excellent.
You should stop by there on your next trip through the Mývatn area… And whats better was Björk road right next to it. We searched this road up and down(which was about the size of a driveway) but no Björk in sight…
As we drove out of the Mývatn area, we stopped by Grjótagjá which is a small lava cave with a thermal spring at its base.
As tempting as it was, you really didn't want to get down into this cave too far as you could tell the area was still developing and changing all the time as the rock continuously shifted and pulled apart. I did get down a little ways just to take some pictures of the thermal spring which you can see below but I didn't hang out too long…
Just a few miles from Lake Mývatn was Námafjall which is a large geothermal area of hot springs and mud pots. The springs temperature reach as high as 200 degrees Celcius and the smell coming from the hot springs was an intense smell of sulfur. It was so strong while we were there, we didn't really hang out too long.
From here, we were headed to Dettifoss falls, one of the largest waterfalls in Iceland. When we were in route to get there, the landscapes kept changing so quickly from one extreme to another, it was hard to believe we had been driving only 20 or 30 miles.
We did finally reach Dettifoss but the road to get there was a bit crazy to say the least. I was starting to wonder if the MazdaRati was going to make it as the road we were on was far from your average dirt or gravel road.The road was littered with so many potholes, you just had to drive over them. It had been probably an hour since we'd seen a car after turning off the main ring road to get to this waterfall.
Dettifoss was well worth drive however and is considered to be the largest waterfall in all of Europe in terms of water volume. It is 45 meters high, 100 meters across and averages over 190 cubic meters of water per second. Of course its hard to imagine how powerful Dettifoss is but  you can literally walk right up to the very edge of the falls on top of the canyon's cliff which makes it even more intense.
We lucked out with the weather again today and with sun out and the spray coming off from the bottom of the falls within the canyon, there was a double rainbow that was just lingering, right there between the canyon walls.
After taking too many photos, I decided to try and get both the falls and the double rainbow in one great panoramic shot and this is what I ended up with below.
From Dettifoss, we decided to head further down the canyon to another falls called Halfragilsfoss.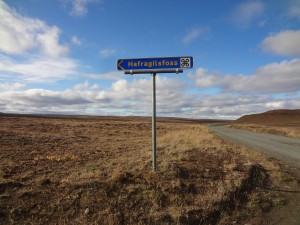 Once again, when we arrived, there was not a tourist in sight and we were able to make a short hike up to a rocky peak that gave a view of both sides of the canyon including another waterfall off in the distance. It was probably one of the best places we visited that week and its not one you will find in every guide book.
About an hour more down the road after crossing back over the river we had just come from, we took a side road to a canyon area that was basically in a weird horseshoe shape. There was a scenic road that would take you all the way to the end point of the canyon and then you would snake your way back out.
We continued driving until we finally reached the northern Iceland shoreline. We were headed to a town called Husavik which was actually quite a large town in northern Iceland and is meant to be one of the best places to go whale watching.
In Husavik, there are several different types of whales that you will typically see on their boat tours and we were actually trying to make it there in time to get on the last boat that went of for the day but we missed it by about an hour  so we didn't stay long and continued driving onward to Akureyri which was the town we would stay in for the night.
But before we reached the town, there was one more stop to make at Godafoss falls which was right off the ring road. Godafoss has a story behind it too. It was said that in the year 1000, an Icelander in that area was given the task to decide whether Icelanders should adopt Christianity. Once his decision was accepted, he went home and grabbed all his statues of Pagan gods and threw them into this waterfall. After this act, the falls was named Godafoss which means 'waterfall of the gods'. Standing next to it, the waterfall wasn't near as large as others we'd seen the past week but the water was a bright blue and the waterfall was in an almost semi-circle shape. Oh and we looked but didn't find his statues either.
When we finally reached Akureyri, we realized it was a much larger town than we had expected. With a population of about 17,000 it was said to be Iceland's second largest urban area. Many have wanted it to be declared a city but Reykajik is still Iceland's only official city. Akureyri is set against a mountainside and is a port town with fishing boats up and down its coast. After eating Icelandic Doritos and hot dogs in the finest of gas stations the past couple days, we decided to set out for some authentic Icelandic cuisine. For me, this meant trying whale.
Yeah, I know, whale is a bit controversial and its the only country I know of that still serves it except maybe Japan. However, the species of whale they serve here is in no way part of the endangered list and it is something they have been eating for centuries and they are well aware of why it is an issue. Some of the other 'traditional' dishes you can find in Iceland are rotten shark, dung-smoked fish (which I did try but not tonight), sheep's head jelly and pickled rams' testicles. Obviously they waste nothing here and for good reason… it's an island sitting out in the middle of the northern Atlantic.