Day 5 on the Ring Road Iceland…Today would be our last for the ring road trip. We needed to head back to Reykjavik from Akureyri for our flights the following morning and we had quite a drive ahead of us too coming from Northern Iceland but with no major planned stops along the way. Hopefully, it wouldn't take too long, maybe just about 5 or 6 hours of driving. So far I had been quite impressed the MazdaRati 323 had made it this far. Now it just needed to get us back into Reykjavik for one last stretch before our flights took off…
The drive back was scenic and we did make several stops along the way but none were ever more than thirty minutes at a time. The weather coming back was great too as the sun was out for much of the drive. Starting out from Akureyri, the first portion of the drive was extremely mountainous with several streams and lakes along the ring road. Our first stop was at this section of road where there seemed to be close to a hundred horses just hanging out.
They were as curious as we were when we stopped as they just stood there and collectively stared at us. It was an interesting stop…
We continued on and eventually came to an area which I have no way to really describe other than it looked to be an area consisting of lava rock that was covered almost entirely of moss with some brush growing in some areas.
It extended for miles back over the other side of the road.
We hiked around for a bit on top of this area.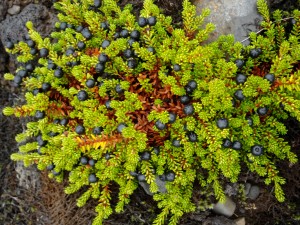 However, we didn't venture too far out as you could only see what rocks you were stepping on part of the time as they were so heavily covered with the moss. When you would take a step on it, your foot would sink about 3 inches. It was an interesting place to say the least.
We continued driving from here and followed the western coast of Iceland for much of the way back. There was one more waterfall we had come across before getting back into Reykjavik and it was just off the road.
After walking around this waterfall area for a bit, we had just an hour before getting back into Reykjavik. When we got back that night, we lucked out again with clear skies and were able to see the Northern Lights once more from our rooftop terrace at our guesthouse.
We all stayed up for a while catching the light show outside and then said our goodbye's to the others that we'd met that week at the guesthouse.
All and all, it was an amazing five day road trip and I hated to see it end. So far in my travels, Iceland has been my favorite country I've traveled to and I definitely plan to return here someday so if anyone is looking to go, you have a seasoned travel companion that will join you.