We left early for a three day tour of Chitwan National Park which is located a few hours south from Kathmandu and is so close to the Indian border, you can see the Indian mountains rising up in the distance from the park. We left early in the morning for another harrowing bus ride but the landscape getting there was amazing.
For the times you didn't think you were going to get into a head on collision or crash over the edge of the mountain road, you could really enjoy the scenery getting into the park. And because its so close to India and so low in elevation as compared to Kathmandu, it was the first time in weeks I'd been able to sport a short sleeved shirt. It was hard to believe I was at Everest just days ago at 18,000 feet freezing my tail off and wearing almost all the clothes I had in my backpack.
When we arrived, we quickly met our guide, Lama, who would be with us for much of our time here. We piled into the back of a truck and headed down the dirt roads on our way to the Elephant Safari Resort where we would be staying the next couple of nights.
And this place was amazing. It consisted of about 5 small houses, a tiny kitchen and bar and the eating area which overlooked the river running through the park. From this overlook, we've seen water buffalo, horses, elephants, dogs, buses and the occasional motorcycle pass by along the river.
I still couldn't believe how cheap this entire 3 day tour was. For about $70 USD, we were given a nice hut with hot water, 3 delicious meals a day, all transportation to and from Kathmandu and a full guided tour through the park. And the staff running the place was extremely friendly and helpful.
After dropping our bags and grabbing lunch, we headed over the river to visit the Elephant Breeding Center. Altogether, there were at least 15 elephants in the center. We spent about an hour there learning everything from their diet habits and biology to the uses they have in captivity and the differences between Asian and African elephants. Later that night we attended a local Nepalese show which was an experience to say the least…
The following morning we headed out to meet our guide, Lama and a couple other travelers for what was meant to be the main reason for visiting the park… to ride an elephant of course. Going into this, I didn't really know what to expect. When we pulled up there were at least ten elephants lined up along the fences and from the look of things, it seemed the elephants were at least treated well and showed no fear to the many tourists lined up taking pictures.
Within thirty minutes it was time to saddle up. Actually, I don't really know if you would call it a saddle. It's more of a box that is strapped to the elephant and it carries four within the box with the guide riding up front. Getting in was a bit funny. The two others that were riding with us were a bit overweight so we had to do some last minute weight shifting maneuvers to even things out for the poor animal but we were soon off, crossing a creek and off into the woods for our two hour jungle excursion.
To give some background Chitwan National Park is home to several animals. Aside from wild elephants, these include crocodiles, monkeys, rhinos, several species of deer, black bear, Bengal tigers, leopards, jungle cat, four horned antelope, Bengal foxes, wild boars, Indian porcupines, flying squirrels, over 500 species of birds, and my favorites, the king cobra and rock python. We actually did come across two snakes while there but I never got close enough to check them out!
Going into the jungle, we didn't really know what to expect to see but simply crossing the river that morning, we had already passed a few crocodiles sunbathing on the shoreline. I was just hoping our elephant wouldn't get spooked because it was within ten feet of us as we headed down into the water.
After about an hour into the woods, we had spotted several deer and a few monkeys had quickly crossed our path out in front of us. But we were all hoping to spot a rhino. It is one of the animals that is not frequently seen but the one that everyone at the park hopes to come across.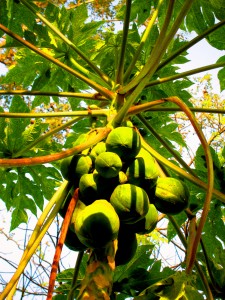 And if you've ever been hunting, you know that if you want to come across any animals, the idea is to keep quiet however the lady sitting behind me couldn't grasp this concept in the least. She was carrying on so much you'd think she didn't even realize we were riding an elephant through a jungle. Luckily, off in the distance, we spotted a group of elephants standing around in a circle. Our guide quickly caught up with them and sure enough, there standing in the middle of about 8 elephants, was a rhino.
We got to within about 15 feet but it was still hard to grab a photo due to the brush surrounding it. We didn't care though, we were luckily enough to have seen one and up close at that. I spoke to many other friends that made the trip to Chitwan and they were never lucky enough to spot one. And I'm fairly positive it would have charged at us had we not been sitting on this elephant. It happens all the time to tourists apparently.
Next up was a ride down the river in what I like to call a Nepali canoe. I call it that because it is a bit different from the ones I'm accustomed to. It was extremely unstable and you constantly felt that if you moved your arm just a foot out of the boat that the canoe would tip over on its side. Because of this we asked Lama, our guide, if you could swim these waters. Lama said, "No, extremely
dangerous. Crocodiles everywhere." Great.
Some of the crocodiles were on the banks while others were in the water just checking us out. Knowing that this was not our guide's first time down the river was some reassurance but from what I can recall from too many Steve Irwin episodes, crocs are a bit more aggressive than alligators and these were no small crocs either. It was a fun ride anyway…. the first time my adrenaline had been up while cruising in a canoe. There were crocs everywhere.
All in all, I'd say we saw about twenty five crocs in just a thirty minute canoe ride and keep in mind, those were just the ones we saw above water. The rim of the canoe itself was only about 4 inches above the surface once we were sitting in it and our only means of propulsion was the guy standing on the far end of the canoe pushing along with a 12 foot stick of bamboo. So it wasn't as if we could just paddle our way quickly down the river so really, what is to keep these crocs at bay? I really have no idea but we made it to our destination without tipping (or getting eaten). So far so good. What's next?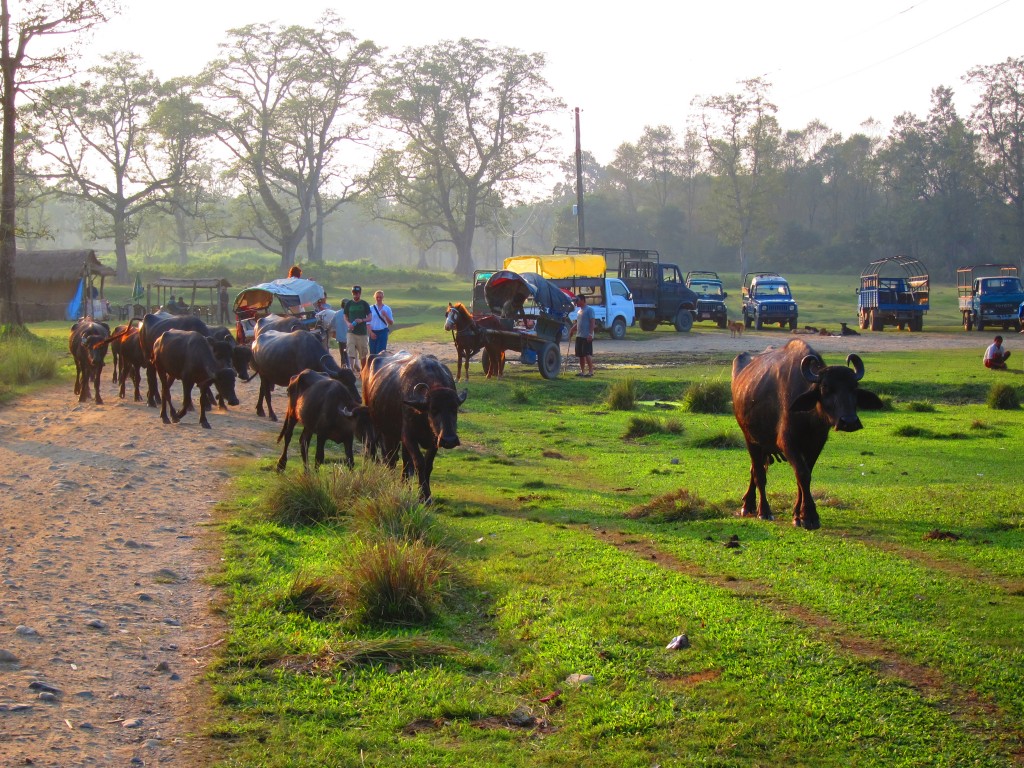 After this canoe trip, we normally would have grabbed lunch but we opted for something that wasn't part of our standard tour. For only 250 Rupees (about $4 USD), we could bathe with the elephants just up the river. It was hard to pass that up so we rode up the river and spent about thirty minutes with the elephants there. This was probably one of the most memorable experiences I've had on this trip.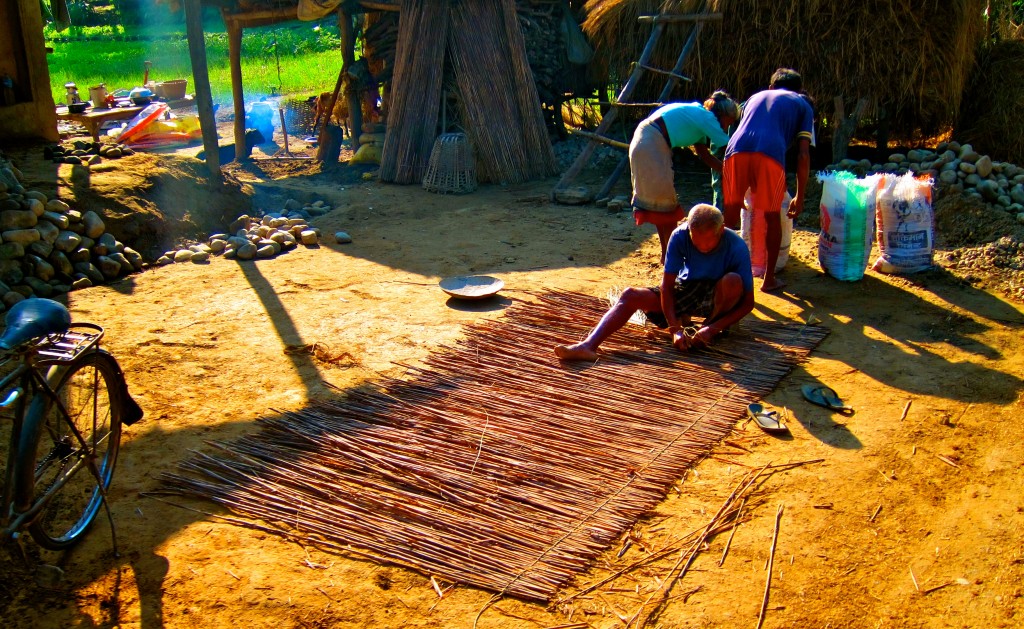 We took a motorcycle to get there again except this time there were three of us on it and we were of course dodging traffic to get there. What kind of traffic? Well, how about a herd of water buffalo, locals on street bikes, buses full of tourists, horse carriages, cattle and random stray dogs.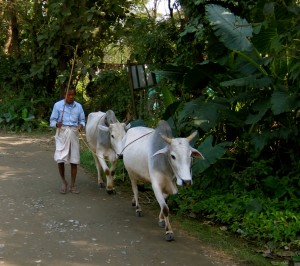 We even almost wrecked when a string of baby chickens formed a full line as they crossed the road. Not to be cheesy here but why did the chicken(s) cross the road? To land Rory into a Nepali hospital as he almost flew off the back of a motorcycle on a gravel road when we slammed on the brakes…. Thats why…
When we finally pulled up, there wasn't a whole lot of down time. We were immediately yelled at to come and get on the elephants. Ok, no worries. Shirt off, shoes off, I hurried into the creek and did my best to jump onto this elephant.
It was much more up close and personal than the elephant ride we'd had that morning. The only real challenge in it all was actually getting onto the elephant. You never really realize just how large these animals are till you're sitting on one like this. And at the end of it all, you have to just jump off into the water. I'd wished I'd have realized the water was as shallow as it was… but regardless, the entire experience was surreal.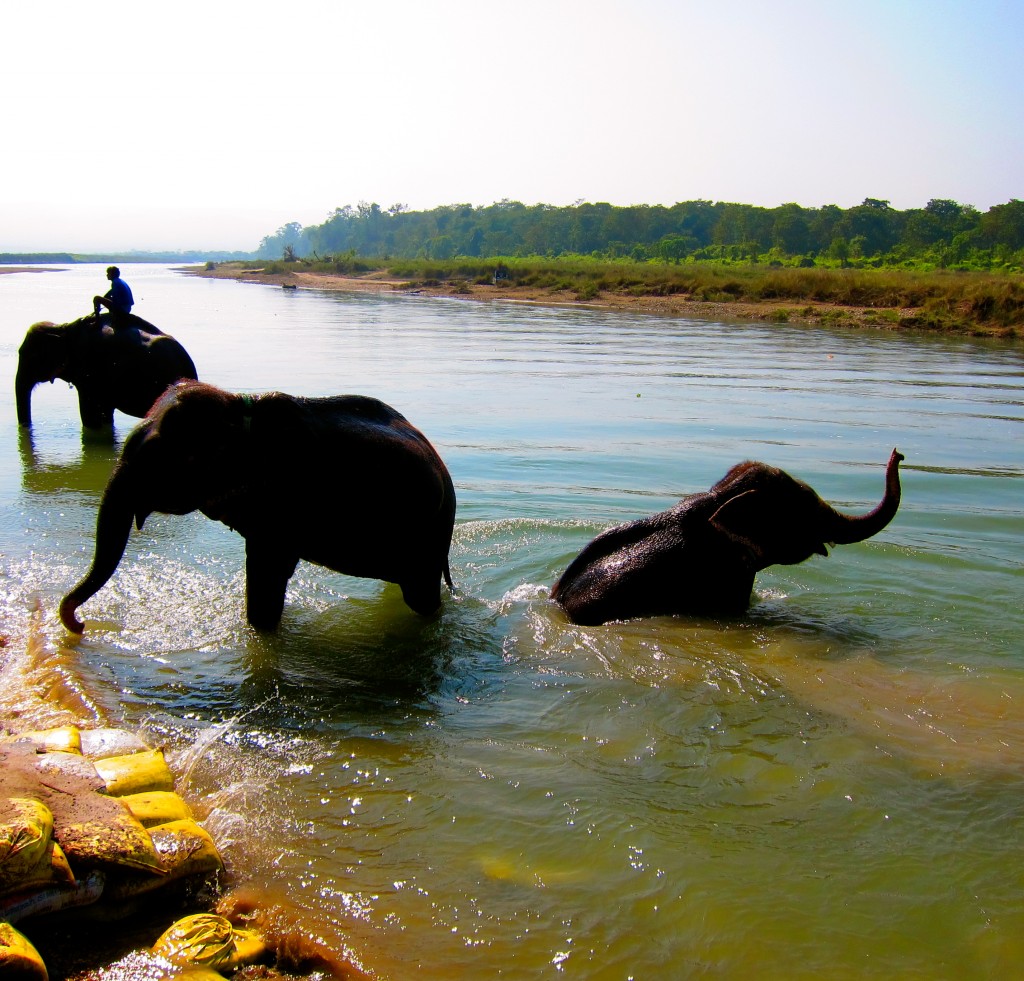 OK, so its been a long day so far. What's up next? Our jungle walk…. We started out the 'jungle walk' around 3 in the afternoon as it would be best to spot animals as the sun went down which happens around 6pm.
Well, we started off with our guide out in front and were just following along as we walked through several water buffalo that didn't seem to like the fact we were getting so close as we walked towards the jungle. Our guide, Lama, said that was why he carried his 4 foot stick of bamboo, in case they charge us. Oh, Ok. So about ten minutes into the actual jungle is when things got interesting…. Lama stopped us abruptly and started to give us our first lessons in jungle survival. He was basically telling us what we needed to 'beware aware of' as we spent the next three hours trekking this jungle. To me, 'what we need to beware aware of' translates to, 'what can kill you and/or eat you'. The animals we needed to be aware
of were sloth bear (black bear), wild elephant, rhinos and of course
tigers. Here is what we needed to remember if we see the following:
Rhinos – if they charged us, we are to run in a zig zag pattern as the
rhino cannot make quick turns but runs very fast. We can also climb a
tree for protection until they decide to leave us. Awesome.
Wild Elephants – If we see them in the jungle, we can run as well as
they have a hard time maneuvering in the jungle but if we see them out
in the grassland, we're pretty much screwed. Perfect.
Black Bear – We must stand our ground and not move. No running, no
tree climbing… It would be useless. Great.
Bengal Tiger – Ummm, I think we all know the outcome here. Lama told us we must stand our ground here too. Umm F that. That 4 foot piece of
bamboo is not making me feel too warm and fuzzy. I was told by another guy
at the park that the only thing you can do is find a small tree and climb
to at least 20 meters in height. You see, tigers can climb larger
trees (if the caliper of tree, its 'diameter' is wide enough) but you
still need to climb the equivalent of 65+ feet in a very 'short
amount of time. Again, great.
Oh, I almost forgot to mention… Later during the trek as we were
hanging out by a pond, Lama told me he had also seen a leopard in a
tree sitting in that very spot. Ok so leopards. That makes five. But
wait there's more… have we forgotten about the two different types of crocodile, the wild (and possibly rabid) monkeys as well as the several poisinous snakes native to this park? All of a sudden, I'd rather be just over the border in India where you can carry a gun. Right about the time this ten minute jungle lesson was over, I asked Lama if we should have a stick as well (or maybe an AK-47 or double barrel shotgun or two). His response? "No, mine is fine. Just for bear." Again, F that. I grabbed the first stick I could find. It was so rotted out that not only would it not even burn in a brush fire but I'm sure it would break in two if I even hit a mosquito sitting on a leaf. Even so, somehow it made me feel a bit better. What else would I do? Hit a tiger in the face with my Canon S95?
After just thirty minutes into the trek, after spotting some monkeys and deer, we came upon a Bengal Tiger's paw print in the mud located right on the trail we were walking on.
So do you remember the part in Jurassic Park when Ian (played by Jeff Goldblum) was sitting in the Jeep by himself and saw the cup of water on the dash begin to rumble? Yes, well after seeing this tiger footprint, you could say I was 'fairly alarmed here'. And why shouldn't I be? I mean lets be honest, we were walking through thick brush and my guide had a 4 foot stick of bamboo and I had a 3 foot stick of rotted wood. Just what in the hell were we going to do really?!? It felt like that part in 'Predator' when Dutch's platoon was being hunted. Not a good feeling… And the fact that Lama had spotted a few of them in this park didn't help either.
About an hour later, nearing dusk, we came upon a pond and spotted two rhinos. It's always rare to see them, especially a baby rhino and its mother which we had spotted but I guess I was extremely lucky in Chitwan so far because this made four rhinos I'd seen on my trip so far. One on the elephant, one in the distant brush behind the elephant bathing area and now these two.
After spotting some more deer and a few antelope and monkeys, we were headed out of the jungle right as the sun went down. So what all did we see on this trek?
30+ Monkeys
Over 200 deer and antelope
2 Rhinos
More than 30 water buffalo
15 stray dogs
7 horses
20 very loud Chinese tourists in the jungle
6 Nepali Military
2 snakes
And one Bengal Tiger paw print
We later ate an authentic Nepali dinner and sat by the bonfire that night with our guide and a couple others. What had made the night interesting though was when a school bus showed up with 25 Nepali college students.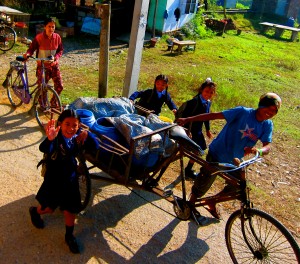 We had just found out they were coming that night as up until then it was just us and the staff huddled around the campfire. The night went from 'chill' to 'crazy' in less than thirty minutes. The group decided not to sleep at all and were dancing and singing around the campfire. Within thirty more minutes, my friend and I had been 'forced' into joining in the festivities. It made for a memorable night…