After a crazy time at the train station the evening prior and then an extremely sandy 12 hour train ride, we were headed to travel from Jaipur to Jaisalmer, India. I woke up that morning and were getting close to the Pakistan border where Jaisalmer lies.
We had actually met a couple of others in Jaipur that were leaving on the same train as us from our hotel and we were all headed towards the same destination.
This city was not one I had originally planned on visiting but was one of those that was recommended by so many other travelers over the past few days. Although it sits on the border with Pakistan, it is still part of the state of Rajasthan in northern India. And although it is much smaller than many of the others, it is still home to over 78,000 people.
When I found out the population of its people, it was unfortunate not to be able to find out just how many cattle were also in this city because I am pretty sure that the cows out number the people here two to one. There were cows everywhere! Many more so than I'd seen in the previous cities and towns I'd been through. Some were even roaming the streets eating cardboard.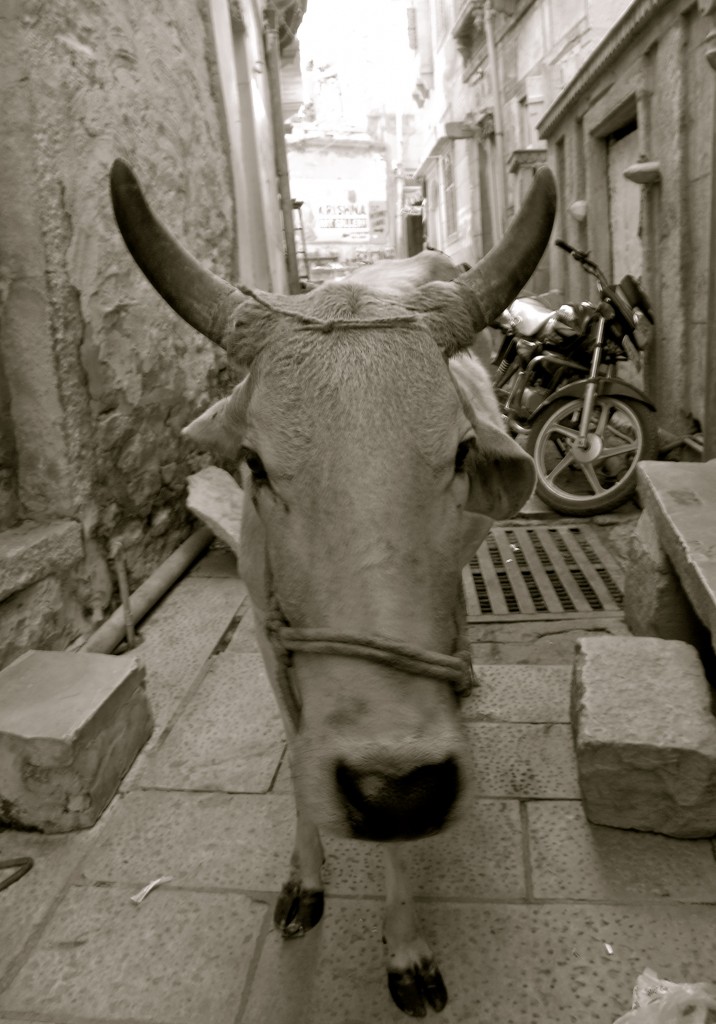 Just as with many other cities in Rajasthan, there is a fort in Jaisalmer, known as the 'Golden Fort' which sits atop a hill and lies in the center of town.
We ended up visiting the Fort on the second day we spent in Jaisalmer and it was a bit similar to others we'd been to except one major difference being that it is still inhabited by over 2,000 residents of Jaisalmer. They were living within the walls of the fort and also had their businesses set up there too. The fort itself was built in the early 1100's and is one of the largest in the world. Luckily, the guesthouse we stayed in was less than half a mile from the fort and from our rooftop balcony, we had an amazing view of both the fort and the city at both sunrise and sunset.
So far, I'd say Jaisalmer is one of my favorite places in India. Although still very much intense like the rest of India, because it is smaller in size, you're much more apt to get hit by a cow in the street that you would by a tuk tuk or taxi which is refreshing.
Another advantage of Jaisalmer is the fact that it is small enough that you don't really need to hire a tuk tuk to get anywhere as almost everywhere you might want to go is walkable.
We found ourselves out walking every night and the restaurants here had been amazing. I found myself liking Indian food more every day. Yes, I'm serious. But the main reason many people come to Jaisalmer and travel this great distance on the edge of Rajasthan is to go on a camel safari into the desert. We had booked at 2 day safari tour and we headed out the following morning.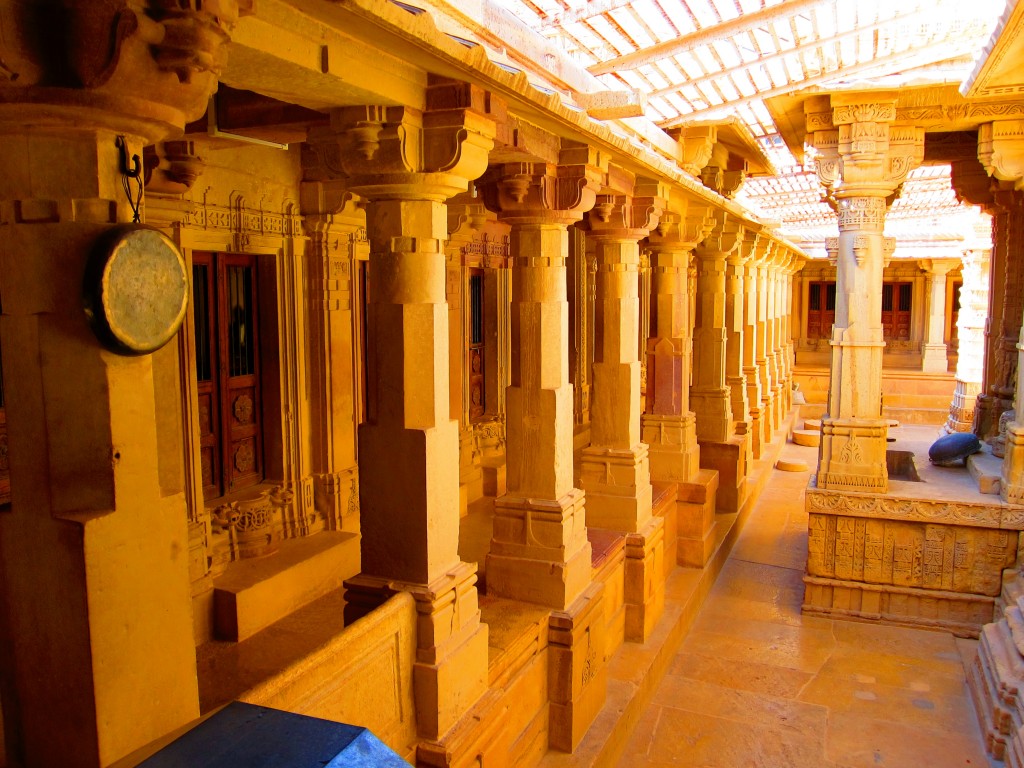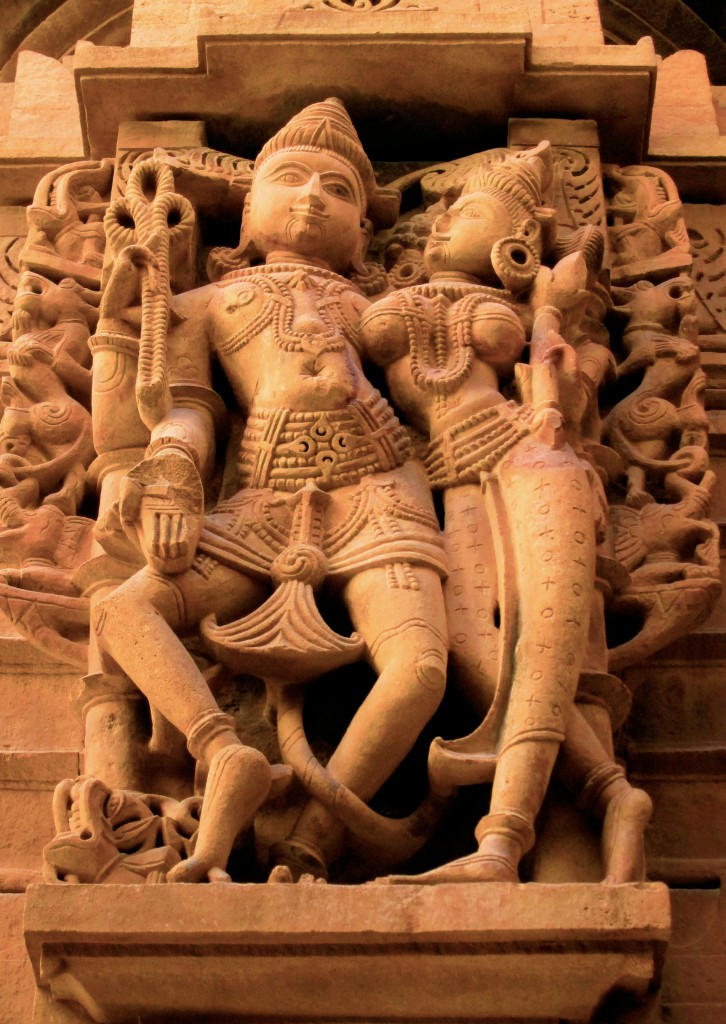 It was an early morning wake up call and we were packing up the vehicle but we didn't leave Jaisalmer before first getting fitted for our proper turban headgear.
We spent a bit getting our headgear fitted and took a couple photos before we all piled into an SUV. Apparently I missed my sunglasses on the shot above! Needless to say, I think we were one or two people too much for the size of the car but luckily we only had about an hour and a half drive before we met up with the next group…. another guide and 6 camels.
I think when we all eventually piled out of the vehicle and took in the situation, it was then we realized we really were going to be riding a camel for the next two days. And today's ride would be the longest. We would ride about 2-3 hours then take lunch and then ride another 2-3 hours before finally reaching the sand dunes. And yes, riding a camel is quite a bit rougher than riding a horse! Who's got the Gold Bond!?!
However, the ride there was at least scenic and we passed through a few small villages along the way. When we finally did reach the point at which we were going to take lunch under a large tree, all of us seemed to have a bit of trouble trying to walk again. As I said, if you think riding a horse can be rough, especially if you're not accustomed to it, just imagine riding a camel for 3 straight hours. Not fun….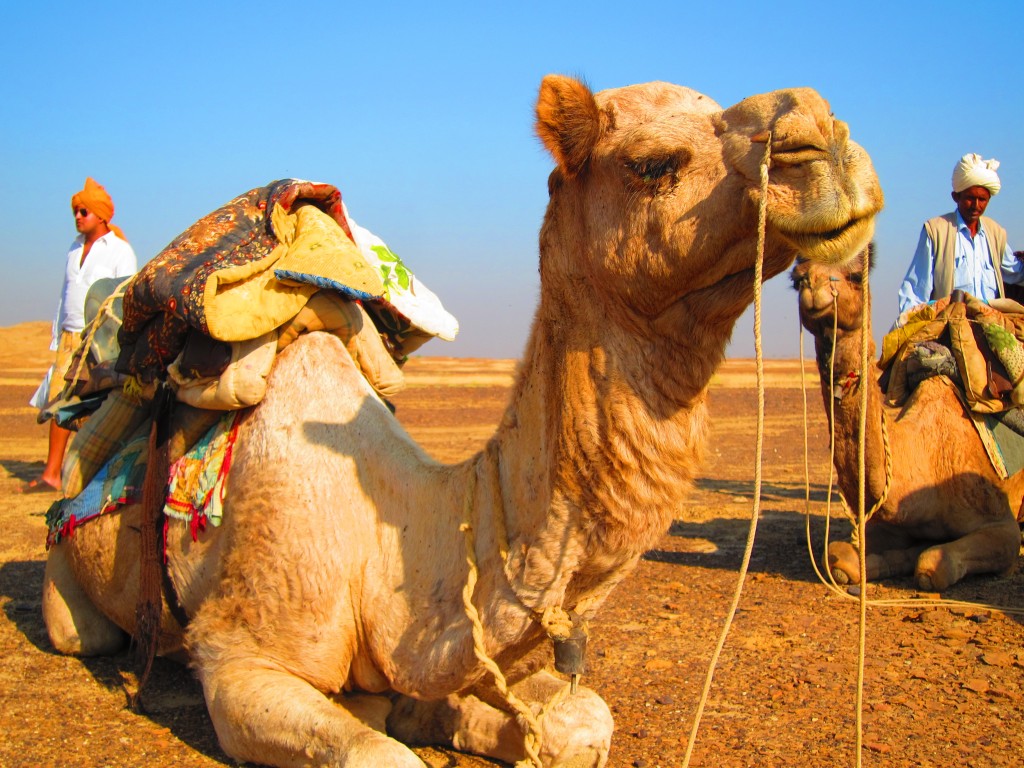 So lunch ended up consisting of chapati bread, vegetables, some fruit and some chai tea. It was good but there was definitely a touch of sand in both the tea and the vegetable dish. I think we'll live….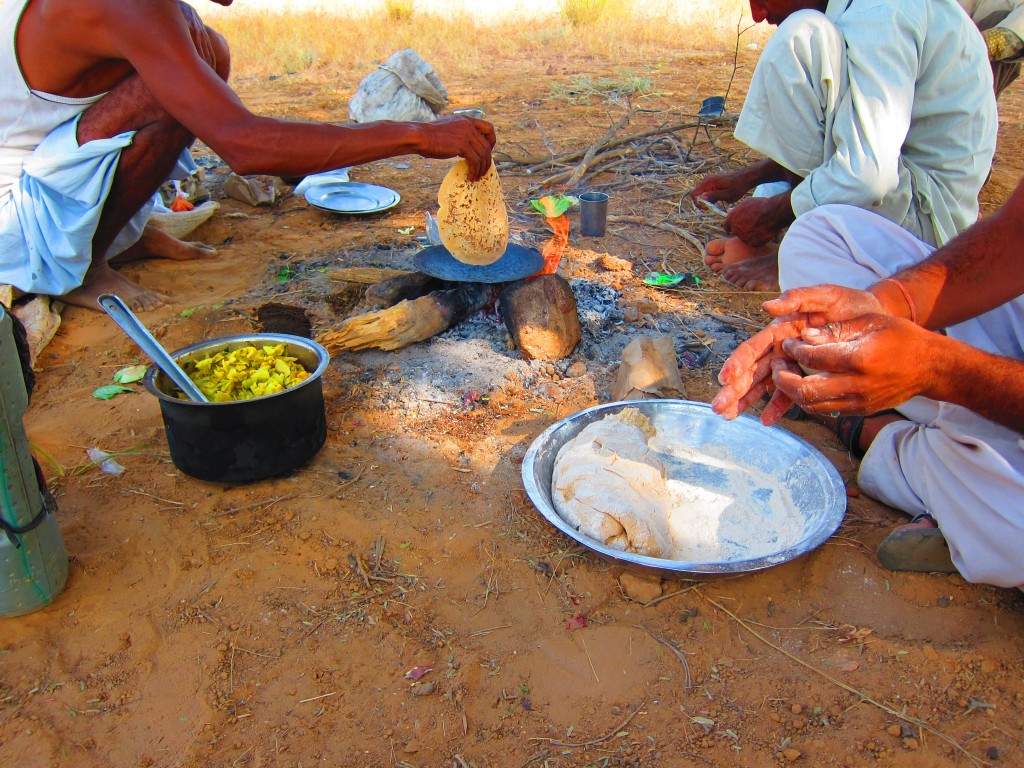 We continued on our ride from here, passing some livestock and another small village and eventually reached the sand dunes just as the sun was setting.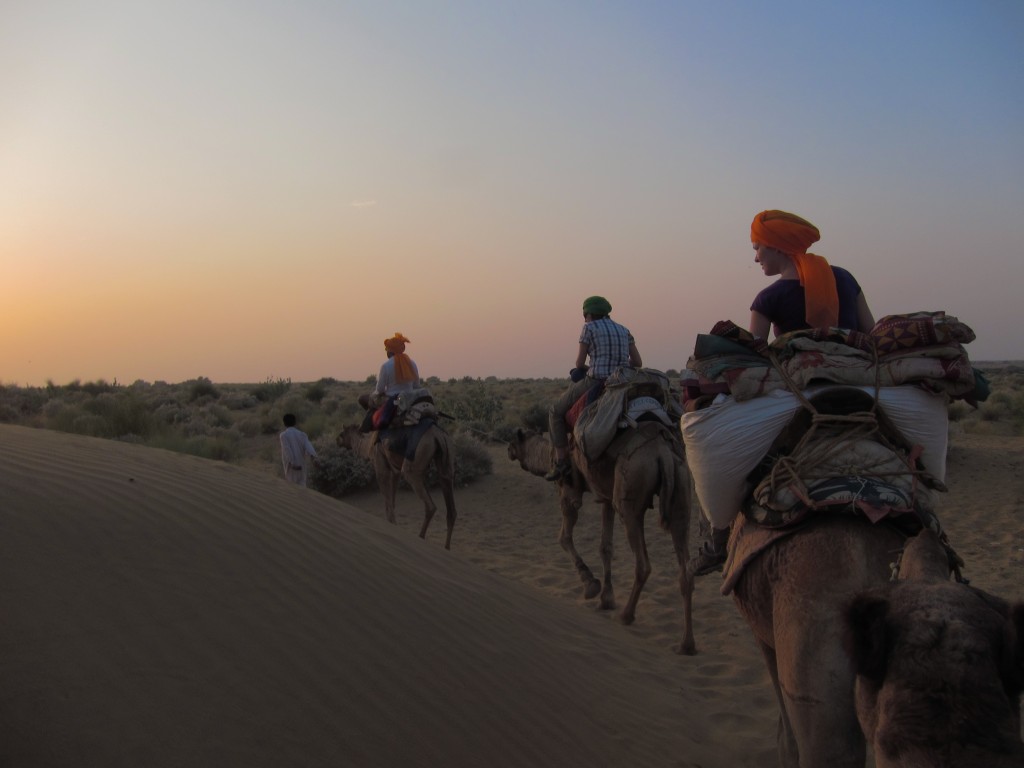 We quickly ran off to grab some last minute photos before night was upon us. And later, our guides cooked us another authentic Indian meal and we drank by the campfire before calling it a night.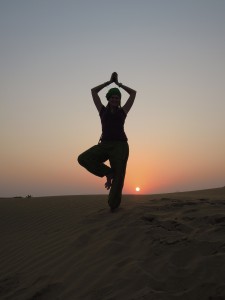 And calling it a night in the middle of the desert basically means we slept on top of some matting right on a sand dune along with a blanket or two. If you've ever spent time in a desert climate, you know how hot it can get during the day but also how cold it gets in the middle of the night. My friend had a 'sub-zero' sleeping bag in addition to the blankets but I was not so fortunate and didn't get much sleep that night, especially since our guide assumed we all wanted to catch the sunrise at 6AM the following morning. He ran around on the top of the dunes trying to wake all of us in time for sunrise and tea….
Shortly after we all woke, we found out a couple of those in our group had gotten severely sick and we were assuming it must have been from the lunch the day before.
If you go back and take a look at those photos, I think it is clear to see the fact that not much sanitary prep was involved before or during the cooking of that food. I think you know where I'm going with this…. Anyway, one of my friends had to ride the camel back sideways while the other chose to walk (or maybe it wasn't a choice). Luckily for them, we only needed to ride less than an hour before we caught up with a vehicle that would take us back by the back roads from where we were and we made it back to Jaisalmer by lunchtime that day….