OK, first, I realize this post is a bit delayed getting out since I spend the past two weeks in a Palolem beach hut and this is when I spent my holidays but I promise to catch things up for all of you who have been keeping up with me on this journey! Getting access to WiFi across the world is not always the easiest to achieve while traveling so I just try to do my best! Stick with me though as I promise to catch up this blog to my present travels in the next two weeks so stay tuned for many more posts to come!!
So after my first week in Goa, I had the holidays coming up and was torn with a decision to either spend the time in Thailand or just to remain in Goa.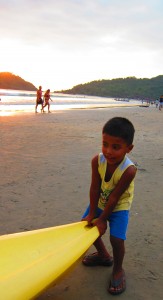 Since I'd been traveling almost five months by now, I decided maybe it would be best to just sit tight where I was and I figured a small Palolem beach hut would be perfect. I liked to think of it as a vacation from my travels. But wait, isn't traveling a vacation? Well, no, not exactly. At least not all the time!
It's easy to pack it up for a weekend and head to the beach or mountains but its a whole different thing to plan out a trip country to country and deal with the airports, taxis, languages, currencies, border crossings and visas, hotels, and all the other fun stuff. Obviously I still think it is all worth it to deal with this if you truly want to travel but eventually, you'll want a bit of a break from it all and Goa seemed the perfect fit. While you're here, you realize how much different it is than the rest of India. Sure there are still cows on the beach and touts on the streets but things are just much more relaxing here so it wasn't too hard a decision to stay through New Years day.
I found a beach hut right along the shore for slightly more than it would cost me for a tasty sub sandwich from Jersey Mike's back home and I became a local of sorts at the neighboring restaurant and bar.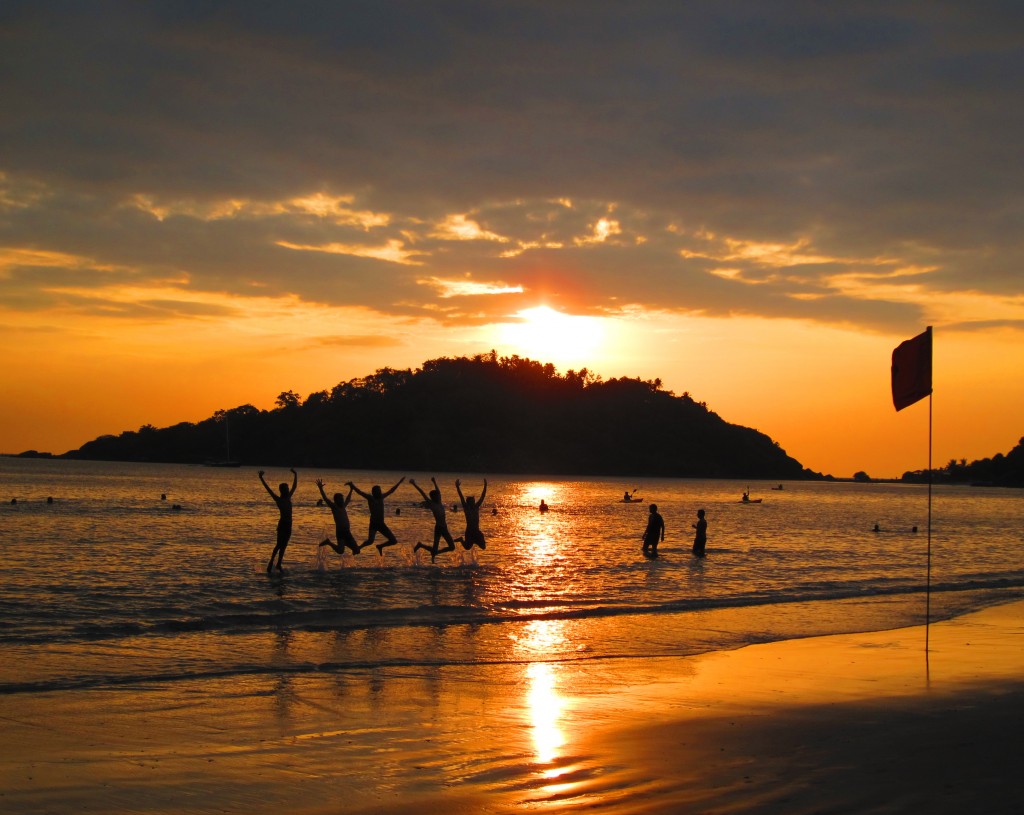 My friend I had been traveling with all through India up to this point was unfortunately headed home for the holidays so for a short time, it was back to just me, the sand and
an awesome sunset every night. After a few days I had met some friends, one of whom had actually been living right here on this very beach for the last two months! And I thought MY three weeks here was a long time to spend on this sandy beach!
Since I was getting a bit 'stir crazy' just sitting on the beach, we decided to rent kayaks on one of the days and paddled around one of the islands right at sunset.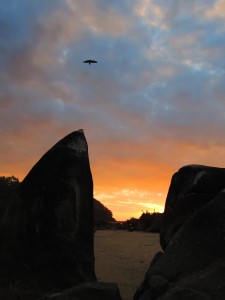 Why had I not done this sooner? It was a great way to spend a couple hours on the water…
On another day, we had all set out to hike that very same island I had kayaked around. It was actually nice to get away from the beach for a while and we spent a few hours there on the rocks. We even found out there were monkeys on this small island though not much else. While there, I realized what the date was and felt utterly foolish when I realized it was actually a few hours before Christmas Eve! Maybe it wasn't quite 'Eve' yet back home but it definitely hit me how crazy it would be to spend the holidays on the other side of the globe in a small Palolem beach hut instead of my hometown with my family after all the years I'd spent doing that.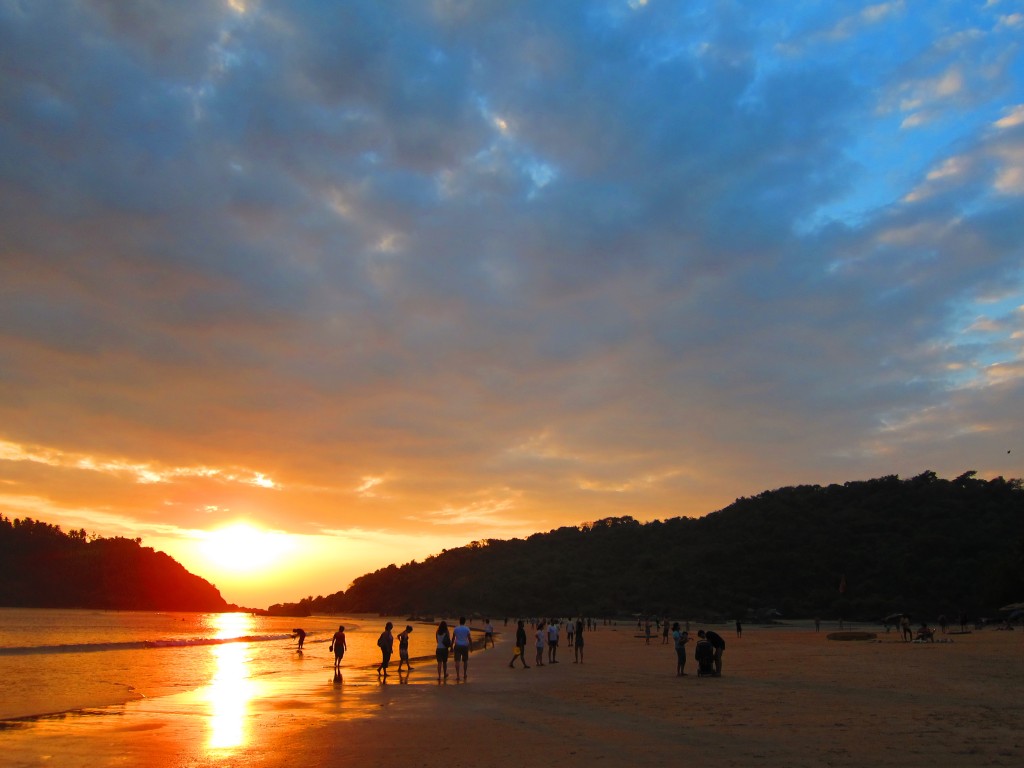 That night, we didn't do too much to celebrate but I did rock out a santa hat most of the night and most of the restaurants and bars had things going on for the occasion as well as many decorations as well as fireworks up and down the beach.
For New Years celebration, things were similar to that of Christmas in regard to the fireworks that were set off during the night as well as the bars and restaurants organizing their own type of celebrations. Since it was such a festive night, I convinced all my friends to get into the Indian spirit by dressing up. For us guys, we sported white pants with a white top (traditional dress for men on certain occasions) and the women went shopping for their 'Sari' dresses which are worn by Indian women. It definitely made the night more festive although my shirt didn't make it after an unfortunate incident of orange Fanta ruined the outfit by some random beach goer. For New Years night, there were definitely fireworks going off as mentioned before but unfortunately, the power along the beach had went out right before twelve and had been out the rest of the night so things still did go on but it definitely put a damper on the night since the music came to an abrupt end everywhere as did cold drinks later in the evening.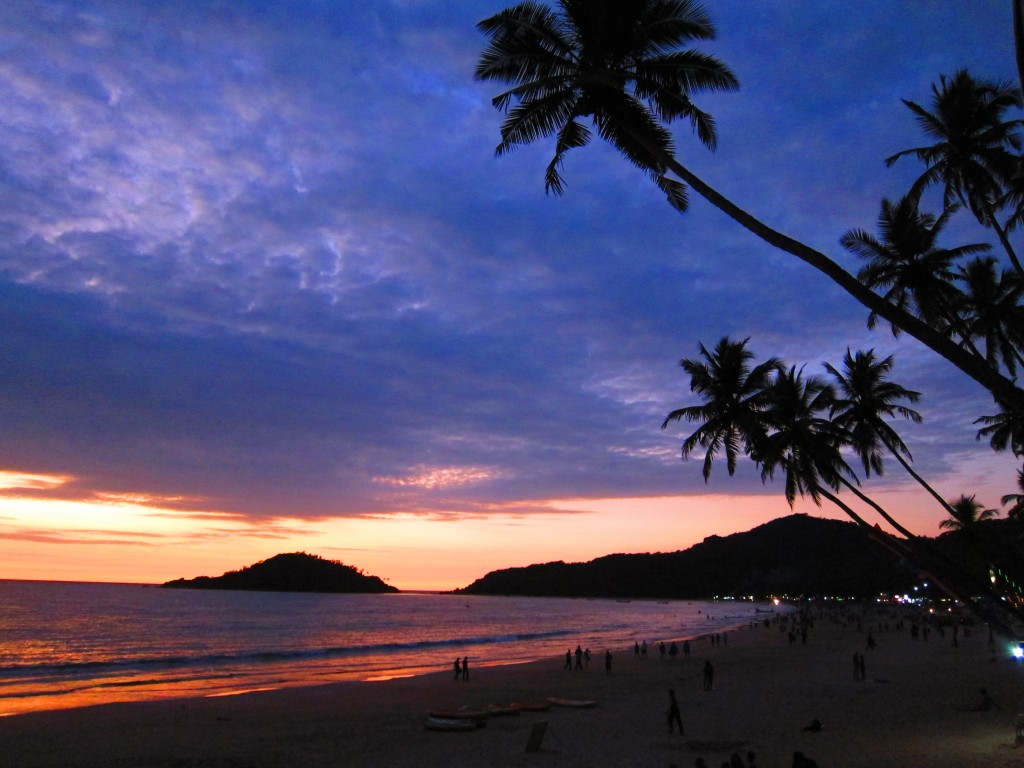 Since leaving Goa the day after New Years is never recommended due to the maddening amount of people trying to do the same, I decided to stay just one more day before having to head back to Mumbai for my flight to Thailand. That crazy experience, which was done by bus, is going to have to be put into an entirely different post! My Palolem beach hut days have come to a close!