If your idea of a relaxing vacation includes picturesque beaches, sparkling turquoise green waters, and the chic charm of Spanish colonial architecture, then look no further than Cuba! If you visit Cuba you will discover cobbled streets lined with vintage cars, magnificent carnivals and parades, foot-thumping music, amazing coffee and cocktails… not to mention the world's finest cigars (without burning a giant hole in your pocket).
There are more direct flights being introduced in various cities to Cuba and travel restrictions to Cuba are gradually declining. Since travel to Cuba is becoming easier, all global travelers on a budget should visit this gorgeous Caribbean island before McDonalds sets up shop there! Here are but a few great reasons to visit Cuba…
Reason to visit Cuba #1: The Beautiful Beach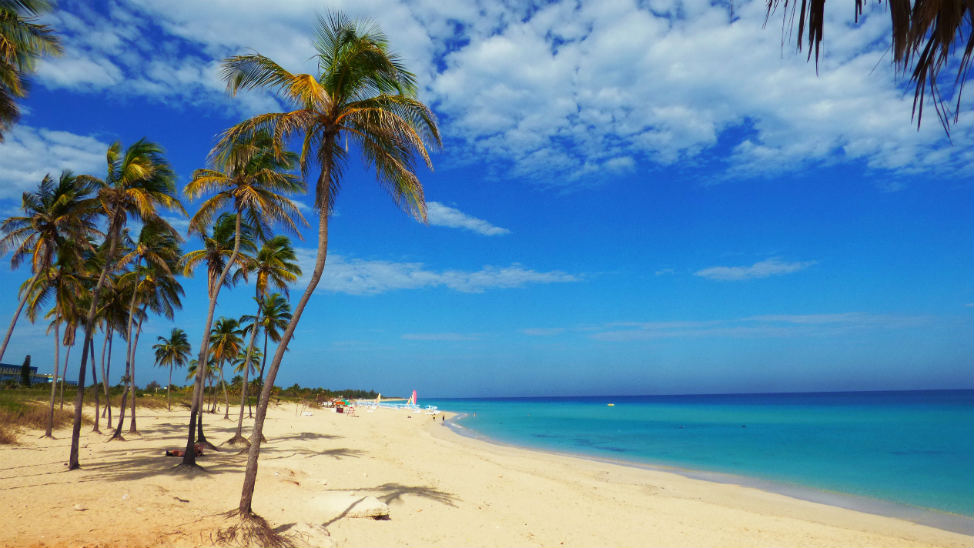 If sand, snorkel, and sea is your way of unwinding then there is no reason why Cuba shouldn't be in your travel list! Cuban beaches are some of the crown jewels of the Caribbean. Soak in the sun and the panoramic view encompassing the endless white sandy beaches, swaying palm trees, coral reefs and the crystal, blue-green waters.
Varadero, a verdant paradise, is the most popular and largest destination in the Caribbean. Cayo Santa Maria, Cayo Largo del Sur, Cayo Coco, and Trinidad are some of the few islands among many more that offer a wide range of activities. Some things to see and try are snorkeling, scuba diving, fishing, coral reefs, bird-watching (pink flamingoes), vibrant nightlife, and even museums! This travel experience is ideal for backpackers, watersport lovers and even honeymooners!
Reason to visit Cuba #2: Rich History and Marvelous Architecture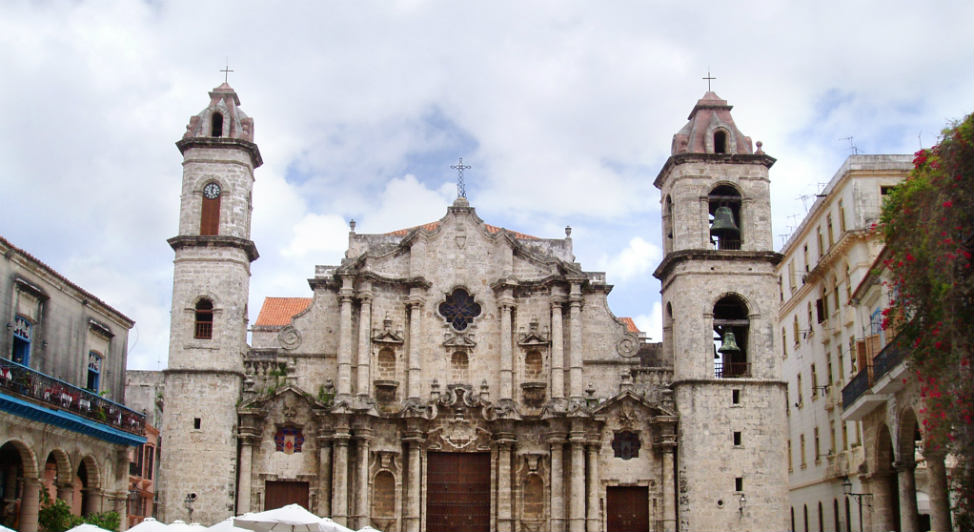 Love historical heritage and architecture? Visiting Cuba is like taking a step back in time. Old Havana, with its many architectural wonders and fortifications, is a UNESCO world heritage site. Tourists have a difficult time turning their eyes away from striking architectural marvels such as the Catedral de San Cristobal, Castillo de la Real Fuerza, Plaza de San Francisco, and Calle Obispo to name a few.
If you are an ardent fan of Ernest Hemingway, check out Hotel Ambos Mundos where he stayed for seven years.
Taquechel Pharmacy Museum is another curious "shop" which has been doling out herbal medicines for almost a century! The gorgeous woodwork of cabinets, the antique ceramic jars to store old meds, and other such artifacts transport tourists to a bygone era.
Santiago and Trinidad boast some of the most amazing & fascinating Spanish colonial architecture and art deco buildings. The best way to tour the city is either by foot or from the seat of a 1950's vintage car that can venture around the cobbled streets all day.
Reason to visit Cuba #3: The Warm Climate
The comfortable tropical climate alone is a good reason to visit this Caribbean island. If you want a respite from freezing winter weather then you must visit Cuba between November and April. In very few places can you enjoy a ride in a beautifully restored classic convertible while gazing at swaying palm trees with a gentle tropical breeze kissing your face during the winter months.
Reason to visit Cuba #4: Music and Culture to Spare!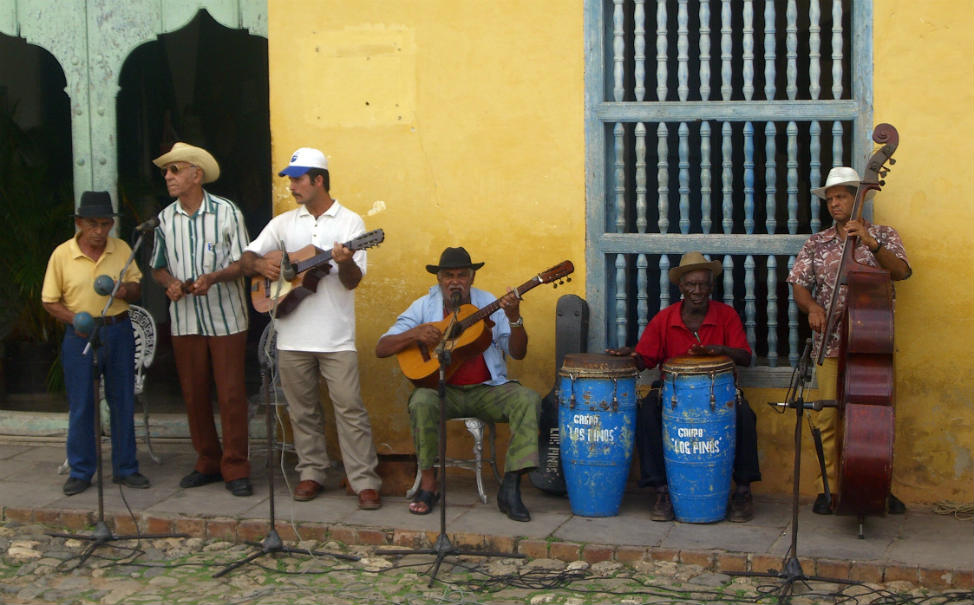 Cubans have music coursing through their blood and if you are a party animal or a nightlife person then Cuba is definitely a place you should visit at least once! Music, dance and art are inextricably linked with the Cuban way of life. Music is everywhere at all times of the day. The infectious rhythms of salsa, merengue, bachata and cha-cha have everyone foot tapping. Tourists are spoilt for choices when it comes to music and cafes in Cuba. There are opera houses, salsa clubs, jazz bars and local musicians everywhere. The Cuban annual calendar is crammed with cultural events from the worlds of ballet, fine arts and cinema.
Reason to visit Cuba #5: Local and Authentic Cuisine
Cuban food and cocktails are simply to die for. Cuban cuisine is much like a fusion of the best African, Spanish, Italian, and of course, Caribbean elements. Seafood, comprised of lobster, shrimp, octopus, clams, and the local catch of the day is usually the more popular choice. Small dining establishments set up by families in the confines of their homes are on the rise and more popularly known as paladares. They might offer you limited menu options, but the food is as authentic as you can get. La Guarida is one such restaurant which has become renowned as "the" paladar to visit in Havana. Most of them have been transformed into upscale dining experiences boasting of chefs like Chef Justo and Chef Ivan who were once chefs for Fidel Castro. Apart from seafood, their meats and vegetables are also delicious when cooked together in a wonderful aromatic blend of regionally available spices. These include chili, oregano, onion, garlic laurel, parsley, basil, saffron etc.
If you're fluent in Spanish you can try out the eateries frequented by the locals like Kasalta Sports Bar-Restaurant in Havana and feast on their famed Pollo Kasalta for four people.
Cuba is a paradise for cocktail aficionados. This Caribbean island boasts of the best Cuba Libre, Mojito or Canchanchara; Bacardi originally hails from Cuba. All you need is some good jazz to liven up the atmosphere. La Terraza, the bar at Cuba's most famous hotel, National Hotel, (frequented by the likes of Winston Churchill to Al Capone) makes some of the best drinks! Sipping Cuban rum and the creamy delicious pina colada in one of their rooftop bars is highly recommended. The famed Hotel Ambos Mundos, which served as Hemingway's residence for seven years in Cuba, is also ideal for relaxing with a tropical drink and music.
Reason to visit Cuba #6: The Best Cigars
If you happen to be a cigar connoisseur then you already know that Cuba is almost as synonymous with cigars as Napa or Bordeaux is with wine and that reason alone is a good enough reason to travel to this enchanting country! Cuban hand-rolled cigars have amassed a huge cult following from renowned political leaders such as Kennedy, Castro, King Felipe VI of Spain and other affluent collectors. They are a sign of status, power and wealth and are prized possessions of many cigar aficionados. Some of the rare collections go up to $50,000 at auction. A quick visit to a cigar factory, especially in Havana, is highly recommended so you can witness these mini marvels being hand-rolled to perfection.
Reason to visit Cuba #7: The Diverse Landscape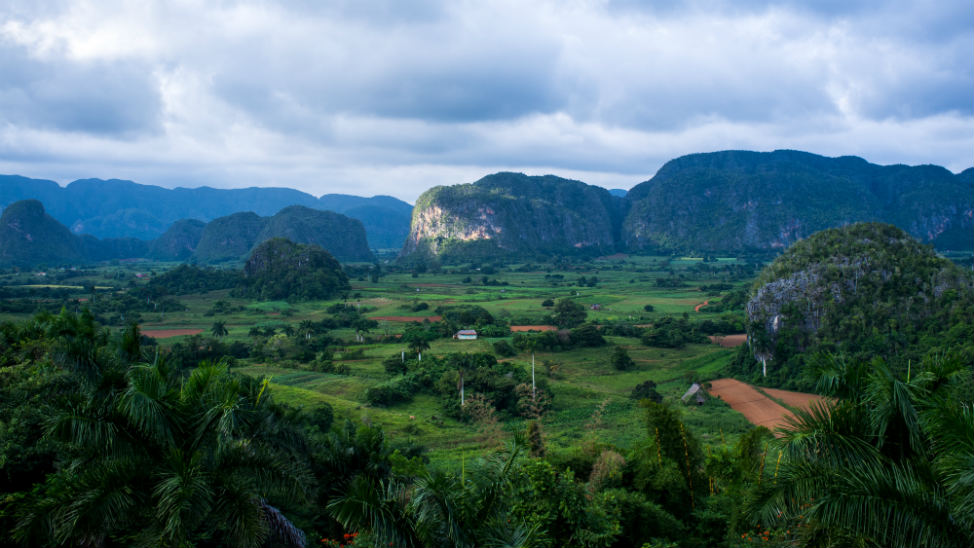 The breathtaking landscape of Cuba with its tropical rainforests, picturesque mountain range, and gorgeous waterfalls makes it worth a visit. Cuba has some spectacular natural parks to explore. The National Park Alejandro de Humboldt is a part of the UNESCO World Heritage Sites and Parque Nacional Pico Turquino, Cuba's highest point above sea level, is a bird-watchers' paradise. Nature-lovers are bound to be impressed by the sheer diversity of the Cuban landscape. You can find everything from sugar-cane plantations to rain forests to mangrove swamps. Cuba is truly a very diverse country and well worth a visit!
Like What You've Read?
Join my email community below to keep up with the next post and get your free ebook! Oh, and don't forget to leave a comment.. I love getting comments and promise to reply to every single one of them!